Trends come and go but serum cocktailing, or the process of mixing two or more serums, will last forever. After all, there's a reason this became popular in the first place: the benefits are unmatched.
You don't want to haphazardly start mixing treatments, though. There are important tips and rules to follow for the process to be most beneficial but, thankfully, getting started is simple.
Tips for Choosing & Layering Treatments
Pinpoint your primary skin concern(s). Serums are formulated with ingredients that deliver a plethora of targeted benefits to address concerns like wrinkles, dryness, dullness, uneven tone and more. Understanding what you want from yours is an essential place to start and you can choose from brightness, hydration, smoothness, firming and more.
Choose 1 to 2 serums for your regimen. While there are benefits to serum cocktailing, there is such a thing as too much. Since more isn't always better, stick to fewer serums that deliver a multitude of benefits so you don't have to worry about which ingredients you can mix.
Check the ingredients. Ultimately, mixing serums can be advantageous but when not done properly it may lead to skin redness and sensitivity. Look at the ingredients in the products you're hoping to mix before you get cocktailing to avoid mixing treatments that may be too harsh together. For instance, if one of your serums includes retinol, avoid a second serum that has other potent active ingredients like hydroxy acids (AHA/BHAs) or benzoyl peroxide.
Apply serums to freshly cleansed skin. Layering any skincare product atop an uncleansed face is a skincare no-no. This can not only clog pores and lead to breakouts, but buildup can prevent other products from being effectively absorbed. To avoid this, cleanse your face before applying serums and any other products.
Layer products lightest to heaviest. When applying multiple serums, a good rule of thumb is to apply them in order of their thickness. Think of it this way: if heavier products were applied first, it could prevent lighter products from being absorbed effectively. Instead, apply water-based, lightweight serums first and creamier, heavier serums after to ensure the highest efficacy.
Perricone MD's Perfect Serum Cocktails
To make cocktailing a breeze for you, we've created the perfect serum pairs that have already been proven to deliver transformative results.
SERUM COCKTAIL #1: FOR VISIBLY FIRM & BRIGHT SKIN
Serum 1: High Potency Growth Factor Firming & Lifting Serum
Serum 2: Vitamin C Ester CCC + Ferulic Brightening Complex 20%
If sagging, loss of volume, dullness and discoloration are concerns for you, layering this pair of serums will deliver brilliantly lifted results. In addition to the visibly dramatic lifting effect the growth factor technology will deliver, this duo's combination of retinol and vitamin C work together to deliver unparalleled radiance while diminishing the look of dark spots, discoloration and uneven skin tone for a brighter, smoother, more youthful-looking complexion.
SERUM COCKTAIL #2: FOR VISIBLY PLUMP & LIFTED SKIN
Serum 1: High Potency Hyaluronic Intensive Hydrating Serum
Serum 2: High Potency Growth Factor Firming & Lifting Serum
The hyaluronic acid and polyamine growth factor in these two High Potency treatments makes for one of the most powerful skincare ingredient combinations. Together, this pair of serums will deeply nourish and hydrate skin with essential moisture while improving skin plumpness, strength, cushion, bounce and resiliency for a visibly plump, hydrated and visibly lifted appearance.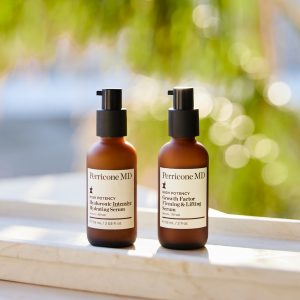 SERUM COCKTAIL #3: FOR WRINKLE REDUCTION & INTENSE HYDRATION
Serum 1: Essential Fx Acyl-Glutathione Deep Crease Serum
Serum 2: High Potency Hyaluronic Intensive Hydrating Serum
Boost your anti-aging regimen with these luxurious serums formulated to deeply nourish and replenish to minimize visible signs of aging. With the same intensive hydration from the hyaluronic acid serum in the previous cocktail, combined with the wrinkle-reducing power of Acyl-Glutathione, these two serums will help dramatically improve the look of deep creases, marionette lines and lip lines for smoother, ultra-hydrated skin.
SERUM COCKTAIL #4: FOR CREASE REDUCTION & IMPROVED RADIANCE
Serum 1: Essential Fx Acyl-Glutathione Deep Crease Serum
Serum 2: Vitamin C Ester CCC + Ferulic Brightening Complex 20%
Take the same silky Deep Crease essential from cocktail #3 and combine it with our ultra-potent, supercharged Vitamin C Ester serum from cocktail #1 for a pair of serums that visibly minimizes fine lines, wrinkles, dark spots and discoloration for significantly smoother, brighter and more radiant skin.
Not sure which combination is best for you? Our Discovery Collection features each of the above four proven and potent treatments to help you craft your ideal serum cocktail. They're perfect for mixing and matching to address all of your skin concerns for dramatic results. You'll soon be a master mixologist.