It's often assumed that with "clean skincare" comes sacrificing strength and results but with our new Hypoallergenic Clean Correction Collection, you'll never know such compromise. 
Gone are the days when effective clean skincare for sensitive skin was impossible to find. Instead, our revolutionary regimen takes a first-of-its-kind Three-Tier approach to deliver hypoallergenic skincare products that never skimp out on efficacy. To do so, it soothes sensitive skin while also delivering skin protecting and age-defying benefits for transformative results. 
In case you are rolling your eyes at the thought of "clean, hypoallergenic and effective," let's break down the clean, hypoallergenic part first. For us at Perricone MD, clean and hypoallergenic go hand in hand to truly ensure our products are not only safe for all skin types but ideal. This means every product in this clean collection is free of the 26 known allergens as well as fragrance, gluten, sulfates, silicones, parabens, formaldehyde, butylene- and propylene-glycol, PEG, phthalates, BHA and BHT. Not to mention it's vegan, dermatologist tested and non-comedogenic. 
Plus, The National Psoriasis Foundation recognizes the entire Perricone MD Hypoallergenic Clean Correction Collection as safe for those with sensitive skin and has awarded it the Seal of Recognition. Need we say more? 
Of course, we're going to elaborate further anyway. So, now let's dive into the second part: what makes these powerfully gentle tiers effective, too. 
TIER 1: Stress Reduction
Comforting ingredients like plant-derived adaptogens, including holy basil and mushroom extract, help soothe and comfort sensitive skin. 
TIER 2: Skin Barrier Protection
Skin-protecting ingredients like ceramides and niacinamide help reinforce and support your complexion while shielding it against environmental aggressors. 
TIER 3: Age Defiance
Advanced, clinically-proven peptides and plant-derived retinol, bakuchiol, visibly smooth, even and firm skin over time for a more youthful appearance. 
Together, these tiers work their skin soothing, protecting and correcting powers to deliver maximum results for even the most sensitive skin. Upgrade your current clean favorites with these new formulas to see the proven results for yourself. 
The Ultimate Skincare Routine for Sensitive Skin
No need to get overwhelmed with all the options just yet. Here's a simple yet effective regimen for your sensitive skin that will leave you and your skin healthier than ever.  
This gentle, low-foaming cleanser is formulated to effectively remove dirt and oil without stripping skin of essential moisture. In this formula, holy basil delivers Tier 1 benefits by soothing and comforting the skin. Glycerin puts in the work for Tier 2 by supporting skin's barrier to help it retain essential moisture. And for Tier 3, fermented rice water hydrates and promotes skin radiance for a youthful-looking complexion.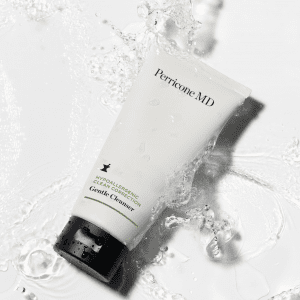 This ultra-restorative moisturizer visibly improves skin elasticity while softening the appearance of lines and wrinkles for a firmer, more supple complexion. Mushroom extract soothes and conditions the skin to help out on Tier 1 of this formula. Meanwhile, ceramides protect and strengthen skin's moisture barrier at Tier 2 and age-defying peptides fight visible collagen depletion to round out Tier 3. 
This deeply nourishing eye cream visibly firms, brightens and reduces crow's feet, lines and wrinkles while comforting and protecting the delicate eye area. To do so, mushroom extract soothes and conditions the eye area like it does in our moisturizer for Tier 1 benefits. Then, squalane hydrates and nourishes this delicate area to provide Tier 2 support. Finally, peptides put up the good fight to combat the look of collagen loss at Tier 3.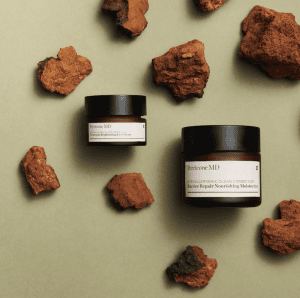 When it comes down to it, balance is key for sensitive skin. Each of our formulas performs a balancing act to maintain the perfect ratio of gentle to powerful so you can demand more from your clean skincare without ever having to worry.