Board-certified dermatologist and world-renowned healthy aging expert, Dr. Nicholas Perricone, has always said, "You don't have to age the way your parents did." Why? Because decades of new research have blessed us with the knowledge to prevent and, in some cases, reverse those pesky signs of maturing skin.
According to Dr. Perricone, the answer to aging gracefully is three-tier: a balanced diet, nutritional supplements and potent topical skincare. But when speaking about skincare specifically, we're focused on the formulas made with science-backed ingredients proven to smooth texture, minimize lines, fade discoloration and more.
Retinol is one such ingredient that, while certainly buzzworthy today, has been studied for decades to combat signs of aging on your skin. In fact, the American Academy of Dermatology Association writes that it has actually been around since 1971 — and with reason!
Not sure how retinol works or whether it's right for you? Let us break it all down.
What Is Retinol for Skin?
While we've established that retinol has been around for some time, it continues to be the gold-standard in skincare for its unrivaled anti-aging benefits — and the industry is rightfully hooked.
For starters, it is part of a class of compounds known as retinoids, which are derived from vitamin A. This particular retinoid is especially popular for its ability to boost collagen production, which keeps skin younger-looking since it helps strengthen, plump, improve elasticity and diminish fine lines and wrinkles, all while it increases cell turnover to exfoliate the skin. What's more? It also helps minimize other signs of aging, like sun damage, skin texture and skin discoloration.
Aside from slowing the signs of aging skin, retinol also exfoliates to promote clearer-looking skin. This is because, by exfoliating, it removes that dead skin on the surface that can clog pores, while it simultaneously decreases oil production and fights bacteria that may cause blemishes.
It's truly a skincare wonder! As with any active ingredient, though, when used too often or in an unstable form, retinol can cause peeling, dryness, tightness and redness. To help prevent these skin reactions, gradually ease retinol into your nighttime regimen (it increases sensitivity to the sun, so avoid morning use) and always choose a stable form.
Perricone MD's Retinol Is NOT Like Others
When it comes to stability and efficacy, our Triple Retinol Blend gets it right. It's a unique blend of three highly stable forms of retinol: encapsulated retinol, retinol ester and phyto-retinol.
Together, they deliver powerful retinol benefits without irritation or skin sensitivity. Encapsulated retinol provides a controlled release of the antioxidant, allowing the retinol to remain stable and protected against oxidation (which weakens the ingredient). At the same time, retinol ester, an ultra-stable retinol derivative, delivers powerful brightening and natural alternative phyto-retinol helps increase skin elasticity.
Found in our NEW High Potency Retinol Recovery Overnight Moisturizer, "this blend helps nourish our skin's moisture barrier and reduce the amount of moisture that escapes from the skin while we sleep," notes Rosalba Martone, Perricone MD's Director of Education. In turn, it offers "the immense improvement of loss of firmness, lines and wrinkles while our skin is in sleep and rest mode."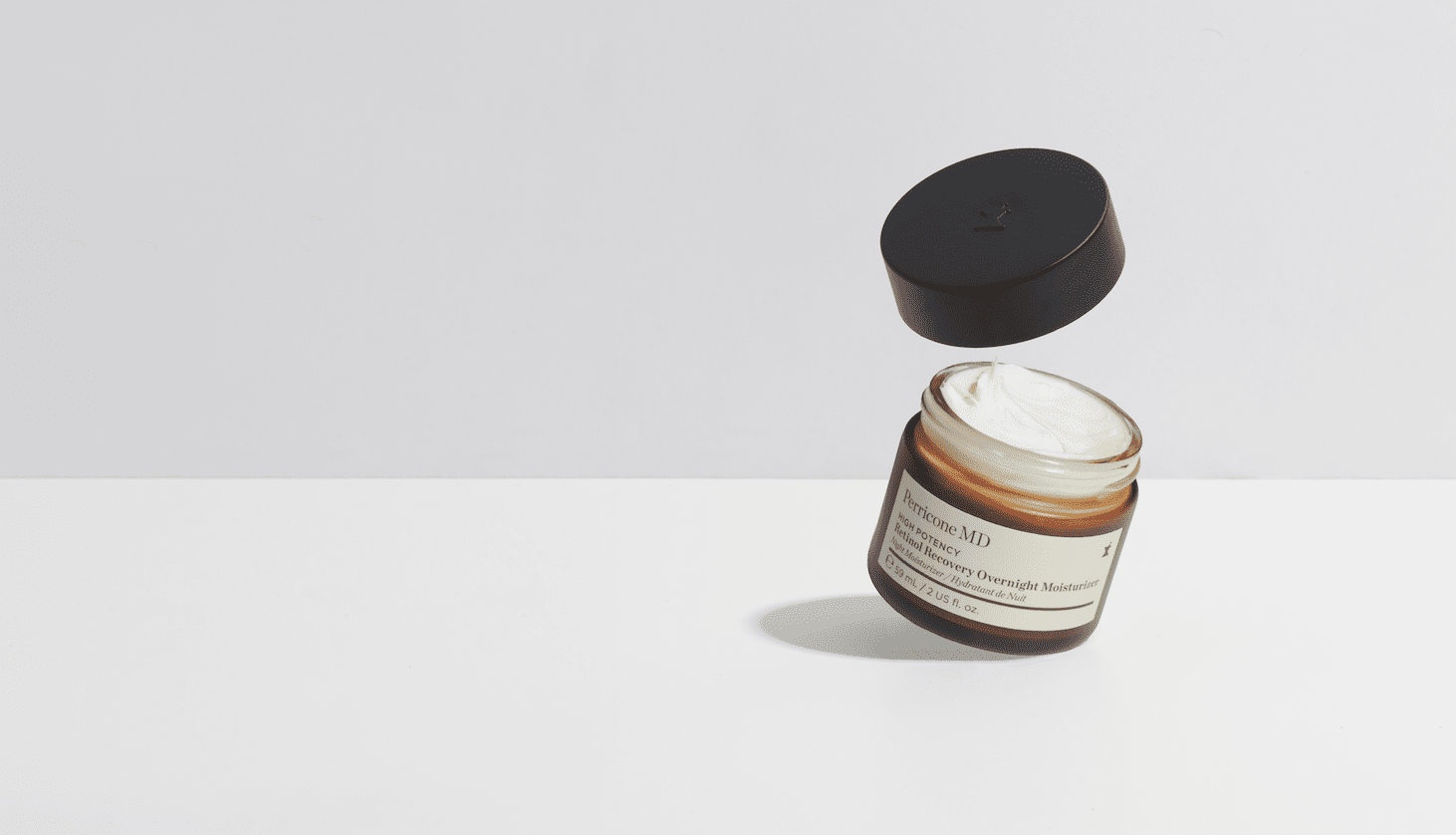 Of course, this unique retinol blend doesn't act alone in this rich overnight moisturizer. Instead, it works in tandem with DMAE and a vegetable triglyceride complex to intensely hydrate, protect your skin's barrier function and further minimize lines and wrinkles. As you sleep, this unrivaled formulation delivers a visibly firmer, smoother and more rested complexion.
Truthfully, what more could you want? While we can't see the future, we do predict that your skin is about to age very gracefully with our Triple Retinol Blend. Thanks, retinol (times three)!