Though you may have fallen curious to celebrity skincare lines over the years, there's a brilliant resurgence in dermatologist-backed brands and rightfully so.
With the promise of transparency, efficacy studies and results, research-backed brands like Perricone MD are here to stay. In fact, we've taken a science-backed approach since the very beginning when Dr. Nicholas Perricone created our very first High Potency Collection.
Designed to deliver skin smoothing and tone evening benefits, Perricone MD's High Potency Classics target and improve lines, wrinkles, unevenness and loss of firmness — and with decades of research to back it all up.
What Is High Potency?
Aptly named for its high concentrations of Perricone MD's signature sciences, the High Potency Collection delivers some of our most advanced age-defying ingredients for smoother, more youthful-looking skin.
Each formula features Alpha-Lipoic Acid (a fatty acid found in every cell in the human body) and/or DMAE (naturally produced by the human brain). While Alpha-Lipoic Acid helps reduce the appearance of lines, wrinkles and enlarged pores, DMAE helps visibly plump, tighten sagging skin and nourish skin's barrier.
According to Rosalba Martone, Perricone MD's Director of Education, "the combination of these two patented ingredients, along with others within our proprietary formulas, gives the High Potency Collection the exceptional capability of both slowing early signs of aging and reducing more advanced signs as well."
Our latest High Potency additions carry on the collection's potent reputation, delivering the same powerful benefits in new formulations (yes, for your body, too).
The High Potency Regimen in Full Force
TONER: High Potency Face Finishing & Firming Toner
This daily, rose-scented toner will instantly refine your regimen to revitalize, hydrate and soothe skin. As it gently sloughs away dead skin cells, impurities, oil and dirt, it visibly tightens, smooths and reduces the look of enlarged pores.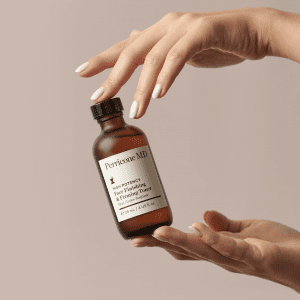 How It Works: Firming DMAE, exfoliating alpha-hydroxy acid (AHA) and soothing rosewater, derived from rose petals, work together to smooth and balance skin for a tighter, more refined, even-looking complexion.

The Results:
94% said it unclogs pores of impurities, dirt and oil*
90% saw tighter-looking pores**
86% saw more refined, smoother skin*
*In a consumer study of 104 women after 28 days.
**In a consumer study of 61 women after 28 days. 
Rosalba's Pro Tip: If only applying toner once a day, apply this in the morning for immediate vitality.
Since you naturally lose hyaluronic acid as you age, replenishing your skin with essential moisture is a must to achieve a visibly smooth, firm, and plump complexion. This lightweight serum does that (and more).
How It Works: Formulated with our unique Hyaluronic 4 + 2 Complex, an exclusive technology of 4 forms and 2 natural building blocks of hyaluronic acid, it delivers instant and long-lasting hydration while nourishing the skin's moisture barrier. Meanwhile, niacinamide visibly minimizes the look of imperfections, improves uneven tone and diminishes dullness.
The Results:
97% saw improved skin hydration for 72 hours*
86% saw softened lines and wrinkles**
85% felt firmer, more supple skin**
*In a clinical study of 35 women.
**In a consumer study of 109 women after 28 days.
Rosalba's Pro Tip: Apply this serum to damp skin for maximum benefits.
To wake up with a firmer, smoother, more rested complexion, support your skin's natural overnight recovery and renewal process with, not just 1, but 3 forms of retinol.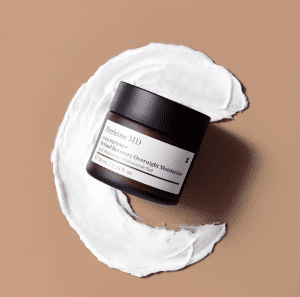 How It Works: The triple retinol blend in this ultra-rich overnight moisturizer nourishes your skin barrier and reduces moisture loss while you sleep, helping to visibly improve firmness and reduce the appearance of wrinkles. A nutrient-rich complex of vegetable lipids, including jojoba, soybean and olive oil, simultaneously hydrates, smooths and softens to support skin's barrier function and promote skin elasticity. 
The Results:
100% showed significant improvement in hydration*
91% saw reduced dullness by morning**
79% saw firmer, tighter skin with a visible reduction of fine lines & wrinkles**
*In a clinical study of 30 women after 8 weeks.
**In a consumer study of 107 women after 28 days. 
Rosalba's Pro Tip: Layer this over Hyaluronic Intensive Hydrating Serum for the perfect skincare cocktail to correct stubborn lines and wrinkles while strengthening your skin's natural moisture barrier and providing it with immense nourishment.
Smoothed, firmed, and plumped skin is equally as important from your chin down. This non-greasy body therapy comforts, conditions and revitalizes dull, crepey and dehydrated skin, while nourishing its moisture barrier.
How It Works: The same unique Hyaluronic 4 + 2 Complex found in the face serum can also be lathered from your neck to your toes thanks to this body cream. Lightweight and nourishing, it delivers all-over hydration for a dramatically softer, tighter and more even-toned appearance. 
The Results:
96% showed significant improvement in skin hydration after 3 days*
93% showed significant improvement in skin texture**
90% showed a reduction in skin crepiness**
*In a clinical study of 31 women.
**In a clinical study of 31 women after 8 weeks.
Rosalba's Pro Tip: Like with the hyaluronic face serum, apply this body therapy to damp skin allover to lock in the hydration.
Still not sure which High Potency boost you need? Let our skincare specialists help. You'll be on your way to smoother, more even skin in no time.