Picture it: you've finished your go-to skincare regimen and are staring at yourself in the mirror, tempted to pick at the blemishes reflecting back at you. You resist but can't help wondering why your consistent routine isn't helping. You're frustrated. 
If you're reading this, chances are you are one of more than 50 million Americans who can relate to this struggle each year. While there is no one-size-fits-all solution when it comes to addressing acne and stubborn breakouts, choosing skincare based on your personal concerns is essential. The great news is, we've got you covered with gentle and effective skincare formulated with salicylic acid for blemishes, no matter your skin concerns. 
Unlike most other acne treatment systems on the market, our simple, 2-step skincare regimens take a patent-approved prebiotic approach to gently and effectively target, treat, and prevent the most troublesome ance, while maintaining a healthy skin balance for clearer, blemish-free skin. 
Ready to gain clarity? Read on to determine which of our skin-clearing systems is right for you. 
Pick Your 2-Step Acne Regimen
REGIMEN 1 – ORIGINAL ACNE RELIEF SYSTEM
Ideal for acne & oil-prone skin
The first step in this Acne Relief regimen is our non-foaming cleanser that thoroughly cleanses, reduces excess oil, unclogs pores, removes dead skin cells and eliminates debris. Formulated with ultra-fine sucrose and squalene, this acne-fighting face wash hydrates without making skin look or feel greasy. 
After you cleanse in the morning, apply this lightweight lotion to gently kill acne-causing bacteria, while nourishing with essential hydration. Lactic and succinic acids work alongside salicylic acid to clear acne, while citrulline and squalane are non-irritating to visibly soothe and reduce redness. 
In the evening, swap out the Calming Treatment & Hydrator post-cleanse for this lightweight yet nourishing formula that controls excess oil and helps minimize blemishes while you sleep without over-drying the skin. The powerful combination of retinol, citrulline and niacinamide helps to accelerate surface skin exfoliation and renewal, visibly soothe skin and reduce redness, while reducing the look of imperfections overnight.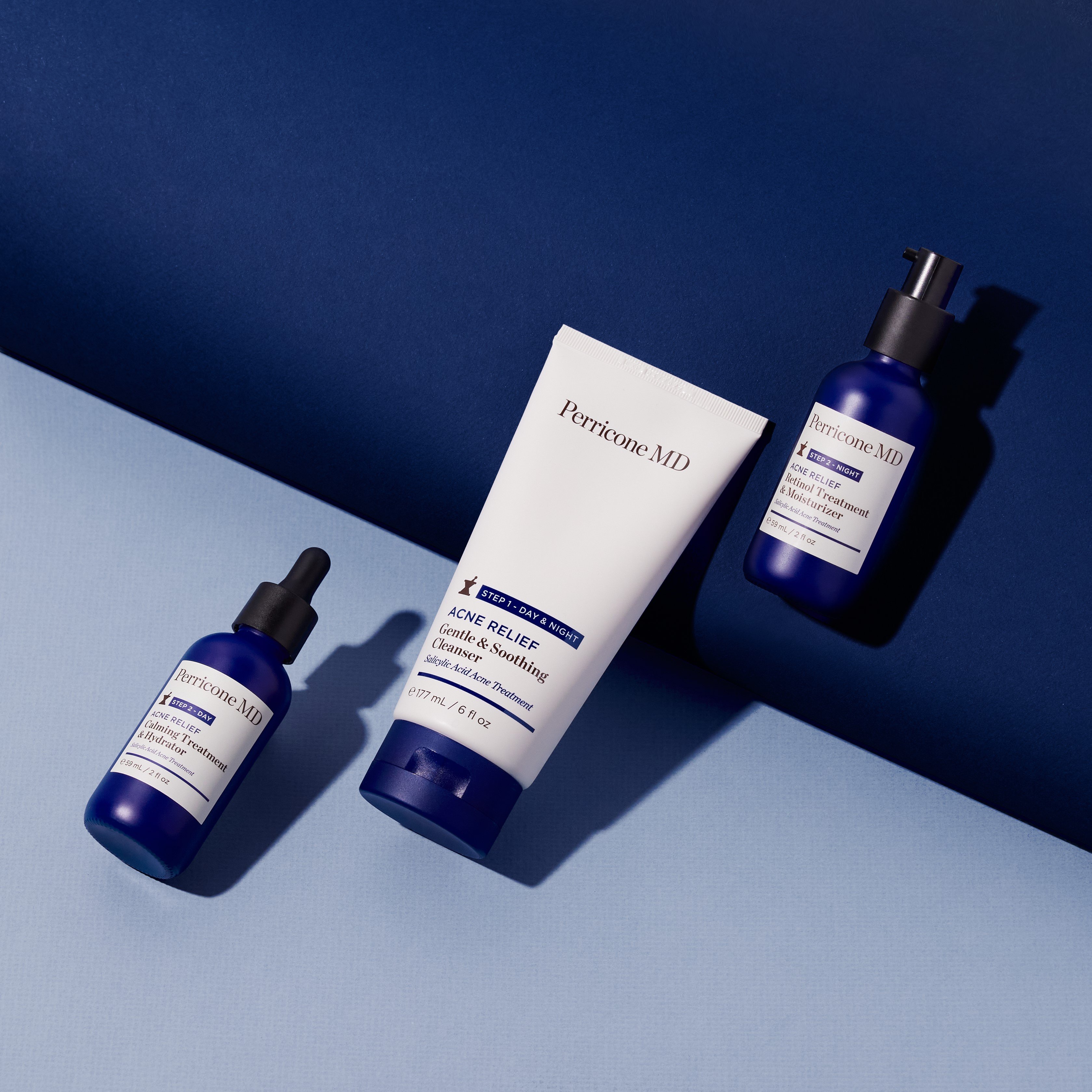 REGIMEN 2 – NEXT GENERATION ACNE RELIEF SYSTEM
Ideal for the most stubborn breakouts
Like in the original regimen, our non-foaming cleanser should be used as the first step of your routine to fight acne-causing bacteria gently, yet thoroughly. 
Once you've cleansed your skin, follow with this NEW maximum strength acne treatment, morning and evening. Formulated with maximum strength salicylic acid in a sustained delivery system, a biomimetic oat protein, skin-soothing cica [link cica blog post] and lactobacillus ferment, it will target the most stubborn breakouts while it helps calm flare-ups and visibly reduces redness.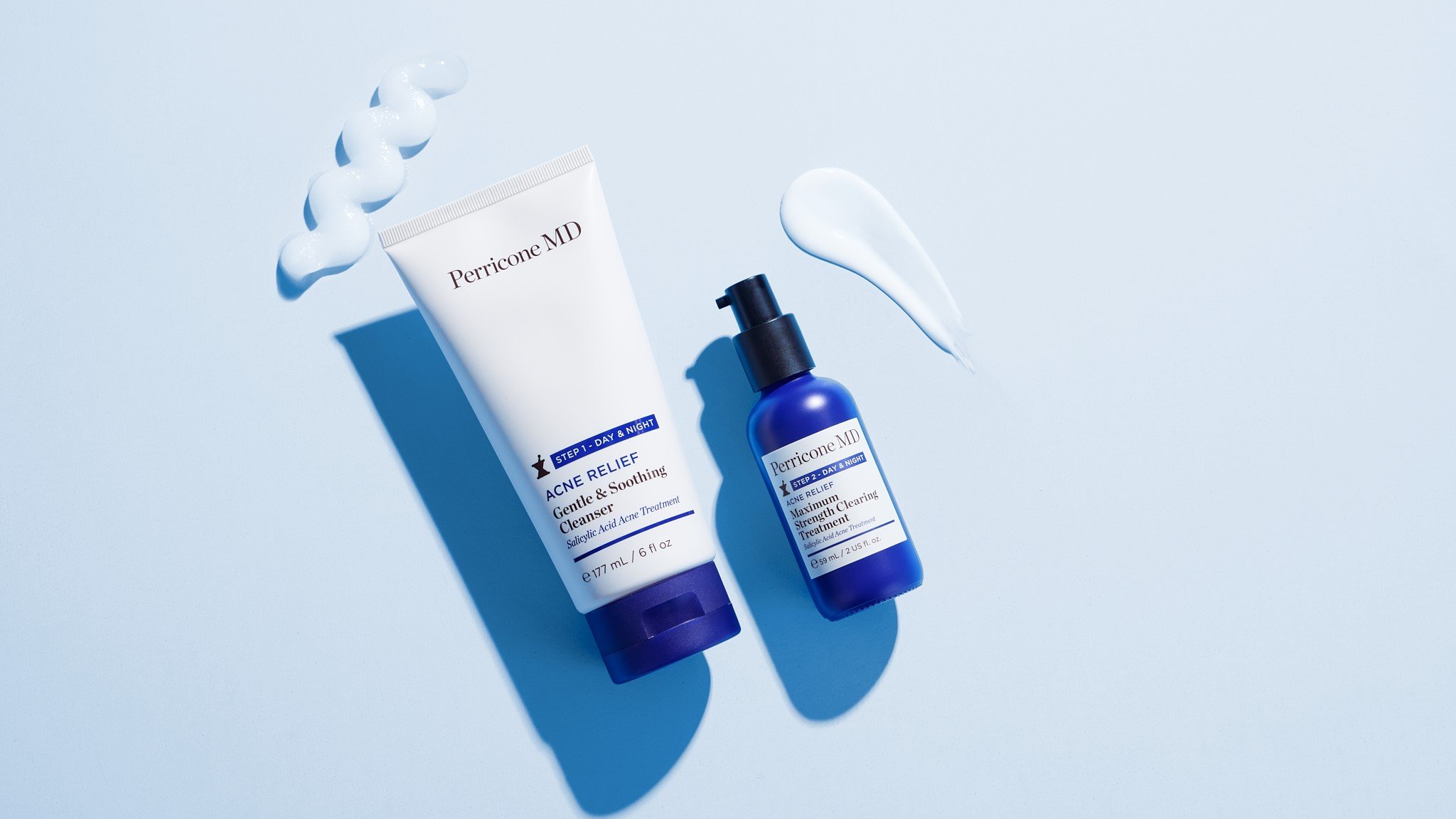 Extra Steps for an Extra Boost
Take your breakout-fighting regimen a step further with targeted solutions to help maximize the power of Acne Relief. 
Ideal for treating blemishes, clogged pores, excess oil and impurity build-up daily
Add this clarifying toner to your routine after cleansing to help further prep your skin for treatment. This pore-minimizing formula lifts impurities, unclogs pores and removes traces of oil, dirt and debris, while soothing acne-prone skin for a complexion that's left looking and feeling refreshed. 
Ideal for spot treating blemishes, whiteheads and blackheads
Spot treat blemishes with this invisible gel that works overtime to reduce current breakouts by targeting acne-causing bacteria and absorbing excess oil without over-drying. 
Ideal for treating blemishes, clogged pores, excess oil and impurity build-up weekly
For a weekly refresh, incorporate this clay mask into your regimen several times a week or use as an overnight spot treatment. It gently exfoliates, unclogs pores, removes impurities, absorbs excess oil and targets acne-causing bacteria, while soothing and reducing the look of redness for skin that's visibly healthy, hydrated and radiant.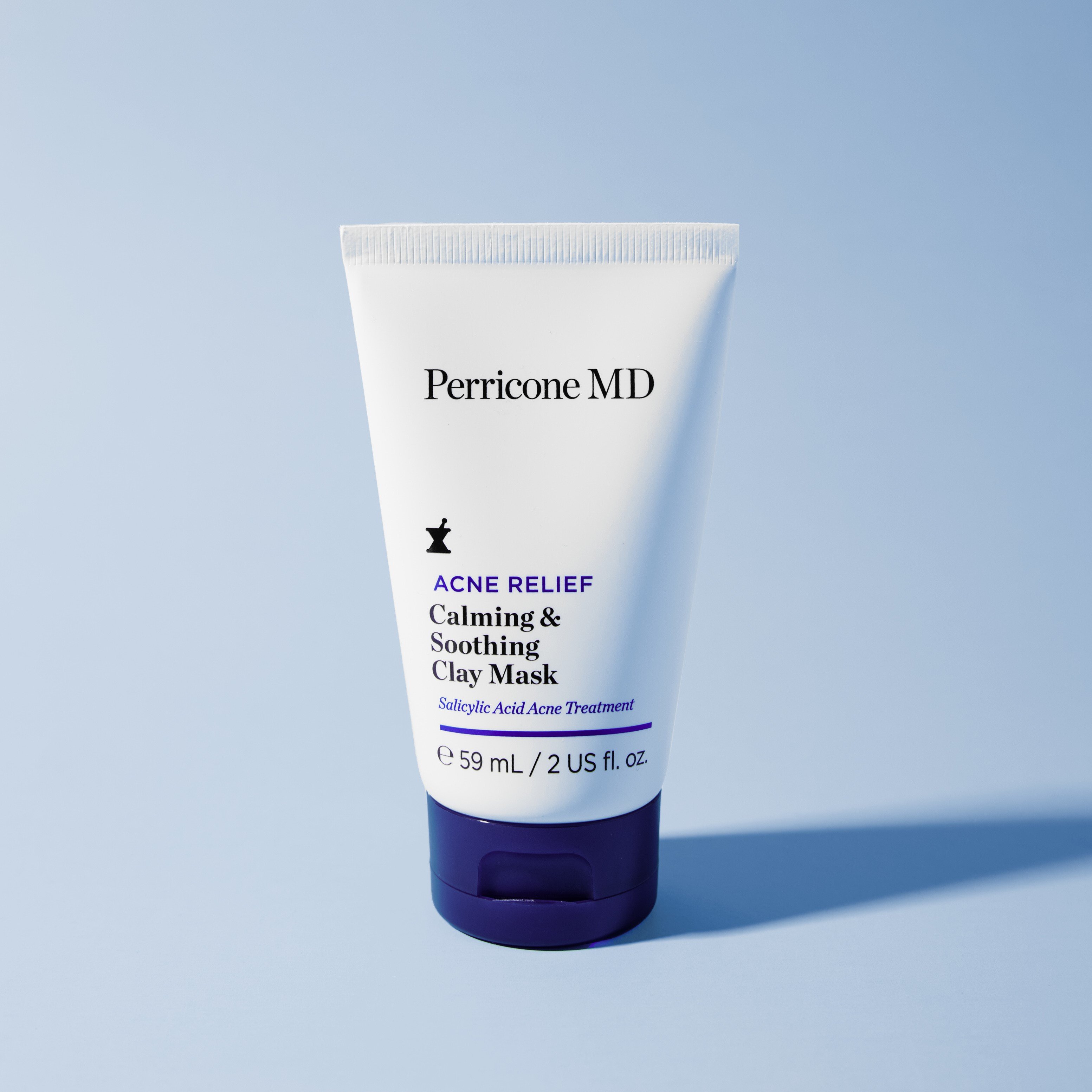 Whether your acne is intermittent or stubborn, we have the solution for you. After all, there's a reason our customers trust Acne Relief to deliver clear results.