If you've ever read a beauty buzzword (hello, "maskne" and "skinimalism") and immediately turned to Google for the definition, you're not alone. Since "biomimetics" is gaining popularity, there's a reason people are searching "what is biomimicry?" and it's because we all want to understand what we're buying and putting on and in our bodies. And reasonably so! 
In case you're one of the thousands of skincare lovers wondering what biomimetics are and whether they're good for you, we're here to help. Spoiler alert: we love biomimetic ingredients in our skincare and if you're someone looking to stay on top of what's to come for the future of skincare, it's time to do a deep dive so you are always in-the-know. 
What Does Biomimetic Mean?
Though the word may seem intimidating, when you break it down, it's actually fairly simple. The word biomimetic translates literally to "imitation of life" — "bio" being the life piece (think biology) and "mimetic" being the "imitation" piece (think mimic). In other words, Biomimicry Institute defines biomimicry as "a practice that learns from and mimics the strategies found in nature to solve human design challenges." 
Biomimetic skincare, therefore, is skincare that's made with synthetic ingredients and properties that mimic those with which the body is already familiar with naturally. This allows for a more effective and sustainable delivery of results because they're made based off of what science already knows your skin loves and even produces. 
Don't let the word "synthetic" scare you, though! Despite natural being what we hear preached so often in the beauty industry, not all synthetic ingredients are "bad." There's a reason that synthetic ingredients are important—especially in the skincare world—and it comes down to sustainability. While many people prefer to use natural ingredients, the reality is, many natural ingredients aren't the most sustainable as they are unfortunately finite and can contribute to deforestation, waste, resource scarcity and more. 
Alternatively, synthetically producing replicas of these ingredients (AKA biomimetic ingredients) for skincare has a lesser impact on the environment, leaving the natural (and edible) stuff for use where it's most important: food. 
The Soothing Power of Perricone MD's Biomimetic Oat Protein
It's no surprise that Perricone MD's ophthalmologist-tested Vitamin C Ester CCC + Ferulic Brightening Under-Eye Cream is on the forefront of biomimetic skincare. 
It's a brightening, fast-absorbing eye cream that dramatically reduces the look of brown, blue and red under-eye skin discoloration with the help of powerful, yet gentle ingredients like our innovative biomimetic oat protein. Yes, it's as incredible as it sounds.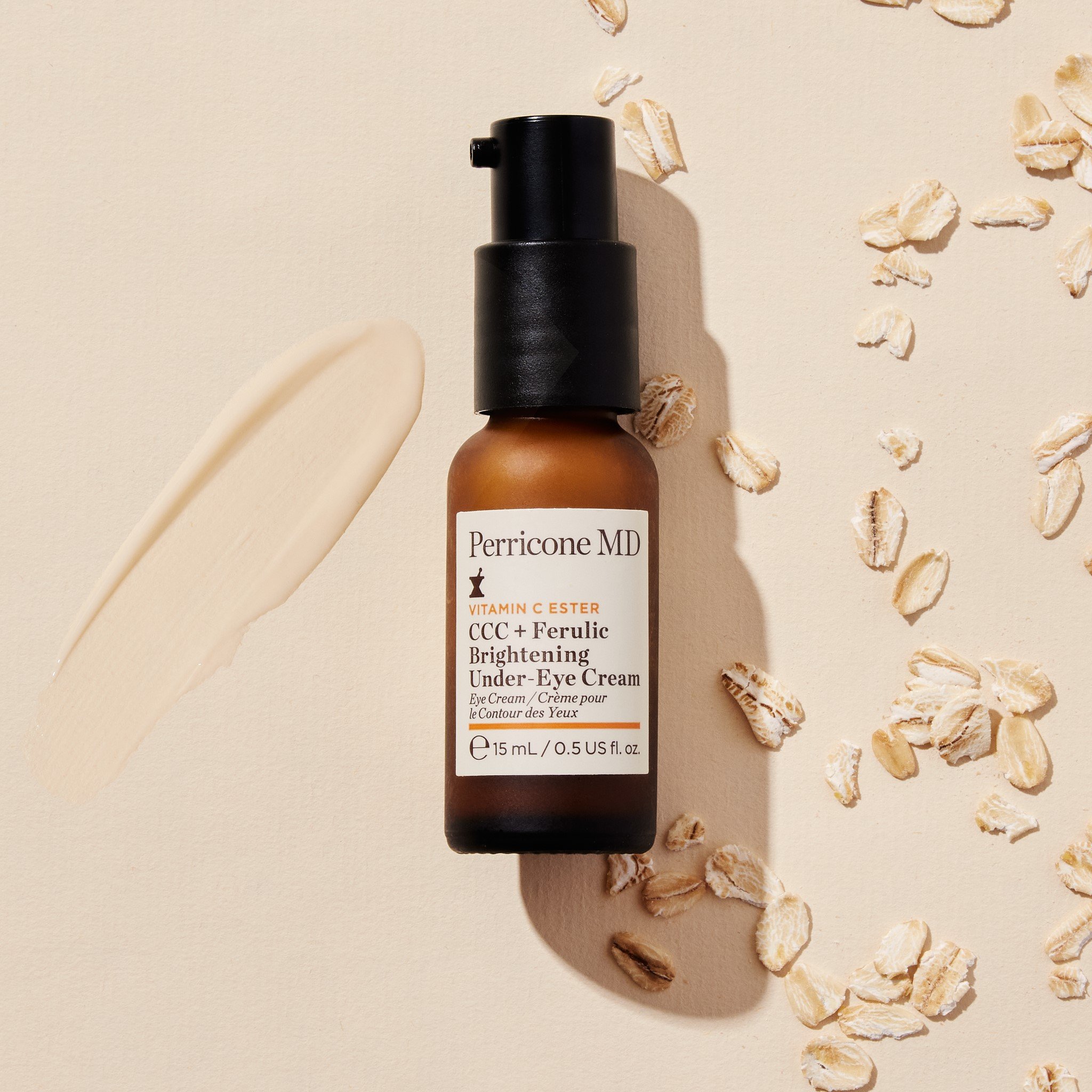 Traditionally speaking, oats have been used in skincare for their natural soothing benefits, helping to improve the feeling of dry, uncomfortable or sensitive skin. In our Vitamin C Ester CCC + Ferulic Brightening Under-Eye Cream, this biomimetic oat protein, much like its natural version, acts as a skin sensitivity neutralizer. In doing so, this oat-inspired molecule visibly reduces under-eye redness by intensely soothing to leave skin feeling comfortable with visibly less dryness. 
This supercharged eye cream is also formulated with a powerful and highly stable form of antioxidant powerhouse vitamin C, known as Vitamin C Ester, and ferulic acid to reduce the appearance of dark brown circles by smoothing and brightening. Meanwhile, peptides help visibly improve skin firmness by supporting the building blocks of healthy, youthful-looking skin and helping to minimize the appearance of blue under-eye bags, puffiness, wrinkles and sagging. 
Let's just say our Vitamin C Ester CCC + Ferulic Brightening Under-Eye Cream is a brilliant step into the world of biomimetic skincare. Awaken soothed, bright eyes and put dark and discolored under-eyes to rest. Read more about how this supercharged eye cream helps minimize the look of brown, blue and red under-eye discoloration here.