"Eat your greens," we often heard growing up and, if you have children in your life today, you may even be telling them the same. Unfortunately, the response is often not so positive. Whether it's because of the taste, the smell or the way they look, avoiding vegetables is common for little ones, but it's actually common for adults, too. 
According to the Center for Disease Control (CDC), only about 9% of adults eat the recommended amount of vegetables, for one reason or another. While this may come as a surprise, it's precisely the reason supplements are a part of Dr. Nicholas Perricone's Three-Tier Philosophy: 1. A healthy diet, 2. Nutritional supplements and 3. Potent topical skincare.  
But why is eating greens so important anyway? Let's break it down. 
The Best Greens to Eat & Their Many Benefits
As the nickname suggests, "greens" are simply green vegetables that are packed with vitamins, minerals and fiber in both the leaves and the stems. The benefits of leafy greens are limitless, making them essential for a healthy diet. 
This is because leafy greens deliver a slew of benefits like helping to reduce the risk of obesity and heart disease, support your gut health and immune system, boost digestion, fight bloat, manage weight and increase skin radiance.*  
Another category of greens that you've probably heard touted (and rightfully so) is super greens. These vegetables are especially beneficial because they are some of the most nutrient-dense options on the market, hence the "super" in their name — they're powerful. Some common super greens include kale, broccoli, spinach, collard greens, cabbage, beet greens, watercress, romaine lettuce, Swiss chard, arugula, endive, microgreens and barley grass. 
Often an unsung hero, barley grass is packed with nutrients that deliver a plethora of benefits. From providing antioxidant, cardiovascular and bone protection to supporting your immune system, metabolism and skin health, there's a reason these often-overlooked greens are seen in recipes (and it goes beyond the flavor). So, next time you're cooking up a meal that calls for barley grass or you're ordering a green drink and choosing add-ons, don't skip it! Your skin and body will thank you. 
TIP: Keep the stems on your veggies when making a green juice or smoothie. Though they may not be your preferred texture in a salad, the stems of kale, collard greens, parsley and the like taste exactly the same when blended, so mix up the extra nutrients and enjoy! 
Don't Just Eat Your Greens, Drink Them!
Dr. Perricone always said that achieving healthy-looking skin and body is three-tier. This means that on top of choosing potent topical skincare, nutritional supplements and a healthy diet that work hand-in-hand are essential for overall health and wellness. 
When it comes to supplements, our Super Greens Supplement Powder delivers an instant boost of vitamins, probiotics, biotin and other nourishing ingredients for. Available in Apple and Lime flavors, this supplement powder not only tastes delicious, but it provides powerful antioxidant protection, supports digestive and immune health and promotes healthy hair, skin and nails.* Plus, it comes in single-serving packets so you can conveniently mix it into your water at home or on the go.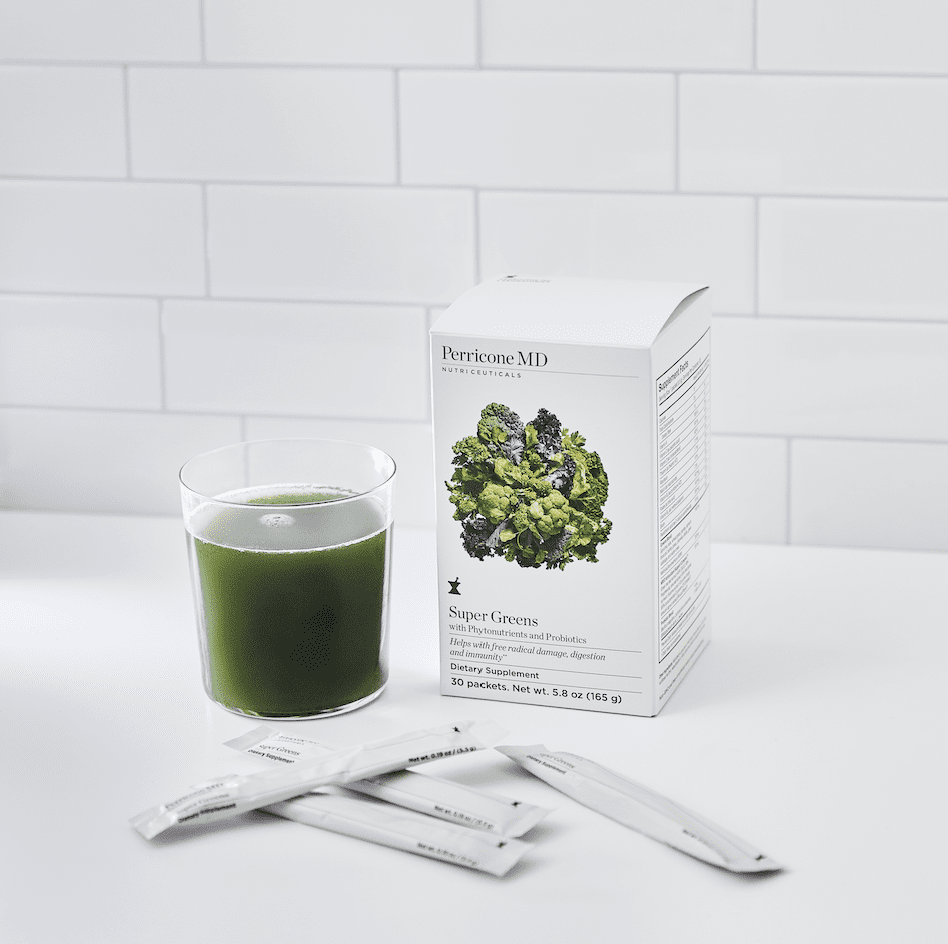 So, now that you're cued into Dr. Perricone's Three-Tier Philosophy, you're ready to become a healthier you. With a balanced diet filled with greens, nutrient-rich supplements and potent topical skincare, you'll be well on your way to glowing from the inside-out and outside-in. 
Lean into all three tiers on January 26 with a green drink for National Green Juice Day, plus a free full size skincare product (valued up to $149) on supplements orders over $75. Only on PerriconeMD.com. 
*These statements have not been evaluated by the Food and Drug Administration. This product is not intended to diagnose, treat, cure or prevent any disease.