While we hear a lot about vitamins A, C and E in skincare, there's one vitamin that gets far less fanfare but is pretty essential for your skin: vitamin F. If you're thinking, wait, that's not a real vitamin, you would be correct. Vitamin F for skin stands for fat. It's a combination of different fatty acids, or lipids, that when applied topically help to keep skin healthy, hydrated and glowing. So, what does vitamin F do? Let's take a deep dive into this super skin ingredient.
What's in Vitamin F for Skin?
Vitamin F in Perricone MD's products is composed of three of the healthiest of fats: chia seed oil, flaxseed oil and macadamia seed oil. These seeds and their oils have serious benefits, giving your complexion a major boost and polishing up your complexion. Chia seed oil, flaxseed oil and macadamia seed oil each have tremendously long resumes. When combined together, there are many benefits of vitamin f for skin, including:  
Fortifying skin's barrier:

Rich in omega-6 fatty acids, vitamin F not only helps moisturize skin, it fortifies the barrier (skin's outermost layer), which means skin can better retain that moisture.

Rich in linolenic and linoleic acid, Vitamin F helps keep the skin barrier healthy and intact.

I

t doesn't only help seal in moisture, it keeps out irritants, allergens, bacteria and other skin-harming substances. 

 

Calming inflammation:

Vitamin F may help inflammatory skin issues such as acne, rosacea and psoriasis. The essential fatty acids help quell underlying inflammation and calm visible skin irritation and redness, while helping to regulate cell function.

 

Protecting against damage:

Research has shown that omega fatty acids are converted into compounds that play a role in inflammat

ion

, which means they can affect how cells respond to ultraviolet rays from the sun, reducing sun damage. These essential fatty acids shouldn't replace your sunscreen and sun protective habits (i.e. umbrellas, hats and UPF clothing) but they can provide added protection. 

 
The Vitamin F Breakdown
As mentioned, Perricone MD's unique blend of vitamin F contains flaxseed, chia seed and macadamia nut seed oils. Collectively, they are the trifecta for healthy skin, but what do they do individually? Here's the scoop:  
Flaxseeds benefits for skin: 
This polyunsaturated fat is loaded with healthy omega-3's, an essential fatty acid also known as alpha-linolenic acid, which has been found to improve your heart health (dialing back cholesterol and blood pressure levels), help treat rheumatoid arthritis and reduce inflammation throughout the body. When applied topically, flaxseed oil acts as an age-busting anti-inflammatory.  Additionally, it helps the skin maintain its protective and plumping lipid levels and seal in moisture, leading to dramatically improved hydration. 
Chia seed oil benefits for skin:
Considered the richest botanical source of omega-3 fatty acids, chia seed oil is an ace anti-inflammatory agent. But chia seeds are also a great source of bone-fortifying minerals like calcium, phosphorus, magnesium and protein. These may help reduce your risk of heart disease and cancer. Chia seed oil for skin is just as wondrous. It's a mega-moisturizer that also helps strengthen skin's barrier function, locking in moisture and keeping out allergens, irritants, etc. It can even reduce transepidermal water loss, the rate at which skin loses moisture during the night. It's also an antioxidant, which means it can protect against free radicals, unstable molecules unleashed by the sun and the environment. And, because chia seed oil is rich in vitamin B3 and zinc, it helps balance oily skin out as well. How's that for a seed that's as tiny as a flake of mascara? 
So, could you eat your chia seeds instead of applying the oil topically and reap the same benefits? While there's a long list of health benefits associated with consuming the seeds, there's not much evidence that ingesting them will do the same for your skin as applying chia seed oil directly.  
Macadamia seed oil benefits for skin

:
Containing a Holy Trinity of fatty acids, macadamia seed oil is made up of omega-3's, omega-6's and omega-7's. This anti-inflammatory trio is known to reduce high cholesterol as well as your risk of developing heart disease or having a stroke. Macadamia seed oil has become popular with chefs because it has a higher burn point than similarly heart-healthy olive oil. With regard to your skin, macadamia seed oil is an exceptionally powerful moisturizer. It helps to prevent water from evaporating from the skin. It does this by replenishing one of the skin's two natural, protective fatty acids, palmitoleic acid, which unfortunately we have less and less of as we age, leaving our skin looking dry and crepey. 
Protect, Strengthen and Nourish Dry, Aging Skin with Vitamin F
They're powerhouses on their own, but when combined together to form vitamin F, chia seed, flaxseed and macadamia seed oils are the trifecta for healthy, supple, hydrated skin. Vitamin F is a key ingredient in Perricone MD's Essential Fx Acyl-Glutathione  Collection, which offers one of the most advanced treatments for dry and aging complexions. The collection combines the benefits of vitamin F, essential fatty acids, with a proprietary form of the powerful antioxidant Acyl-Glutathione. Together, they improve your skin's protective moisture barrier to optimal health, enveloping each and every cell with the nourishment it needs to stay hydrated and unbothered by irritants. They also support surface skin cells to fight off environmental damage (from things like free radicals, pollution and stress) and work to repair themselves. 
The products in the Perricone MD's Essential Fx Acyl-Glutathione not only intensely hydrate the skin, but help to smooth lines, wrinkles, creases and crepiness. They also help improve loss of elasticity and give skin a glow like you may not have seen in years. Begin with 2-3 drops of a highly potent face serum like Essential Fx Acyl-Glutathione Deep Crease Serum. Dot on forehead, cheeks and chin and massage in gentle circular motions, including the neck.  In the morning, follow with Essential Fx Acyl-Glutathione Rejuvenating Moisturizer,  Next, use your ring finger to blend on one drop of Essential Fx Acyl-Glutathione Eyelid Lift Serum over each eyelid working outwards to the hairline. Then, use your other ring finger to gently dab and smooth the Essential Fx Acyl-Glutathione Smoothing & Brightening Under-Eye Cream along under-eyes to the outer and inner corner areas of eyes. At night, complete your regimen with Essential Fx Acyl-Glutathione  Intensive Overnight Moisturizer.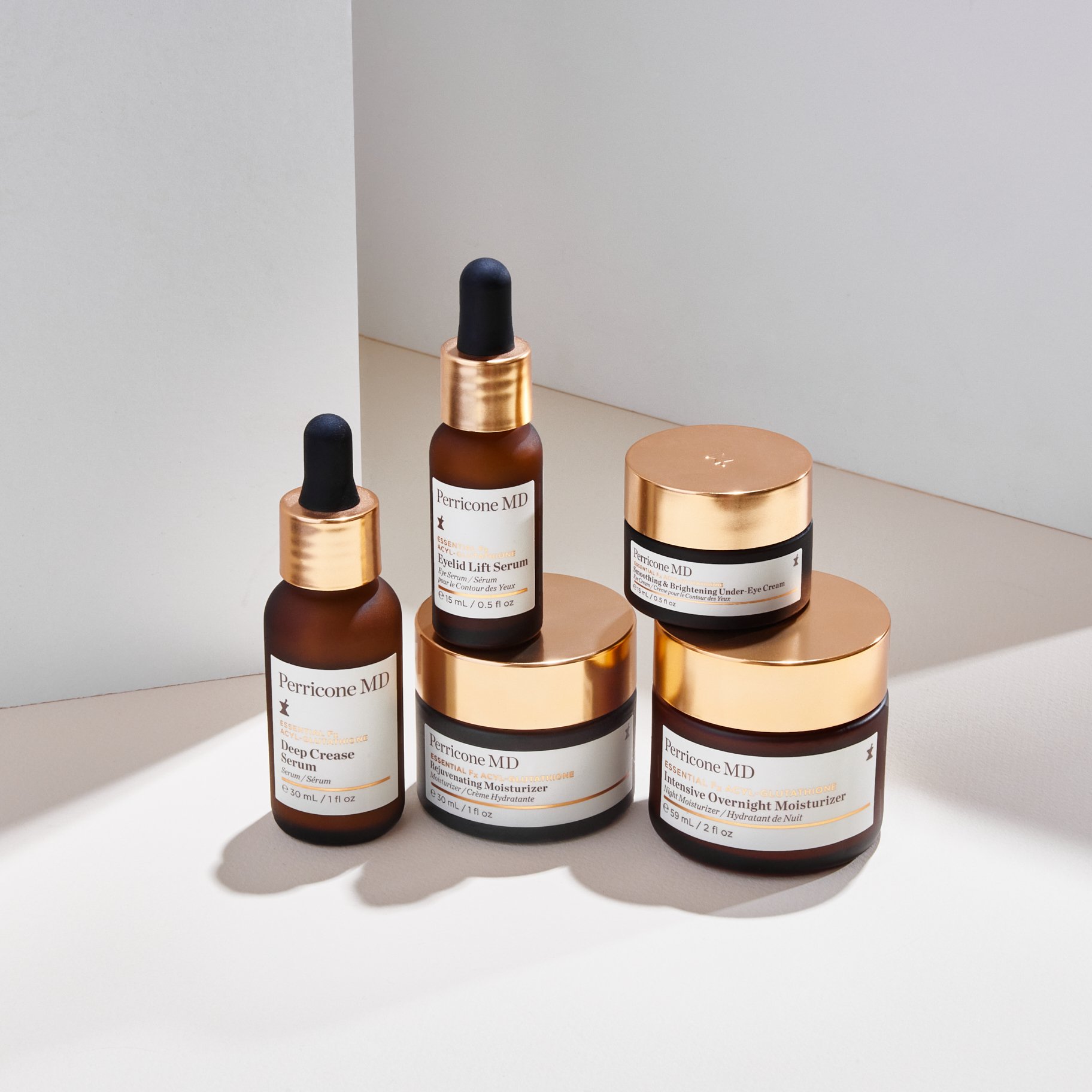 So, when you take—and apply—your daily vitamins for the day, get some vitamin F into the mix. The benefits of vitamin F for skin are clear: a smoother, more supple, well-hydrated, well-protected and glowing complexion.