Between quarantining "au naturale" and going bare-faced to prevent maskne, the pandemic has given us more time to let our skin breathe. This has caused beauty trends to shift toward more minimalist makeup looks on the days we'd once reach for heavy foundations and concealers. 
In fact, trends have shifted so much that beauty experts predict the days of full coverage makeup are a thing of the past. Gone are the days where we cover imperfections—instead, we're accentuating our natural beauty (take it from Gen Z who's re-drawing their freckles on top of their makeup). The ultimate way to do so? By opting for cosmetics formulated with tried-and-true skincare ingredients that care for your skin underneath the layers. After all, Dr. Perricone did say that "true beauty is radiant health." 
You're in luck! We have just the right no makeup makeup routine for you, featuring makeup with skincare benefits you won't want to wash off (even though you must). 
The Power of No Makeup Skincare
Perricone MD's No Makeup Skincare Collection is a unique line of skincare-infused makeup powered by the proven results of our signature sciences, including neuropeptides, DMAE, Vitamin C Ester, Alpha-Lipoic Acid and Acyl-Glutathione. 
While each product works its makeup magic to perfect, enhance and define, it simultaneously corrects, brightens and smooths to improve the look of skin over time. In doing so, neuropeptides visibly minimize the appearance of wrinkles and skin sagging, DMAE intensely firms, Vitamin C Ester brightens, Alpha-Lipoic Acid reduces texture and pore size and Acyl-Glutathione replenishes fragile skin. Skin is left looking luminous both while you wear it and after you cleanse. 
By using our No Makeup Skincare products all together, you'll experience the power of enhancing your true beauty. Plus, you won't need an Instagram filter to have people commenting "skin goals!" 
How to Do a Natural Makeup Look
Enhance your current makeup routine with the following steps to highlight, define and accentuate your favorite features for a glowing, healthier complexion you can confidently show off. Perhaps the best part, though, is that each No Makeup Skincare product is multi-purpose, so make the most of each step with the tips below.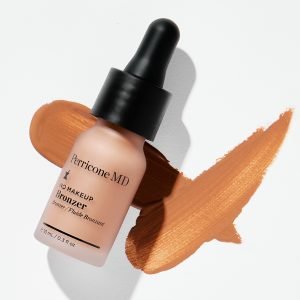 Enhance & Highlight
This weightless, blendable formula provides skin with a veil of natural warmth, while Vitamin C Ester and Chinese ginger plant extract visibly brighten, smooth and improve appearance of discoloration and dullness for a healthy-looking, sun-kissed glow without shine, shimmer or caking. Mix it with any moisturizer or any complexion product to deepen a shade or add more warmth. 
How to Use: Shake well before use. Dispense one or two drops onto fingertips, rub together and gently pat onto upper forehead, cheeks, chin and nose. 
Tip: To perfectly transition your makeup between seasons, add 1 small drop of the No Makeup Bronzer at a time to a drop of your winter foundation shade until it matches your spring and summer skin tone. "This allows for full control of foundation shades without the need to purchase an entirely new shade," says Rosalba Martone, Perricone MD's Director of Education. 
This gel-cream blush tints with a natural-looking rosiness and healthy-looking glow to accentuate the cheekbone, as Vitamin C Ester and Chinese ginger plant extract visibly improve dullness and discoloration over time. The sheer, blendable formula ensures a seamless application for a youthful flush of color. 
How to Use: Shake well before use. Apply one to three dots on the apple of the cheeks and gently pat while blending in a lifting, upward motion toward the hairline. 
Tip: Use the No Makeup Blush as a color corrector for stubborn dark circles under eyes before applying concealer to better conceal and brighten. 
This dewy, liquid-gel formula adds a subtle luminosity and definition for skin that looks naturally glowing, while Vitamin C Ester and Chinese ginger plant extract work simultaneously to even and brighten skin tone. 
How to Use: Shake well before use. Apply one to two dots along upper cheeks, the upper brow area and/or tip of nose and gently press into skin to accentuate and create definition. 
Tip: Add No Makeup Highlighter to your blush or foundation for an even more radiant complexion. 

Define & Accentuate Eyes
This hydrating, liquid formula instantly delivers a natural-looking eyelid color. Formulated with our patented Acyl-Glutathione, DMAE and Vitamin C Ester, this eyeshadow delivers more even-toned eyelids while brightening, smoothing and firming.  
How to Use: Shake well before use. Apply one or two drops onto eyelids and use fingertips to gently smooth and blend. Add one additional dot for a more dramatic effect. 
Tip: Enhance lipstick pigment by applying the No Makeup Eyeshadow to your lips (yes, lips) before applying a nude lipstick shade. 
This 2-in-1 lash treatment and mascara is designed to create the appearance of more lifted, thicker lashes. Biotin, avocado oil and tocotrienols nourish and condition with each application, improving the natural appearance of lashes over time. 
How to Use: Use the wide and flexible short bristles of the applicator brush at the lash root to build thickness and volume. Then, rotate brush and sweep the fine, firm comb-like bristles through lashes to lengthen, separate and define. Allow to fully dry before re-applying to achieve desired look. 
Tip: For those with darker eyebrows, swipe the No Makeup Mascara through them for nourished and thicker-looking brows as well. 

Complete the Look
This lightweight, skincare-infused lipstick imparts a subtle glossy tint of color as it helps to moisturize, while neuropeptides conditions, hyaluronic acid hydrates and mineral-based sunscreen protects for lips that appear smoother, firmer and plumper over time. 
How to Use: Apply generously and evenly over the lip area. Reapply throughout the day as desired. 
Tip: Dab a small amount of the No Makeup Lipstick onto your cheeks with your fingertips for a radiant finish. 
Now let's get to perfecting your go-to no makeup look, shall we? But remember! The true power of our No Makeup Skincare Collection is to accent your natural beauty.