When it comes to our skin and choosing a product to use on our faces – an area that can potentially be sensitive, easily irritated or prone to breakouts — it's important to know what's in it and how it's made. 
Clean beauty refers to products that leave out a laundry list of extras that could be potentially irritating or harmful to your skin or health. 
Products that aren't dubbed "clean" aren't necessarily dirty or dangerous, but they may contain certain ingredients that may have some not-so-pretty side effects.  
Perricone MD's products are always formulated without parabens, fish, phthalates, talc, and mineral oil, thus giving skin the gentle-yet-effective care it needs. Sensitive skin is often exacerbated by seasonal changes, so it's especially important to go even cleaner with your skincare formulations by eliminating allergens and irritants if you have a delicate complexion. 
Let's Talk About Sensitive Skin
Sensitive skin can be a tricky term to define but it can affect anyone for just about any reason. Characterized by dryness, redness, itching, stinging and burning, sensitive skin is tough to ignore. There's no test for it and sometimes it's an invisible condition (it burns or stings but looks normal on the outside), so dermatologists have to take your word for it. A study in the International Journal of Dermatology reported that 44.6% of almost 1,000 participants claim to have sensitive or very sensitive skin. The study also found that sensitive types tend to have a few things in common: dry or combo skin, a fair complexion, an underlying skin issue (such as rosacea) or extreme reactivity to cosmetic and environmental factors. 
Sensitive skin is also tricky because it's not the same for everyone. While you may get red and tingly, another person may experience dry, tight skin. And you might react to different things. Certain skincare products can set you off, as well as heat or extreme cold. For others, wind or stress might make your sensitive skin flare up. 
Sensitive Skin vs. Allergic Skin
Sensitive skin is often confused with or lumped together with allergic skin. While both may get red and irritated, the underlying cause is quite different. An allergic reaction involves an allergen that triggers a histamine response, a natural chemical in your body. Histamines can cause itchy rashes, hives, watery eyes or a runny nose (the same reason you might get seasonal sniffles). After you calm the reaction, the fix is to figure out what you're allergic to (often with allergy testing) and avoid it.  
With regular sensitive skin, there's no histamine response. Most likely, there's been some disruption within your skin's barrier, the outermost layer. Microscopic tears in this layer allow skin's essential moisture to escape, causing your complexion to feel dry. Irritants can then penetrate the skin barrier, which causes burning, redness and tingling. There can be a genetic component to sensitivity: fair complexions are more prone to sensitivity and a faulty barrier can also be passed down. You can also develop sensitive skin over time. Using harsh products can strip the skin and cause it to become more easily irritated. Even eating a diet full of junky, pro-inflammatory foods can dial-up inflammation inside your body, and that can play out on the skin's surface. Your skin also changes with age and hormonal fluctuations (such as menopause), making it drier, tighter and more reactive to irritants. 
Sensitive skin can also be a symptom of an underlying skin condition such as rosacea (which causes flushing and broken capillaries), eczema (marked by dry, inflamed skin) and psoriasis (a condition that causes a buildup of skin cells that form red, scaly patches). 
There are specific ointments, creams and oral medications to treat these conditions, but products formulated for sensitive skin would help minimize any irritation when you're in a flare. 
 Despite how common sensitive skin is, a recent Mintel report showed that only 10 percent of products on the market are made for reactive, red skin. Seeking out gentle-yet-effective products that won't irritate the skin and also calm and soothe is key for long-term relief. 
Going Clean to Care for Sensitive Skin
When it comes to caring for sensitive skin, it's all about knowing your skin's specific eccentricities and needs. Sometimes that means a little trial and error. But let's face it, that's a costly approach. The safest bet is to shop for products that are free of potential irritants and allergens. That's where the idea of clean beauty comes in. These products take the guesswork out of shopping for sensitive skin. They're already formulated without the most common irritants. As a general rule of thumb, people with sensitive skin should stick to products that: 
Do not have a fragrance

 

Do not contain SLS

 

Have not irritated their skin in the past

 

Free of the 26 known allergens

 

Include ingredients that can visibly calm and soothe, while fortifying skin's barrier

 
A Clean Skincare Routine for Sensitive Skin
Perricone MD's Hypoallergenic Clean Correction Collection is specially designed to give your sensitive skin the attention it needs with less risk of irritation. It's free of the 26 known allergens, as well as fragrance, gluten, sulfates, parabens, silicones, formaldehyde, butylene- & propylene-glycol, PEG, phthalates, BHA & BHT—all the biggest offenders for sensitive skin. The National Psoriasis Foundation also awarded it their Seal of Recognition, recognizing the entire collection as safe for those with sensitive skin. 
This revolutionary regimen takes a first-of-its-kind Three-Tier approach to deliver hypoallergenic skincare products that don't compromise on efficacy. Together, these tiers not only soothe skin with comforting ingredients like plant-derived adaptogens, including holy basil and mushroom extract but skin-protecting ingredients like ceramides and niacinamide help shield against environmental aggressors while advanced, clinically-proven peptides and plant-derived retinol, bakuchiol, visibly smooth, even and firm skin over time for a more youthful appearance. 
The three-piece regimen (all free of those ingredients mentioned above) includes: 
Gentle Cleanser

:

Mild enough to be used twice a day, this gentle, low-foaming cleanser effectively removes dirt and oil without stripping skin of essential moisture. Its formula consists of holy basil to soothe and comfort, glycerin to support skin's barrier and help retain moisture and fermented rice water to promote a visibly bright, hydrated and supple complexion with a youthful-looking radiance.

 

Barrier Repair Nourishing Moisturizer

:

With mushroom extract to soothe and condition, ceramides to protect skin's moisture barrier and peptides to fight visible collagen depletion, this ultra-restorative moisturizer visibly improves skin elasticity while softening the appearance of lines and wrinkles. The result? A firmer, more supple complexion.

 

Firming & Brightening Eye Cream

:

This deeply nourishing eye cream visibly firms, brightens and reduces crow's feet, lines and wrinkles while comforting and protecting the delicate eye area. Instead of heavy silicones, this eye cream is formulated with mushroom extract to soothe and condition, squalane to hydrate and nourish and peptides to fight the look of collagen-depleted skin.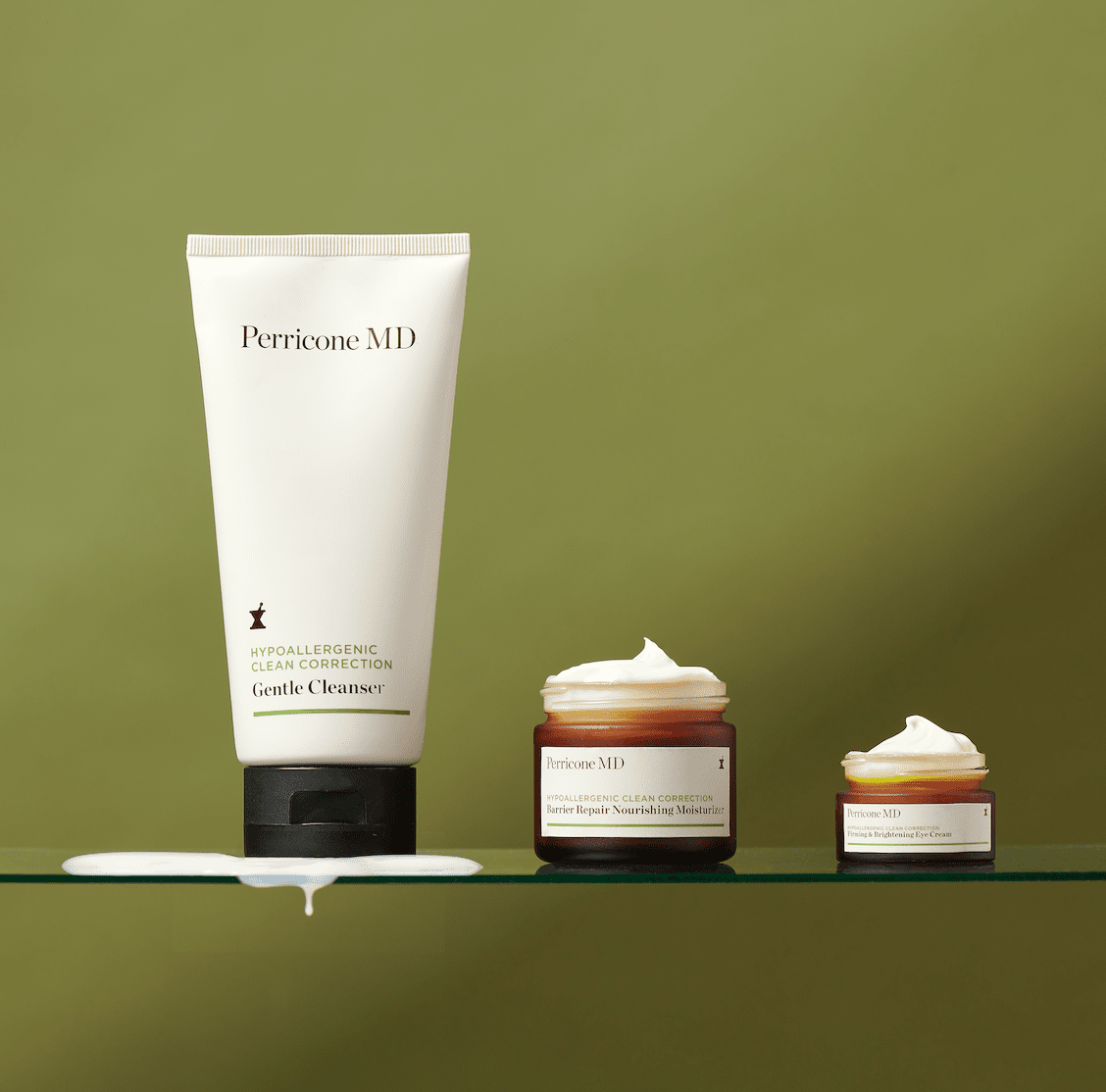 That's three clean beauty products, all formulated to visibly soothe, protect and correct your sensitive skin. Shop our Hypoallergenic Clean Correction Collection now to help make dryness, irritation and redness a thing of the past.