Not a teen—but still grapple with breakouts? You're not alone. Adult acne is on the rise, with one study estimating up to 85% of adult women (and 15% of men) struggle with acne flares. Concern over adult acne also seems to have grown more acute in the past year, as Google searches for "best skincare for adult acne" increased by 350%. So, what's to be done?
At Perricone MD, our approach to acne treatment is different from many oil-stripping, bacteria-obliterating regimens. There are three culprits: excess oil, acne-causing bacteria and inflammation, treating them too aggressively can trigger inflammation, dehydrate the skin and kill good bacteria, along with the bad, disrupting the skin's microbiome (a.k.a. that diverse collection of bacteria on the skin that acts as a protective layer). The result of a compromised microbiome: a sensitized, irritated, overly-dry complexion…that still breaks out.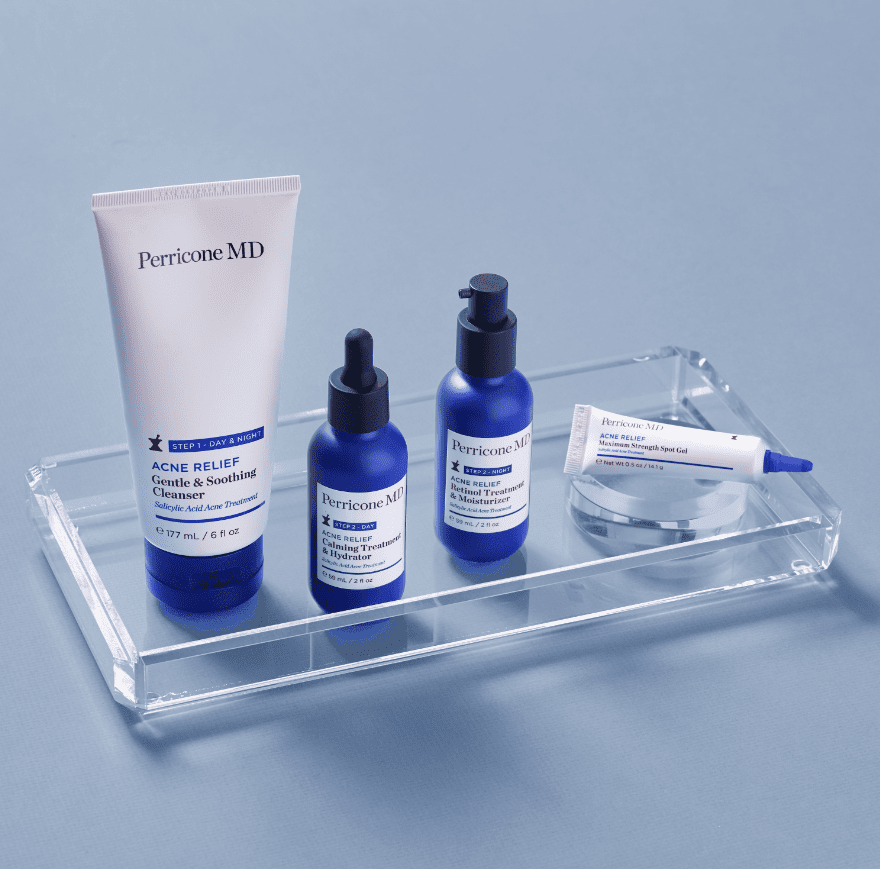 To manage mature acne-prone skin, without negatively impacting skin health, Perricone MD developed its Acne Relief Collection to selectively target and gently treat all three causes of acne with a combination of acne-fighting and prebiotic ingredients. These products also work symbiotically with the skin's natural microbiome to keep skin healthy and balanced. Bacteria is only problematic on the skin when the ratio of good to bad bacteria gets out of balance. In the case of acne, an overgrowth of acne-causing bacteria can lead to flare ups. So, the best acne treatment encourages a robust population of "good" bacteria, while limiting the proliferation of acne-causing bacteria on the skin.
Where treating adult acne becomes tricky is in finding the right balance between an acne treatment and skincare for aging skin. Products that target the signs of aging, such as fine lines, wrinkles, dark spots, and sagging, are often on the richer side and may clog pores. Combining the best acne treatment with skincare for aging skin may also up the risk of over-treating and inflaming the skin. A better bet? Streamline your regimen to two or three targeted treatments to prevent overdosing on actives, and look for ingredients, such as retinol or alpha/beta-hydroxy acids, that target both conditions simultaneously. Finally, choose hydrating formulas that nourish and reverse skin aging but won't clog pores.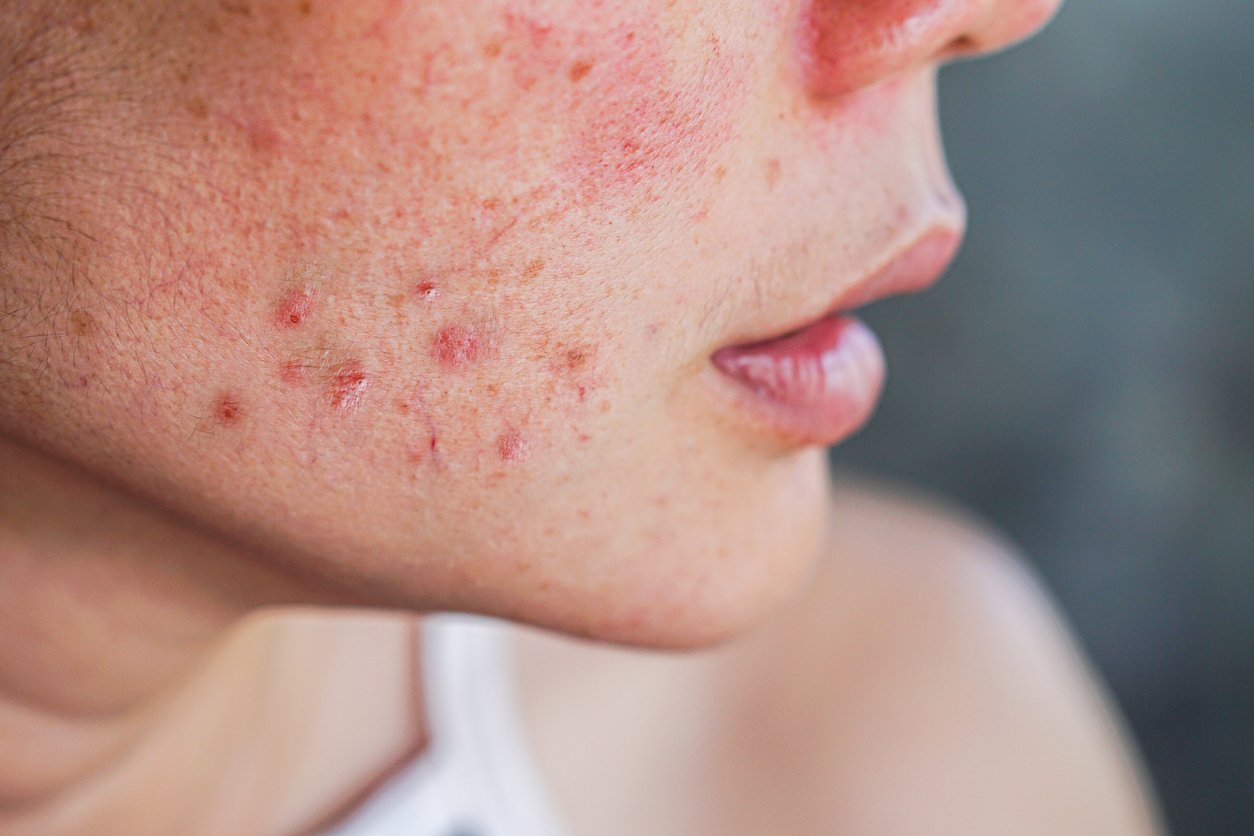 "Unfortunately, more often than not, consumers feel as though they need to sacrifice aging benefits in order to adequately address their acne concerns, but that's not the case. Ingredients like retinol have many functions. It's a powerhouse ingredient for acne concerns, as it helps to exfoliate dead skin cells and regulate the production of oil. But it's also great for aging skin because it reduces lines and wrinkles. It's all about choosing the right ingredients, and the right formulation of these ingredients. Doing that enables you to address a multitude of concerns, without compromising one for another," says Rosalba Martone, Perricone MD's Director of Education.
To help you successfully walk this acne/aging treatment tightrope, skincare experts at Perricone MD have carefully curated two anti-aging and acne skin care routines for you. Both help you treat breakouts and the signs of aging, day and night, without over-drying, over-treating or disrupting the skin's microbiome. Choose the one that best targets your specific concerns:
YOUR GOAL: To combat breakouts—and firm, lift and plump aging skin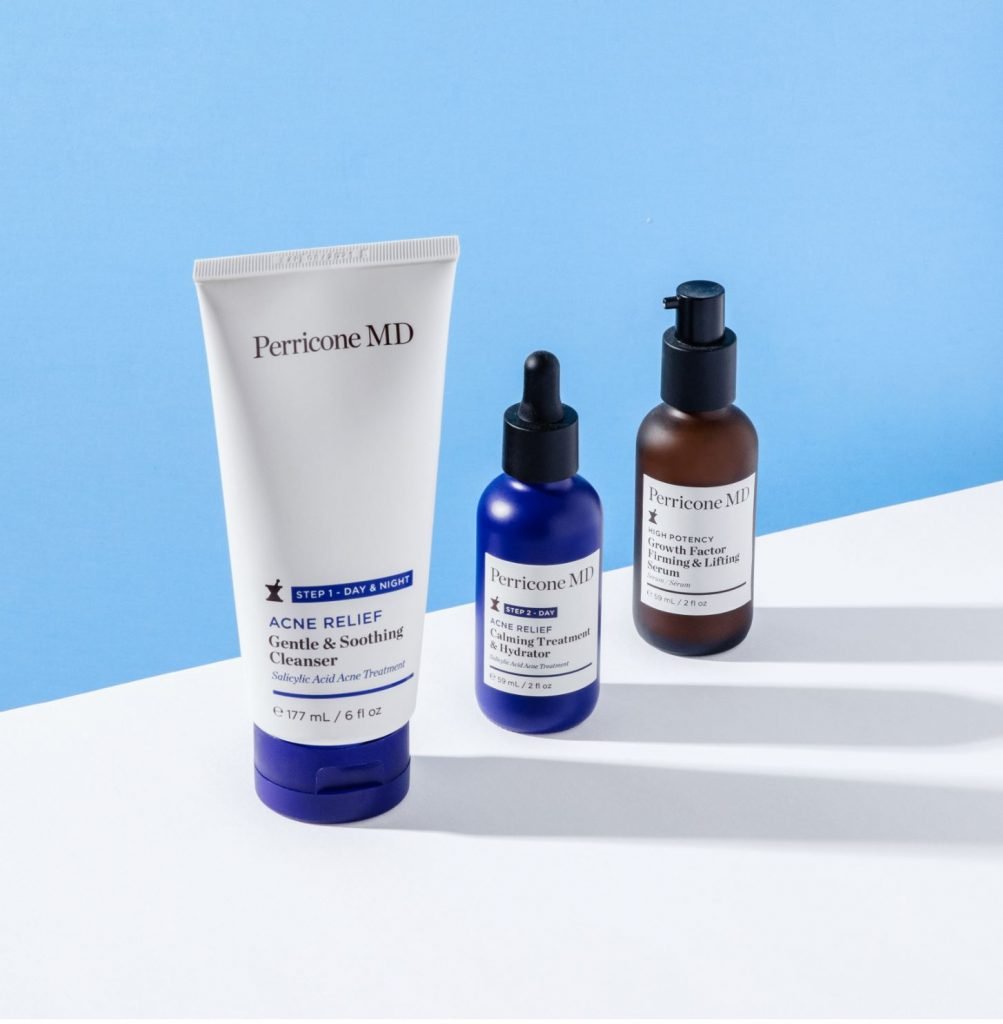 This trio utilizes gentle exfoliating, acne-bacteria-killing ingredients to treat breakouts, enlarged pores, and rough texture; nourishing additives to smooth the appearance of fine lines and wrinkles; and Dr. Perricone's next generation polyamine technology to firm and tighten slack skin.
Step 1 Day & Night: Acne Relief Gentle & Soothing Cleanser
This gentle face wash should be used both day and night as part of an effective, anti-aging and acne skin care routine. The non-foaming formula uses maximum-strength salicylic acid to kill acne-causing bacteria, reduce excess oil, unclog pores, and remove dead skin cells. The cleanser also contains sucrose, a mild exfoliant that helps support a healthy skin biome. Finally, thanks to soothing and hydrating squalane, the cleanser leaves the skin feeling soft, smooth and refreshed.
Step 2 Day: Acne Relief Calming Treatment & Hydrator
Each morning, after cleansing, apply this lightweight daily lotion over your entire face and neck. Citrulline and squalane hydrate and soothe; salicylic acid gently eradicates acne-causing bacteria; and lactic and succinic acids help support a healthy skin microbiome.
Step 2 Night: High Potency Growth Factor Firming & Lifting Serum
To help reverse skin aging, apply this powerful treatment in the evening, immediately after cleansing. Formulated with Dr. Perricone's next generation polyamine technology, this serum delivers a visible lifting, firming and plumping effect. Among its powerful actives: Polymine Growth Factor, which keeps mature skin firm and youthful; eggshell membrane, which supports the skin's moisture barrier and improves elasticity; and encapsulated retinol, which accelerates surface skin exfoliation. 
YOUR GOAL: To combat adult acne—and treat the nine most visible signs of healthy, youthful-looking skin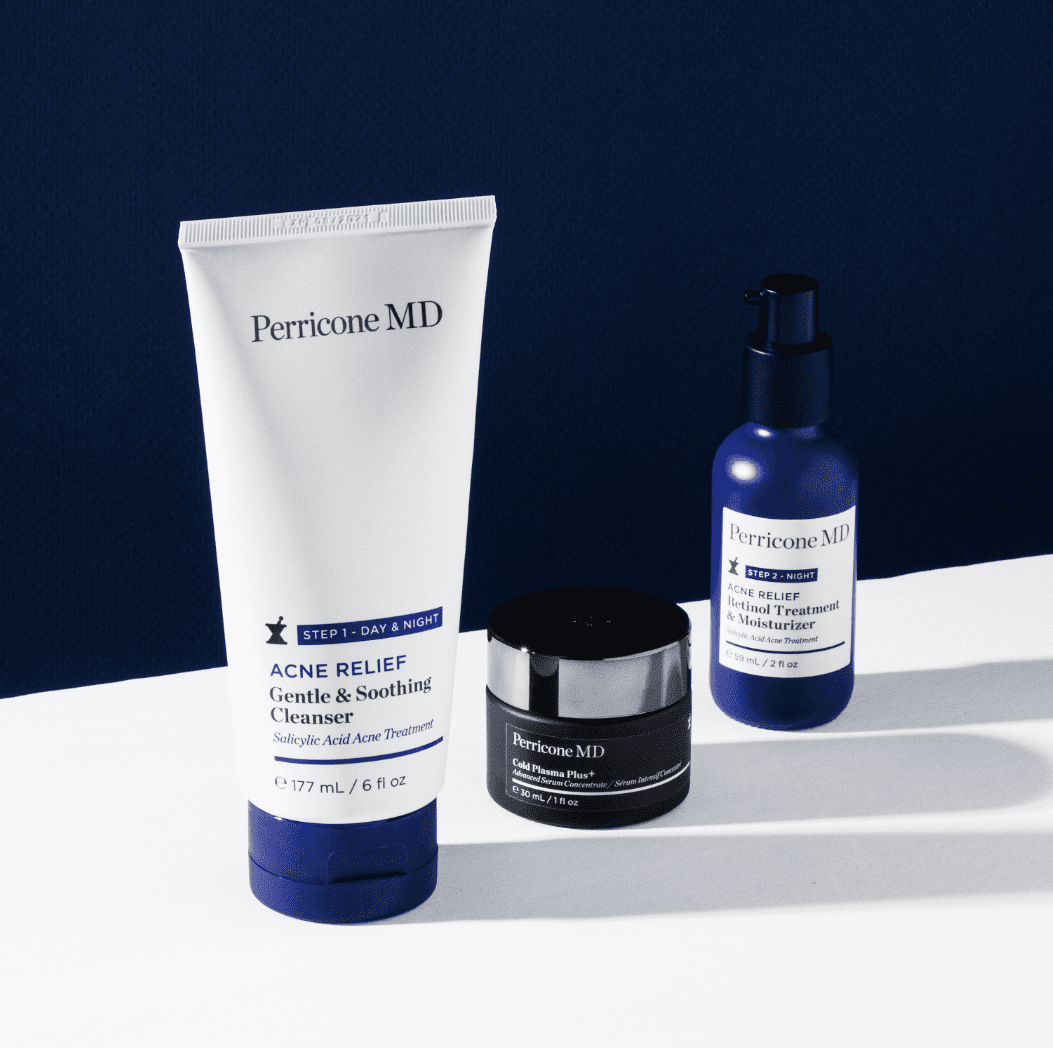 This anti-aging and acne skin care routine trio helps gently treat and prevent the most troublesome acne and promotes the 9 most visible signs of healthy, youthful-looking skin by improving the appearance of fine lines, wrinkles, enlarged pores, dullness, uneven texture, uneven skin tone, discoloration, redness, and loss of firmness. 
Step 1 Day & Night:  Acne Relief Gentle & Soothing Cleanser
This cleanser utilizes salicylic acid, sucrose and squalane to kill acne-causing bacteria, reduce excess oil, unclog pores, and remove dead skin cells.
Step 2 Day: Cold Plasma Plus+ Advanced Serum Concentrate 
Use this multi-tasking powerhouse during the day, after cleansing to reverse skin aging. This product is truly the one jar that does it all, utilizing an all-star lineup of actives: Vitamin C Ester, which brightens and minimizes discoloration over time; Omegas 3, 6 & 9, which plumps the skin by strengthening the moisture barrier and improving the skin's ability to retain water; and copper tripeptide, a naturally-occurring complex with three amino acids, that helps repair dry skin for dramatically firmer, smoother, younger-looking skin. 
Step 2 Night: Acne Relief Retinol Treatment & Moisturizer 
Each evening, after cleansing, apply this lightweight yet nourishing acne treatment to control excess oil and help heal blemishes while you sleep, without over-drying the skin. The powerful combination of retinol, citrulline and niacinamide helps to accelerate dead-skin-cell exfoliation, visibly calm inflamed skin and reduce redness. 
With the winning combination of supercharged, high-quality ingredients, the right anti-aging and acne skin care routine and a little bit of patience, you can reverse skin aging and have clear, youthful-looking skin.