Remember when we were young, our goal was to look older and more sophisticated? Chances are, makeup application played a big role… as in, the more makeup, the better the chances of passing for a more older-looking version of ourselves. This likely included a gratuitous spackling of eye shadow, heavy on the shimmer and smokiness. So we must strategically choose makeup for mature skin to avoid adding years to our faces. 
Eye makeup is one of the first things that can be dialed back to look younger and "fresher." But, unlike the makeup of our mother's generation, eyeshadow is no longer about hiding the signs of aging or covering up what makes us look like ourselves. Instead, the wisdom we've gained with age has carried over to how we view our makeup: we want to enhance the skin we are in with products that let our natural beauty shine through, while making us look more vibrant, fresh and awake. 
Here are 7 makeup tips for mature skin and how to promote a brighter, smoother and more even complexion. 
Moisturize your wrinkles and crow's feet.
Start any makeup application by lightly dabbing on a nourishing eye cream like the Vitamin C Ester CCC + Ferulic Brightening Under-Eye Cream to achieve a firmer, more awakened look. This brightening eye cream works as a triple-threat to dramatically reduce the look of the three types of under-eye discoloration — dark brown circles, blue bags and puffiness and under-eye redness. Use your ring finger to apply it with the gentlest touch to avoid pulling on the delicate skin around your eyes. 
Besides helping thin skin to look youthful and plump, regular application of eye cream will also ensure that you don't have any dry patches that can make concealer and shadow look uneven, flaky or cakey. 
Prepare skin with a primer.
 If you want to create a smoother surface to help makeup glide on flawlessly and stay put all day, you need to apply a solid base layer. Our No Makeup Instant Blur is the best primer for mature skin, because it blurs imperfections and minimizes the look of pores, redness, wrinkles and fine lines without creasing as the day goes on.  
Pick and choose what you use, and when.
Brighten and lift your entire look by applying concealer only where you need it and preserve your skin's natural glow and texture wherever you don't. The point is to even out skin tone and hide any darkness, not to mask the whole area, which can look too heavy and actually "weigh down" your eyes. If you've been dutiful with your skincare routine or you're blessed with great genes, you may even opt to skip concealer and use only our No Makeup Foundation Serum. 
 Beyond its buildable, semi-matte coverage, though, this skin-improving serum foundation also gradually improves the appearance of dark spots and uneven skin tone. The result? Visibly smoother, more uniform skin over time.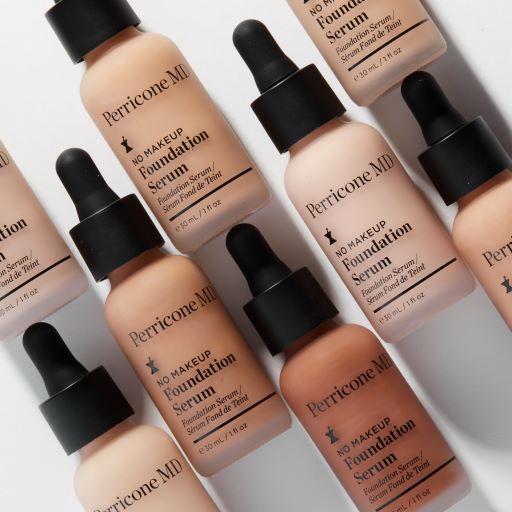 Don't layer too many products.
We get it—you catch sight of your dark under-eye circles and crow's feet in the mirror and you want to use everything you have to make them disappear. But by layering on too many products to hide them—concealer, foundation, powder—you're making everything look worse. Resist the urge to overapply. A little complexion makeup goes a long way—your goal is not to erase the past 20 years, it's to look like you got a good night's sleep, so your eyes look radiant, bright and alert.  
Use your fingers. 
A great way to avoid a heavy, cakey finish is by applying makeup around your eyes using your fingertips. Using your finger instead of a makeup brush will ensure that the coverage is sheer, and that the product "melts" into your skin for a natural look. Use your ring finger for the lightest touch and be sure to dab gently, never drag or pull your finger across the skin. 
Skip the powder.
Applying powder on top of concealer or foundation (even on top of moisturizer) can make lines and wrinkles more obvious. It's hard to avoid creating a cakey texture when you add powder (it can be like flour, when baking a cake). However, if your skin is oily or if you're in a hot or humid climate, a little bit of very finely milled powder — preferably with silica, not talc  — is OK. 
Go for less, not more on the eyes.
 If you have concerns about texture of your eyelids, forego heavy or overly pearlized, shimmery shadows, and throw away large chunk, glittery shadow once and for all. Instead, a "non-color" or nude that's close to your skin tone is the ideal choice of eye makeup for mature skin because it covers blood vessels, hides discoloration and brightens the entire eye area. 
Using a very light touch, apply No Makeup Eyeshadow — now available in four shades for various skin tones — atop both eyelids. The satin finish of each shade glides on easily and immediately "wakes up" the eye area, without looking like you're wearing makeup. Take it a step further by blending several natural hues together to try out different no makeup looks. Bonus: Add a dot of No Makeup Highlighter below and above the arch of the brow to give the illusion of lift.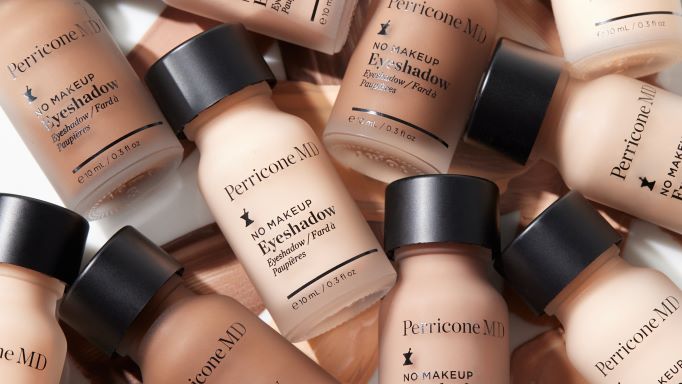 Of course, getting older is a privilege and those smile lines, crow's feet and other marks are signs of a fulfilled life worth celebrating. But you know what else is worth praise? Feeling good in your own skin. With a few products from our No Makeup Skincare collection, you can enhance your natural beauty at any age, so you feel confident with or without it.