For men and women alike, our skin is a big deal. It is, after all, our largest organ and therefore vital to protecting our bodies from external elements and aggressors. Although most skincare products tend to be targeted at women, it's just as important for men to take care of their skin with a skincare routine. The key to finding the right one? Whether you're a man who's a novice or one that is serious about skincare, choose a regimen tailored to your specific needs and your lifestyle. Here's what you need to know.
Men's skin differs from women's skin
There are some subtle, but important, differences. Interestingly, although men have smaller sebaceous glands (glands in the skin that secrete sebum) than women do, their skin produces more oil. This is due to higher levels of testosterone, which makes men more prone to blemishes than women. Men actually don't produce the same amount of oil as women until the age of 50, when their oil production begins to decline.
According to a study published in the International Journal of Cosmetic Science, men also have more sensitive skin than women do. The study reports that in self-assessment surveys, about 40% of men rated themselves to have sensitive skin and about 33% of men reported having experienced a skin reaction to a personal care product in the past. Also, 80% of dermatologists have noted an increase in male patients reporting that they have sensitive facial skin.
Years of shaving can also take a toll on men's skin, too. It damages the skin's hydrolipidic film, which strips skin of its natural lubrication, leading to chronic dryness. Shaving also causes acute inflammation like nicks and cuts, which damage the skin and results in irritation and micro-trauma. This is exacerbated by details found in the International Journal of Cosmetic Science study,  which shows that wound healing is slower in male skin.
What men's skin needs: Cannabidiol (CBD) skincare
Cannabidiol (CBD) is a natural ingredient derived from the hemp plant that is known to soothe, calm and nourish the skin. According to a study that appeared in The Journal of Clinical Investigation, Cannabidiol (CBD) puts the brakes on sebum production, which helps prevent blemishes. It also helps to reduce the redness and swelling associated with blemishes and irritation, and keeps skin hydrated.
By soothing irritated skin and boosting hydration, Cannabidiol (CBD) is the perfect ingredient for men to use in their skincare regimens. Dr. Perricone uses CBD isolate or 99% pure Cannabidiol (CBD)  to ensure that the ingredient is in its natural state and free of any impurities so that you get nothing but the soothing, calming and nourishing benefits.
Five simple steps to healthier, more radiant skin
Using the Perricone MD Hypoallergenic CBD Sensitive Skin Therapy Collection and following a simple series of steps in the morning and evening can prevent irritation caused by daily shaving and improve the appearance of skin overall. These products are hypoallergenic, non-comedogenic and clean (meaning they are free of the 26 known allergens, as well as fragrance, gluten, sulfates, silicones, parabens, formaldehyde, butylene- and propylene-glycol, PEG, phthalates, BHA and BHT), so they won't aggravate sensitive skin.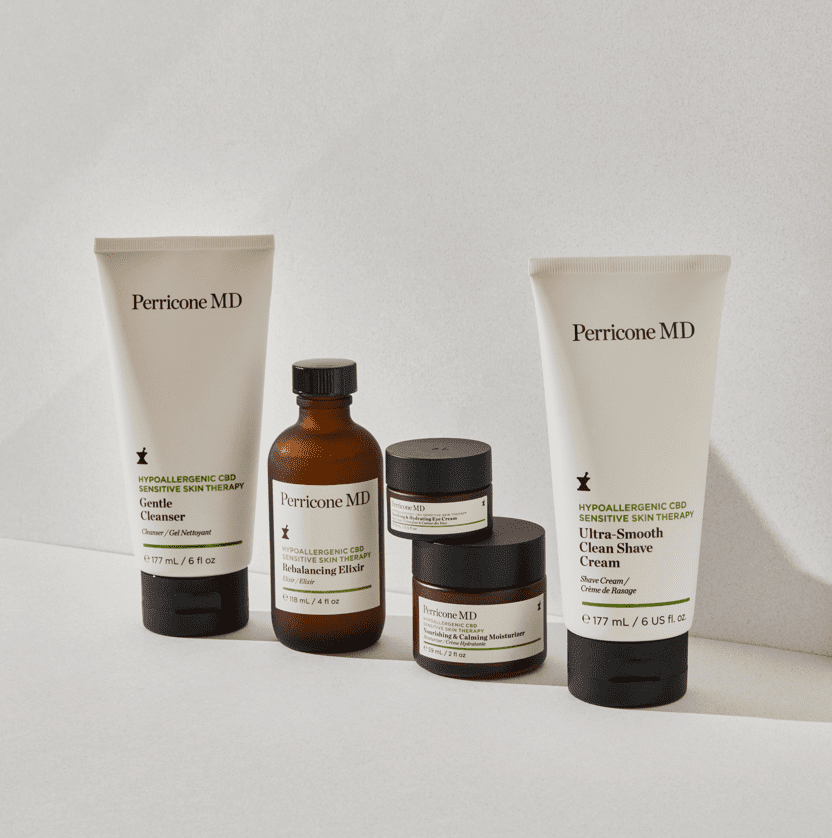 Step 1 PREP: Hypoallergenic CBD Sensitive Skin Therapy Gentle Cleanser
This low-foaming cleanser combines soothing and anti-inflammatory CBD with cannabis sativa seed oil to soften, hydrate and strengthen the skin's protective barrier without clogging pores. The cleanser also contains glycerin, a natural humectant that smooths and moisturizes.
To use it: Lather a small amount in your hands and gently massage it onto damp skin. Rinse off with warm water.
Step 2 SHAVE: Hypoallergenic CBD Sensitive Skin Therapy Ultra-Smooth Clean Shave Cream
The store aisles are flooded with an assortment of shaving creams to choose from, but not all of them are created equal. Not only is there a variation in the texture (thinner textures tend to not fully protect the skin from nicks and irritation – their consistency doesn't create an even, smooth surface), but you have many different formulations. Shaving options come in the form of gels, foams, soaps, creams and lotions. The ideal formula is one that is thick enough to help protect your skin from damage and sensitivity. Rich and creamy in texture, the NEW Ultra-Smooth Clean Shave Cream creates a smooth surface, allowing the razor to glide seamlessly across your skin. This helps to prevent the redness, razor burn, ingrown hairs and irritation that often occur when you use other types of shaving creams or gels. To soothe and nourish the skin before, during and after your shave, the Ultra-Smooth Clean Shave Cream contains cannabis sativa seed oil and conditioning allantoin.
To use it: Massage a thin, even layer onto clean, damp skin. Shave as usual and rinse thoroughly when you are done.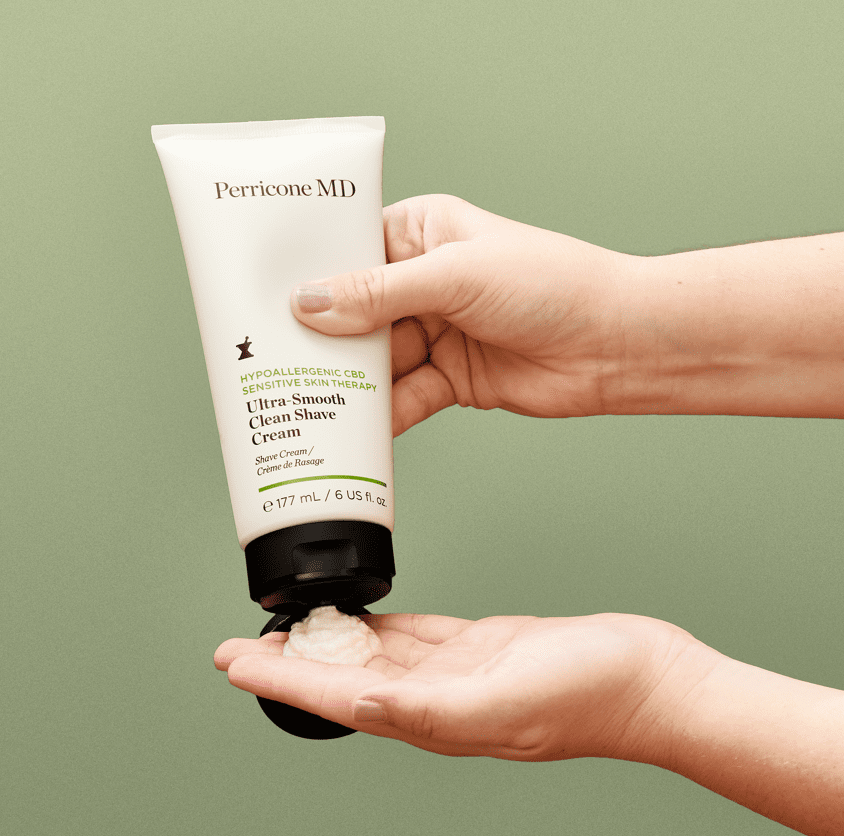 Step 3 REBALANCE: Hypoallergenic CBD Sensitive Skin Therapy Rebalancing Elixir
The purpose of aftershave is to console the skin after the disturbance of shaving and to rehydrate the skin post-shave. Many aftershaves contain fragrance, alcohol and other irritating ingredients that are too harsh for dry, sensitive skin. However, this elixir will rebalance the skin and return it to its optimal pH level and further calm skin down with the help of Cannabidiol (CBD). The Rebalancing Elixir also contains mushroom complex (an antioxidant that calms skin and restores pH balance) and cherimoya fruit extract (a natural extract full of free-radical fighting antioxidants that also soothes angry, irritated skin).
To use it: After shaving, pour about two shakes of the product into your hands and press your palms together to wet both hands. Pat onto your face and neck to ensure even coverage. Wait a few minutes to allow the product to fully absorb before applying your next step.
Step 4 MOISTURIZE: Hypoallergenic CBD Sensitive Skin Therapy Nourishing & Calming Moisturizer
The Cannabidiol (CBD)-infused products in this collection will effectively defend from dryness, but your skin still needs an extra coat of moisture to seal in hydration. The lightweight yet velvety Nourishing & Calming Moisturizer helps to revitalize skin. It is formulated with hydrating licorice root and buriti oil. The natural buriti oil is high in fatty acids, vitamin A and vitamin E that improves skin elasticity and protects against environmental stressors.
To use it: Massage onto face and neck using a gentle upward motion.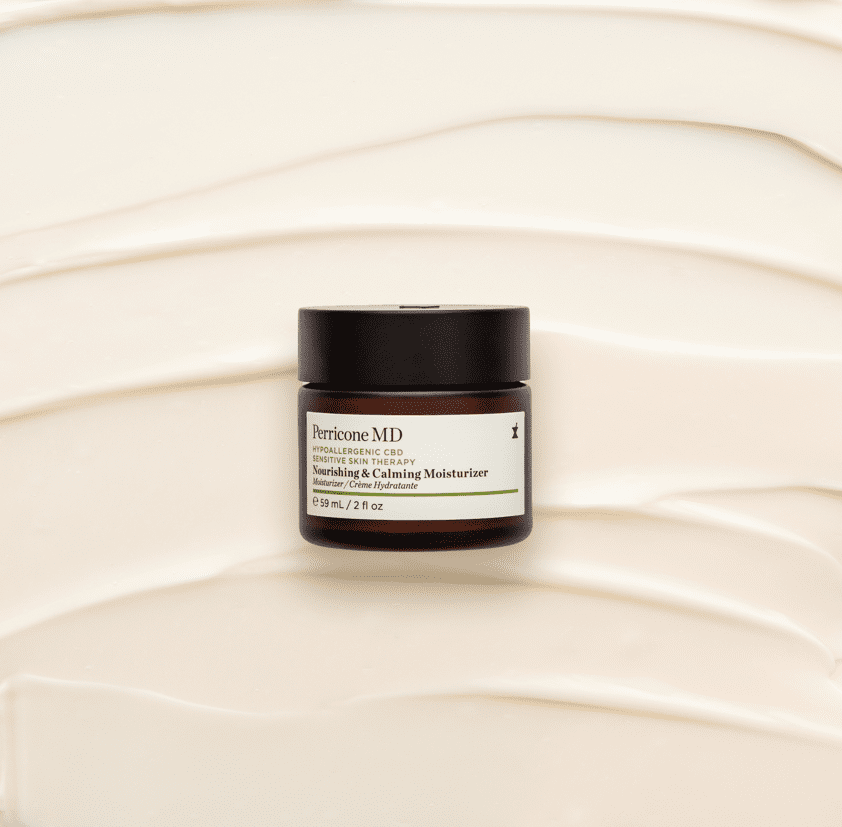 Step 5 EYE: Hypoallergenic CBD Sensitive Skin Therapy Soothing & Hydrating Eye Cream
Because the skin around your eyes is fragile, delicate and prone to wrinkling, it's essential to finish your skincare routine with a rich, gentle eye cream formulated to hydrate and soothe. The Soothing & Hydrating Eye Cream packs bisabolol (one of the main compounds in chamomile extract that brightens skin) and marigold extract (an oil that hydrates, giving the appearance of collagen-rich skin), resulting in a more youthful-looking eye area.
To use it: Gently pat onto your eye area with your ring finger, being careful not to get the product in your eyes.
Shaving is a necessary part of daily life for many men. Take the sting out of the process with the Hypoallergenic CBD Sensitive Skin Therapy Collection's gentle, non-irritating products that ensure a clean shave while hydrating and improving the condition of your skin.