It's not news that fatty acids are crucial for our overall health, but what may be lesser known is that essential fatty acids, like omegas 3 and 6, are just as vital for maintaining skin health. 
Thankfully, popular ingredients like omega-rich chia seed oil exist in nourishing topical skincare products to keep skin healthy, hydrated and glowing, while delivering endless other benefits. 
So, what else does chia seed oil do? Let's take a deep dive into this nutrient-packed ingredient. 
Is Chia Seed Oil Good for Your Skin?
Considered the richest botanical source of fatty acids, chia seed oil is a top anti-inflammatory agent. But chia seeds are also a great source of bone-fortifying minerals like calcium, phosphorus, magnesium and protein. 
Chia seed oil for skin is just as wondrous, giving your complexion a healthy boost. In fact, it has a long resume of benefits for your skin. To name a few, chia seed oil:  
Hydrates & Strengthens Skin Barrier Function. Chia seed oil is a mega-moisturizer that also helps to fortify the skin barrier (or outermost layer) allowing it to better retain moisture and reduce transepidermal water loss. A healthy skin barrier not only locks in moisture, but it also helps to keep out allergens, irritants, bacteria and other harmful substances. 
Soothes Inflammation. The soothing properties of chia also help to prevent skin issues such as acne, rosacea and psoriasis by quelling underlying inflammation and visibly calming skin irritation and redness. 
Protects Against Sun Damage. Research has shown that omega fatty acids can affect how cells respond to the sun's ultraviolet rays and, in turn, help to reduce the risk of sun damage, sun burn and even skin cancer. Of course, these essential fatty acids shouldn't replace your sunscreen and sun protective habits (i.e. sunscreen, umbrellas, hats and UPF clothing), but they can provide added protection. 
Fights Free Radicals. Thanks to its strong antioxidant properties, chia seed oil also helps to protect skin against free radicals, which can cause inflammation and contribute to chronic health problems, like heart disease and cancer. 
Balances Oily Skin. Rich in vitamin B3 and zinc, chia seed oil also helps to balance oily skin. This is because when skin is lacking in natural oils, it often overproduces to make up for it. Using chia oil can help to replenish skin's natural oils, therefore, balancing its natural oil production. 
Makes Skin Glow. By providing plumping and nourishing benefits, topical use of chia seed oil will leave behind an effortless radiance.  
How to Use Chia Seed Oil for Your Skin to Protect, Strengthen and Nourish
The daringly potent formulas in our Essential Fx Acyl-Glutathione Collection are some of our most advanced treatments for dry and aging complexions, and surprise! Our beloved chia seed oil is found in each one's vitamin F blend. 
The long list of benefits of topical chia seed application is exactly why it's a star ingredient in our Essential Fx Acyl-Glutathione Chia Cleansing Balm. This melt-away balm effectively dissolves and cleanses away dirt, debris, excess oil and makeup, while replenishing and conditioning for skin that's visibly softer and smoother post-wash. By warming a small amount between your fingertips and gently massaging onto dry skin in circular motions, you'll feel the power of the chia oil, which nourishes as you wash, so you never strip your skin.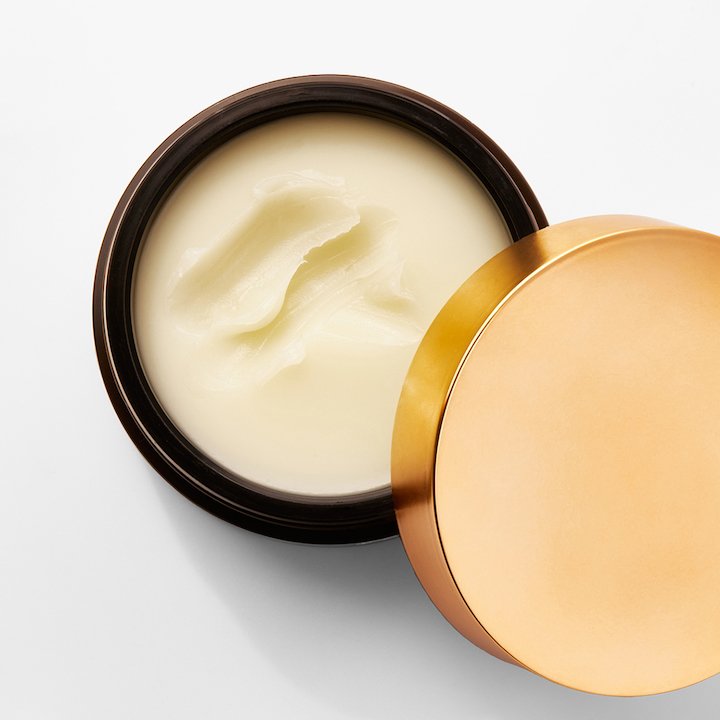 After cleansing, gently press two to three drops of our Essential Fx Acyl-Glutathione Chia Oil into your face and neck to lock in the moisture. This luxurious, nutrient-packed formula further softens the appearance of wrinkles and replenishes the skin's moisture barrier to help visibly improve skin elasticity, plumpness and suppleness. 
Needless to say, chia seed oil is an ingredient worth adding to your skincare regimen stat. After all, the chia seed benefits for skin are glowing: a smoother, more supple, well-hydrated and protected complexion. How's that for a seed that's as tiny as a flake of mascara?