Shorter days, cooler mornings and school back in session (albeit a little differently this year) can only mean one thing-summer is slowly but surely fading away and we're transitioning into fall. But there's one thing that doesn't have to change with the seasons: your sun-kissed summer glow. You don't need to sit at the beach in order to get-or keep-luminous skin. In fact, you don't even need the summer sun at all.
By following Perricone MD's three-tier philosophy, giving skin a little extra care and using the right products, you can get a natural-looking, lit-from-within radiance that lasts long past Labor Day.
Here, 10 simple tweaks and skincare tricks to get you there.
1. PROTECT YOUR SKIN FROM THE SUN.
It may sound counter intuitive to be talking about glow and then suggest wearing sunscreen, but consider this: Unprotected sun exposure doesn't lead to radiant skin; it leads to sun damage. Over time, sun damaged skin appears dull, wrinkled and mottled with brown spots. Sun damage is also cumulative, so even a few minutes here and there of unprotected sun can add up to big changes in your complexion over time. So this fall, even if you're not spending long hours in the sun, you still need to wear daily SPF. Even better: Make it a mineral-based, broad-spectrum sunscreen, like Vitamin C Ester Photo Brightening Moisturizer SPF 30. Chemical sunscreen filters can be irritating and cause skin reactions, while the mineral versions are gentler but still highly effective.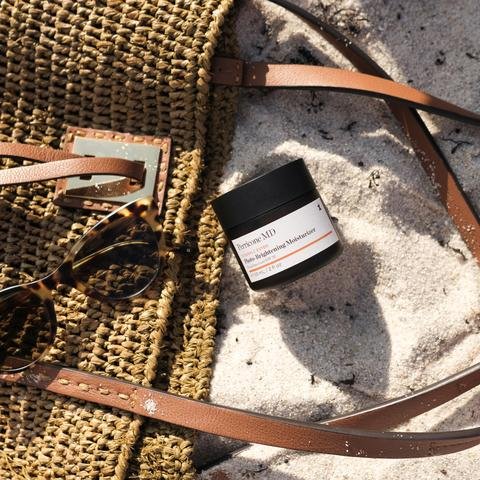 2. GET A BETTER CLEAN.
Just as the change of seasons makes us want to refresh and deep clean our homes, the transition from summer to fall is the perfect time to give your skin a clean sweep, too. The right cleanser not only dislodges pore-clogging, skin-dulling dirt, oil, makeup and sunscreen from deep within your pores, but it can help make skin look more even-toned and radiant. Perricone MD Vitamin C Ester Citrus Brightening Cleanser is packed with vitamin C to help brighten your skin, promoting a more even, smooth complexion.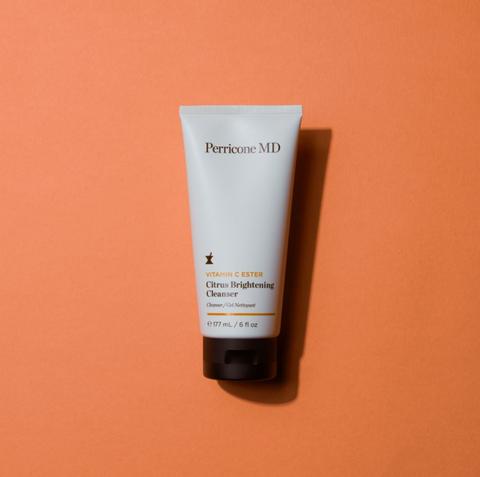 3. TRY A GLOWING SKIN DIET.
An anti-inflammatory diet is an important part of Perricone MD's Three-Tier Philosophy. That's because a diet rich in protein, fresh fruits, vegetables, whole grains and healthy fats such as cold-water fish, extra virgin olive oil and nuts can help repair skin damage from the inside out, helping to heal signs of aging like puffiness, roughness and wrinkles. Also essential: foods rich in omega fatty acids to keep skin supple and antioxidants to neutralize free radicals (unstable molecules that damage healthy skin). Wild Alaskan salmon is one of Dr. Nicholas Perricone's prime food picks. It has the highest concentration of omega-3 essential fatty acids and the biological antioxidant astaxanthin. Studies suggest that astaxanthin is ten times more effective as an antioxidant than other carotenoids and it's one hundred times more powerful than vitamin E. Astaxanthin also helps minimize the sun's damage when used in combination with sunscreen and limited exposure to sunlight.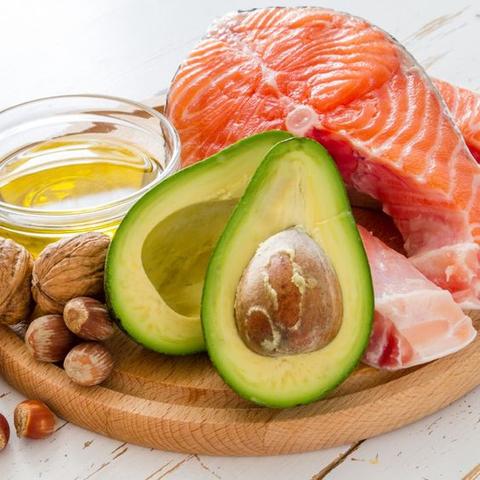 credit: Pinterest
4. START SIPPING GREEN TEA.
Green tea is chock full of epigallocatechin gallate (EGCG), a compound that helps protect the skin from the sun's damaging rays and reduce inflammation, giving you a healthier, more radiant complexion. Not a tea fan? Consider an EGCG supplement. Green tea in skincare products has benefits too, including topical antioxidant and anti-inflammatory properties.
5. SKIP THE SUGAR.
Sugar isn't just bad for your waistline and teeth. Indulging in sweet stuff and starches can make your skin appear older. Eek! Sugar molecules attach to collagen in your skin, a process called glycation. When that happens, collagen turns stiff and inflexible. That leads to a loss of elasticity, sagging skin and an increase in wrinkles. When you're really craving something sweet, try a bowl of strawberries drizzled with dark chocolate. Yes, dark chocolate contains sugar but it's also an antioxidant-rich treat that, in moderation, satisfies your sweet tooth and delivers skin benefits.
6. WEAR YOUR VITAMIN C.
We mentioned the importance of eating your antioxidants, but applying them topically is also key for radiant skin. We already hinted at vitamin C benefits for skin. It's a tried-and-true, potent antioxidant that not only disarms harmful free radicals and promotes the look of collagen-rich skin, but also has skin-brightening effects. Perricone MD's NEW Vitamin C Ester CCC + Ferulic Brightening Complex 20% contains three different forms of vitamin C, giving this serum the highest potency of vitamin C out of all Perricone MD's vitamin C Ester products. Here, the powerful antioxidant is joined by ferulic acid and vitamin E to help reverse the look of sun damage on your face over time, while keeping skin firm and supple.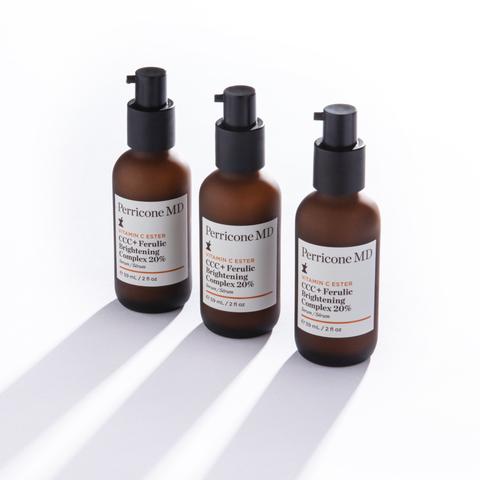 7. HYDRATE FROM THE INSIDE OUT.
Keep a bottle of pure spring water handy and sip throughout the day.
As we age, our cells' ability to retain moisture diminishes, which can make skin appear dehydrated and dull, and fine lines can look more apparent.
To keep your cells hydrated on the inside, drink eight to 10 glasses of water a day.
8. BREAK A SWEAT.
Exercise isn't just good for your heart and muscles, it's good for your complexion. Getting your blood pumping boosts blood circulation all over your body, including in your skin. That means a healthy flush that lingers long after your workout is done. Plus, the act of sweating helps to detoxify your pores and skin. Exercise also helps reduce inflammation, the root cause of premature skin aging. You don't have to go to extremes-30-minutes of heart-pumping exercise most days will deliver glowing benefits you can see in your skin.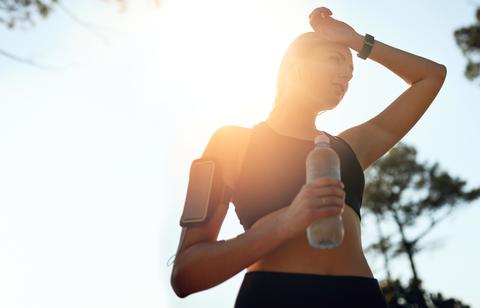 9. SWITCH TO A GLOW-ENHANCING MOISTURIZER.
All tinted moisturizers add a hint of color to your skin but Perricone MD's High Potency Classics Face Finishing & Firming Tinted Moisturizer SPF 30 contains micro-capsules that release pearlescent pigments as you apply the moisturizer to your skin, creating a natural-looking glow. This tinted moisturizer also contains mineral-based SPF 30 and alpha lipoic acid to help minimize the look of fine lines and enlarged pores over time. Dull skin doesn't stand a chance!
10. TWEAK YOUR OWN MOISTURIZER.
Like your usual moisturizer? Keep it! Get your glow on by adding a few drops of Perricone MD No Makeup Bronzer Broad Spectrum SPF 15, a liquid shimmer-free (read: believable) bronzer that mixes with any face product. This universally-flattering shade blends seamlessly into skin and imparts a subtle, sun-kissed radiance. It also contains Vitamin C Ester to boost your natural glow and help even out discoloration over time. It also contains broad-spectrum sunscreen to help prevent skin damage. So, if your regular moisturizer doesn't contain sunscreen, this booster has you covered.
Now that summer is officially coming to an end, these simple tips, tricks and tweaks will extend your sun-kissed summer glow or help your skin show off its own radiance from within, no sun required.