We spend hours at the gym, toning and strengthening our bodies. Well, it turns out that our faces need a fitness routine to stay in good shape, too. Just as regular workouts can lift and firm a saggy butt or belly, applying skincare products designed to lift and firm can tone up areas of our faces that are prone to sagging skin—like the eyes, cheeks and jawline. Here's how to keep your face fit and young-looking, no heavy lifting required!
Why Skin Sags with Age
As we get older, skin becomes more challenging to stay fit. Hormone changes associated with menopause can cause weight gain, especially in the abdominal area, and decreased muscle mass makes it harder for the body to stay firm and burn calories. Swedish researchers recently discovered that lipid turnover (the rate at which fat is removed from tissue) slows as we get older, making it harder to keep off extra pounds and stay toned.
The face also loses tone and firmness with age, but different causes are at play. For one, the production of three important components begin to slow down: collagen (which gives skin its firmness), elastin (which provides elasticity), and glycosaminoglycans or GAGs (which help keep skin hydrated). In fact, collagen production is reduced by 1%  each year, starting at the age of 20—so by the age of 40, that's a 20% deficit. Then there's the fact that fat pockets—which were once evenly distributed throughout the face to keep the cheeks, eye area and forehead full—start to clump up and shift downward, causing features to sink in. This process can leave you with saggy skin—not unlike how loose skin can sag after you lose a significant amount of weight.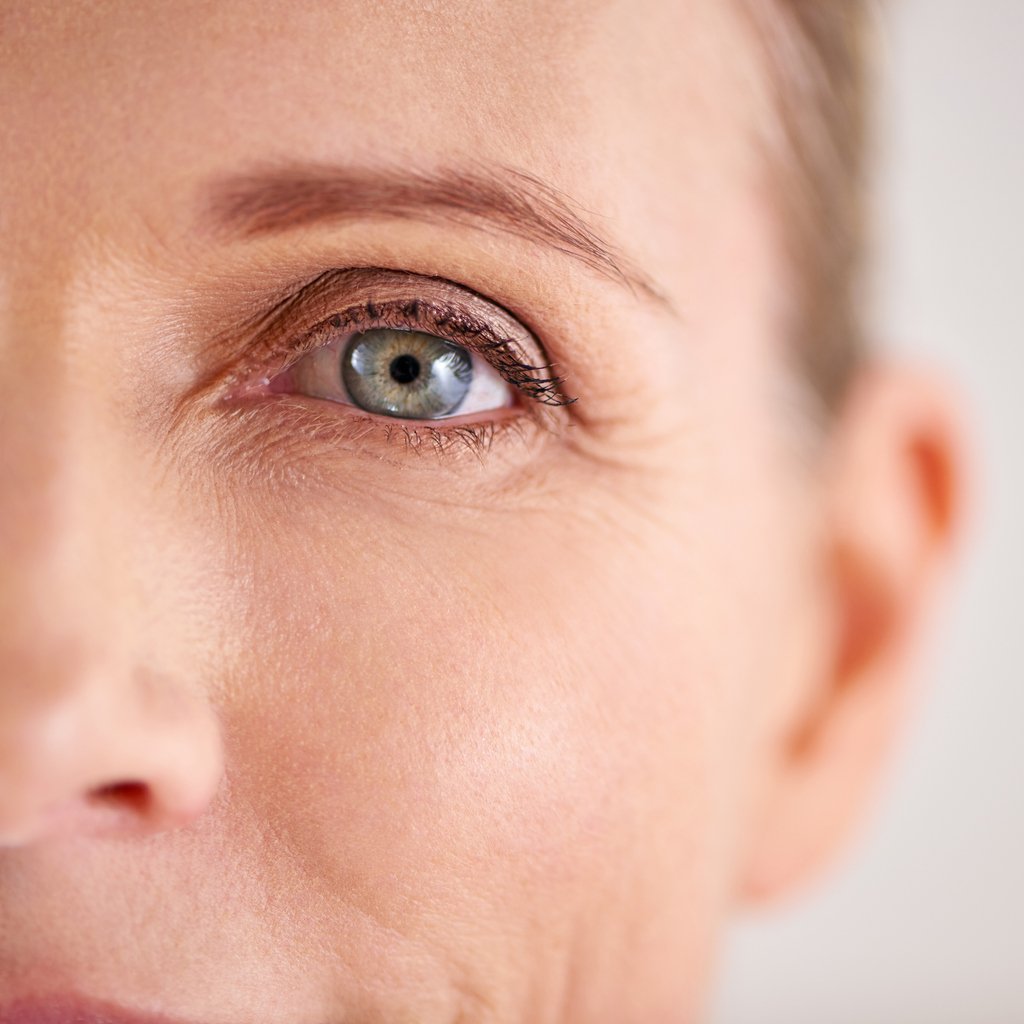 Your Facial Fitness Routine
Fortunately, recent advances in skincare science have given us the power to firm up our faces without lifting a finger—well, except for the finger you need to lift in order to apply your moisturizers and serums! Perricone MD's products can whip your face into shape in a matter of weeks, thanks to a next generation skincare ingredient called Polyamine Growth Factor. Polyamine Growth Factor is a molecule found in all living things that diminishes with age. It has been shown to hydrate the skin, keeping it firm and boosting elasticity.
The new High Potency Growth Factor Firming & Lifting Eye Serum combines Polyamine Growth Factor with DMAE, a substance produced by the human brain that lifts sagging skin, supports the skin's structure and protects against dryness. Another key ingredient in the High Potency Growth Factor Firming & Lifting Eye Serum is niacinamide, a form of vitamin B3 that helps in retaining skin moisture, correcting skin tone and minimizing imperfections. When participants in a clinical study used this eye serum daily, 100% showed improvement in skin hydration and a reduction in deep wrinkles and crow's feet after just four weeks of applying the product. For best results, pat the eye lifting serum onto your eye area—being careful not to get it in your eyes—in the morning and at night.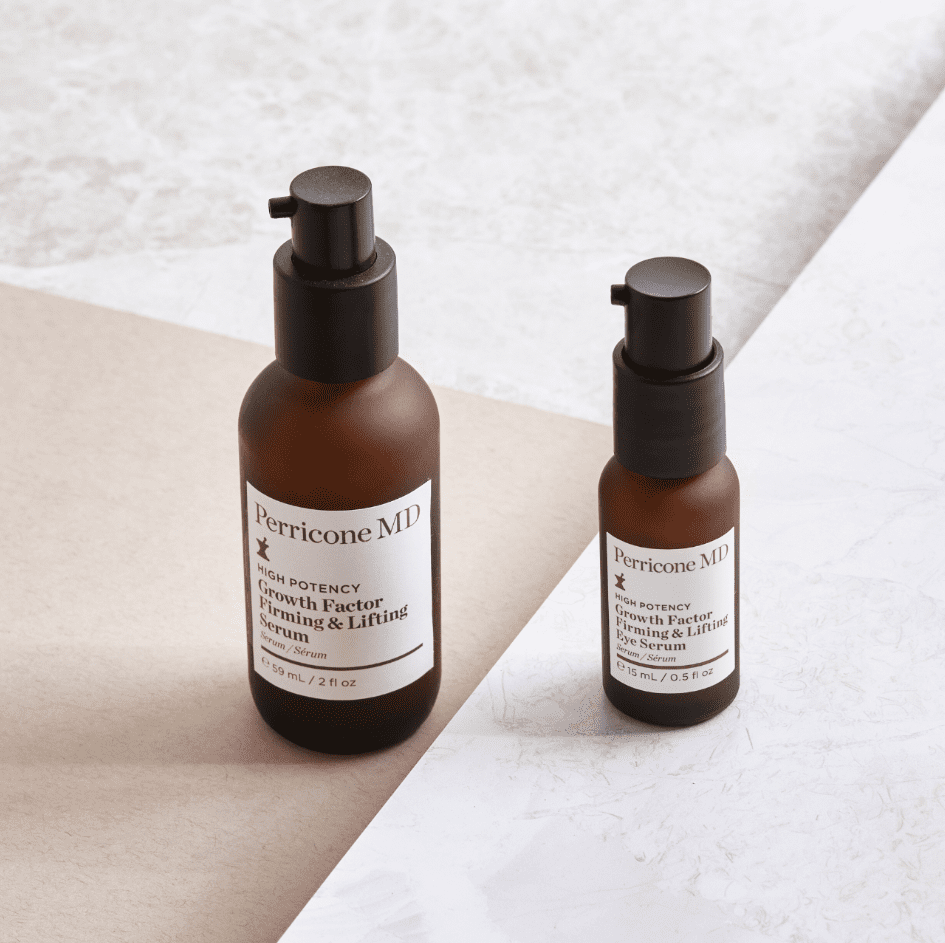 Another product that keeps your skin fit is the  High Potency Growth Factor Firming & Lifting Serum for the face. It also contains the next generation Polyamine Growth Factor, plus eggshell membrane to reinforce the skin's moisture barrier and improve skin elasticity. To fight fine lines and wrinkles, Dr. Perricone included encapsulated retinol. A derivative of vitamin A, retinol speeds up skin cell exfoliation and renewal, revealing younger-looking skin. What's more, the microcapsules break open when the face firming serum is applied to the skin, which helps the product release in a more controlled and effective manner. The High Potency Growth Factor Firming & Lifting Serum should be used in the morning and evening, after cleansing. Gently massage the product onto your face and neck using an upward motion. Wait until it's fully absorbed, and then smooth on your favorite Perricone MD moisturizer. 
In addition to using the High Potency Growth Factor Firming & Lifting Face and Eye Serum daily, it's important to incorporate lifestyle habits that promote firm, smooth skin. Follow these simple skin-saving strategies. They will not only improve the health of your skin, but your overall health, too.
Drink at least eight glasses of water per day.

Sipping water wards off dehydration, which can lead to dull, dry, flaky skin.

Eat a diet rich in antioxidants and omega-3 fatty acids.

Foods like berries, kale, cabbage, spinach, beans and pecans are packed with antioxidants that can protect your skin from free radical damage. Omega-3 fatty acids—which are found in fish like salmon, tuna, trout and mackerel, as well as nuts and seeds—can preserve collagen and protect the skin's natural moisture barrier.

Get between seven and nine hours of sleep a night

. While you're snoozing, your skin is busy renewing and repairing itself—so the more sleep you get, the better your skin will look.

Research

that appeared in the journal

Clinical and Experimental Dermatology

found that people who got between seven and nine hours of shut-eye a night had skin that was more moisturized and better able to protect itself (and heal) after exposure to ultraviolet light. 

Practice facial yoga.

It may sound far-fetched, but exercising your face can boost circulation and tighten

saggy skin

over time

.

Try

these facial yoga exercises

to tighten up the

loose skin under your eye

area including this one: point your chin to your chest and form your mouth into an oval shape while looking upward with just your eyes. Be sure not to move your head or shoulders; any such movement will take away from the eye stretch. Hold for a total of three seconds and then tuck your upper lip inside your mouth for an extra stretch. Do this exercise once a day.