No matter how much sleep you get, how consistently you take your allergy medicine or how regularly you use eye cream, it may seem like your under-eye darkness and discoloration gets more stubborn over time. If you're feeling this way, you're probably not imagining it! Since the skin around our eyes is ultra-delicate and particularly susceptible to damage, you'll often notice your under-eye area gets darker, puffier, more saggy and develops crow's feet and wrinkles as you age. 
While many of us can relate to this, one thing fewer people know is that there are three different types of under-eye discoloration: brown, blue and red, each of which has a different cause, and therefore, must be treated with the appropriate solution to help reduce the appearance of skin discoloration. If you're not using effective products for the specific type you have—whether you struggle with one, two or all three (yes, you can have more than one)—you'll be forever chasing results. 
Thankfully, there's hope! If you're looking for a single solution that effectively addresses all under-eye darkness and discoloration, read on. 
How to Reduce Under-Eye Darkness & Discoloration
Searching for an under-eye product that does it all can be exhausting, but if there's one product that should catch your eye, it's Perricone MD's Vitamin C Ester CCC + Ferulic Brightening Under-Eye Cream. 
This brightening, fast-absorbing eye cream is formulated with three forms of vitamin C, ferulic acid, peptides and a biomimetic oat protein to transform your fragile eye area so it appears firmer and more awakened, while soothing, comforting and brightening. 
But how exactly does this supercharged eye cream address brown, blue and red discoloration? Let's break it down.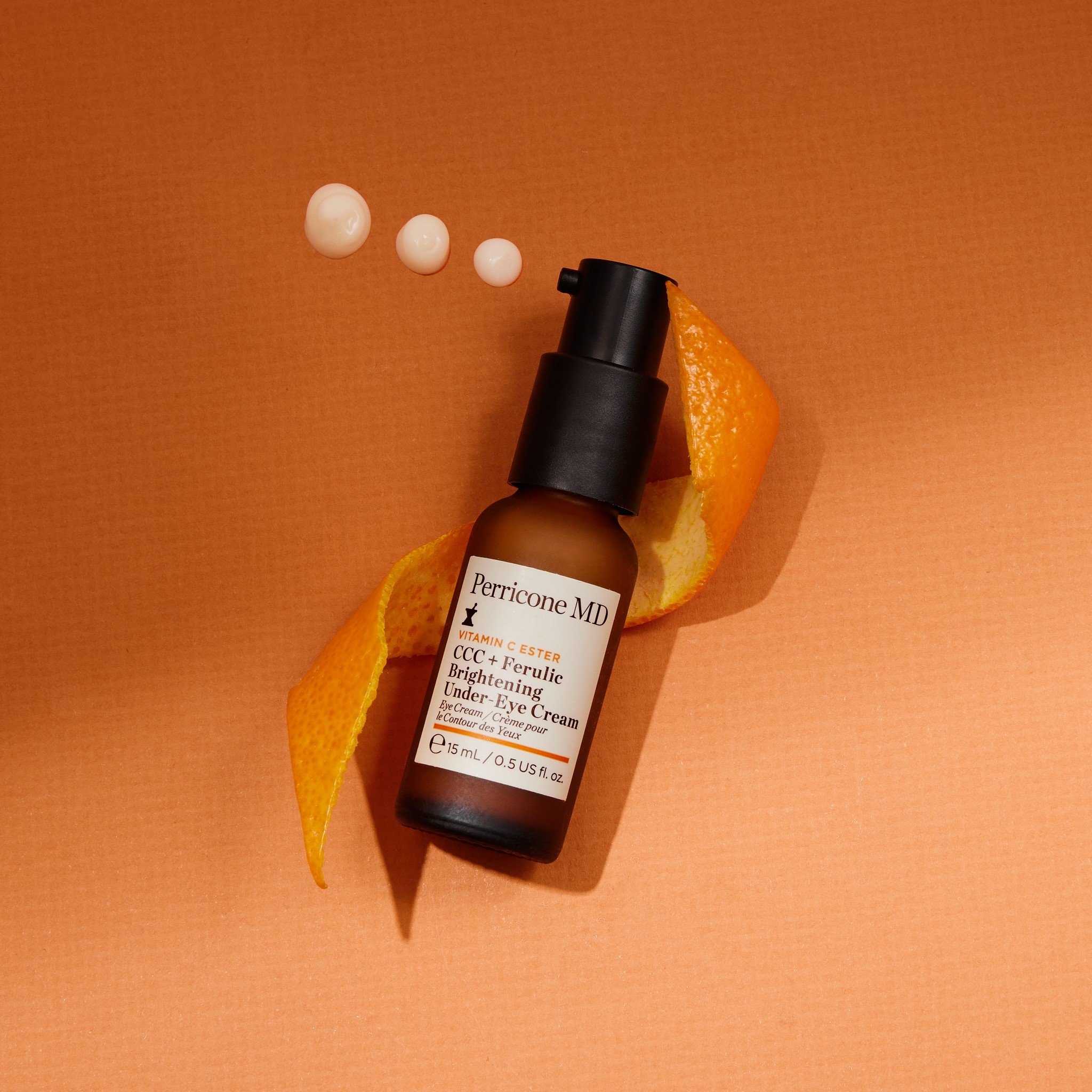 Brown Discoloration: How to Reduce Under-Eye Dark Circles
The Concern: Dark circles with a brown pigment 
The Cause: Brown discoloration occurs with the overproduction or uneven distribution of melanin in the skin. This is often caused by sun damage, irritation or even genetics that result in hyperpigmentation. 
The Solution: Three forms of vitamin C, including a supercharged and highly stable Vitamin C Ester, help give the appearance of collagen-rich skin by smoothing, brightening and minimizing the look of skin discoloration, while ferulic acid fights free radical damage, provides antioxidant protection and stabilizes the vitamin C to visibly brighten dark brown circles, for more open, awakened eyes. 
The Result: In a consumer study of 109 women after 28 days, 87% saw brighter, more radiant skin. 
B
lue Discoloration: How To Reduce Under-Eye Bags & Puffiness
The Concern: Under-eye bags and puffiness with a blue hue 
The Cause: Low microcirculation, poor lymphatic drainage and thin skin around the eyes result in increased visibility of unoxygenated blood and decreased circulation. 
The Solution: Peptides help visibly improve the look and feel of skin firmness by supporting the building blocks of healthy, youthful-looking skin. This also improves the appearance of damage caused by collagen depletion, like wrinkles and sagging, while smoothing for a less puffy under-eye area. 
The Result: In a consumer study of 109 women after 28 days, 89% saw firmer-looking skin. 
Tip: Gently massage from the inner corner of the under eye to the outer corner and back around the eye to aid in lymphatic drainage. Repeat this motion three times, both morning and night, to help remove fluid and reduce puffiness. 
Red Discoloration: How to Reduce Under-Eye Redness
The Concern: Redness that may be accompanied by discomfort or dryness 
The Cause: Inflammation from allergies or irritation. 
The Solution: The biomimetic oat protein, an oat-inspired molecule, visibly reduces under-eye redness while soothing to combat the feel of skin sensitivity. 
The Result: In a consumer study of 109 women after 28 days, 75% agreed it improves skin redness. 
Tip: Store your under-eye cream in a cool, dark place to keep the product in its best condition and make application extra soothing. 
Now that your tireless search for a brilliant eye cream is over, get ready to say hello to bright eyes and goodbye to darkness and discoloration.