We don't have to tell you that masks are a must these days. Medical experts say wearing a paper or cloth mask in public spaces is one of the most important things we can do to slow the spread of COVID-19. What's not a must? The telltale pimples on your cheeks and chin caused by all that mask wearing. Since last Spring when the pandemic started, mask-induced breakouts have become a fairly common phenomenon, cleverly named "maskne." In addition to blemishes and bumps, you may also experience redness and irritation after a day of mask wearing. Here, we'll explain why maskne happens—and how to make it stop—so you can keep yourself and your skin healthier this year.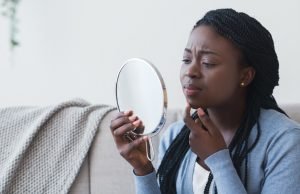 First, why does maskne happen? 
The catchy name took off during the COVID-19 pandemic, but doctors have long known the condition by a different, more medical term: Acne Mechanica. This type of acne breakout is caused by friction, pressure or rubbing against the skin. (It's often seen in athletes who wear chin straps.) In the case of maskne, it's the friction of the fabric or paper mask against your skin. Plus, that added layer sitting on your face traps moisture, sweat, oil and makeup, which can all wind up lodged in your pores, triggering an inflammatory response. Acne-causing bacteria, excess oil and inflammation are the three culprits for acne and breakouts. Maskne is especially common amongst those who have oily and acne-prone skin. But even if you're not one to typically break out, you still may be seeing some pimples after all the mask wearing.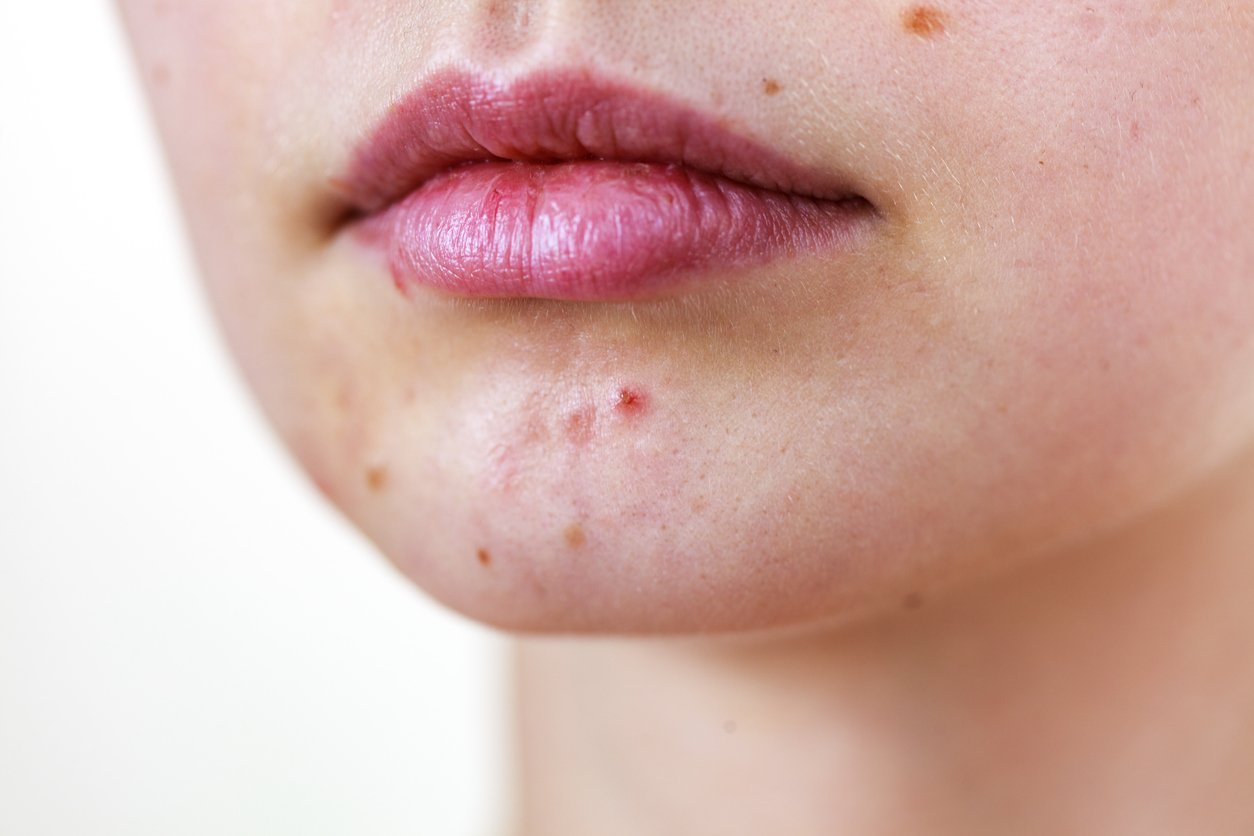 So, how can you avoid maskne?
Luckily, there are several ways to help keep treat and prevent the most troublesome acne. 
1. Add an acne treatment to your skincare routine
Products that are formulated to fight acne without irritating or drying your skin will help keep pores clean, even when they're covered by a mask. Perricone MD's  Acne Relief Prebiotic Acne Therapy 30-Day and 90-Day Regimen helps keep skin in balance by working with your skin's natural microbiome—a name that refers to all the microorganisms that live on the surface of skin, keeping it healthy and happy. When the skin's microbiome is out of balance, bad bacteria (also known as P. acnes) can take over, contributing to pimples. Acne Relief helps keep your microbiome balanced and healthy with just two simple steps. Acne Relief Gentle & Soothing Cleanser (Step 1: Day & Night) reduces excess oil, unclogs pores and removes dead skin cells without disrupting the skin's microbiome. The formula contains naturally-occuring prebiotics like squalane and sucrose to support a healthy surface skin microbiome and hydrate the skin without making it look or feel greasy. Acne Relief Calming Treatment & Hydrator (Step 2: Day) attacks acne-causing bacteria with lactic and succinic acids. These acids go after the bacteria that causes acne without drying out your skin, while citrulline and squalane fight irritation, nourish, hydrate and visibly reduce redness. Acne Relief Retinol Treatment & Moisturizer (Step 2: Night)  contains retinol to help increase cell turnover, and Niacinamide to gently and visibly erase imperfections.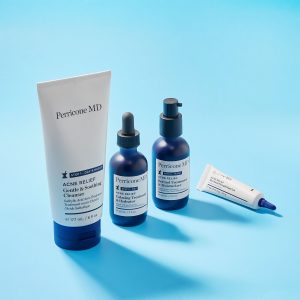 To round out your acne regimen, you can add a weekly detoxifying mask to help keep pores clear of congestion. The Chlorophyll Detox Mask purifies the skin with chlorophyll-enriched microcapsules that help to draw out impurities. If your skin is super oily, bump it up to twice a week on non-consecutive days.
For existing blemishes, you can spot treat with the Acne Relief Maximum Strength Spot Gel. A hefty dose of salicylic acid takes down zits quickly while citrulline and tea tree oil calm and soothe breakouts. 
2. Rethink your makeup 
You don't have to forgo makeup altogether when wearing a mask but you may want to tweak your regular look, especially if you're already experiencing maskne. Avoid foundation if you're going to be masked up for most of the day. Otherwise, it will only mix with your skin's oils and settle into your pores. Instead, use No Makeup Concealer Broad Spectrum SPF 20 to spot treat areas (under eye circles, visible blemishes, etc.) that need a little coverage in the areas above your nose. Play up your eyes with No Makeup Eyeshadow and No Makeup Mascara. After all, your eyes are the first things anyone sees when half your face is covered by a mask.
3. Change your mask often
How often? Here's a tip: If you can feel the moisture under your paper or cloth mask, it's time to put on a new one. Stash a few disposable or fabric masks in your bag so you can easily swap them out throughout your day.  
4. Give your skin a break
The American Academy of Dermatology (AAD) suggests giving your skin a breather at least every four hours for 15 minutes at a time. Just do it safely. If possible, get outside and stand at least six feet away from people. This is also a great time to remove excess oils by blotting and switch out your mask for a clean one.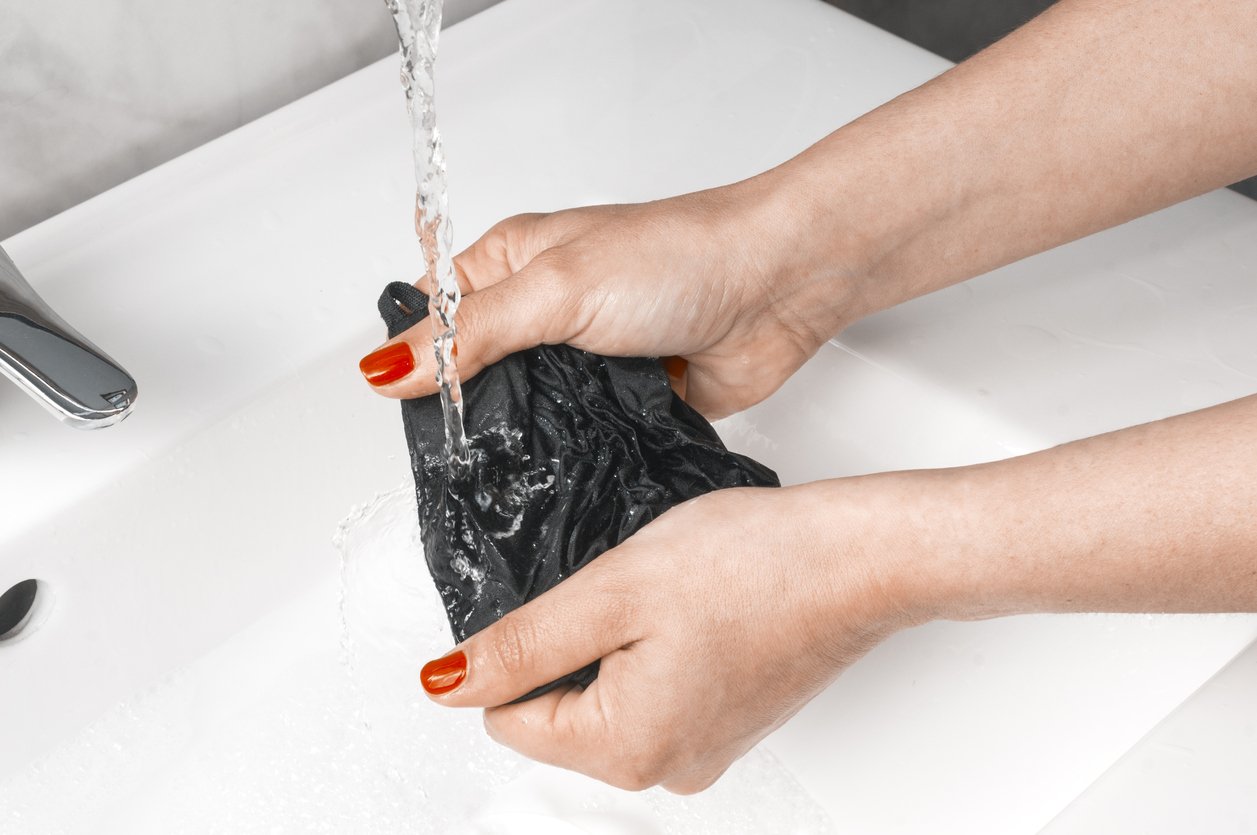 5. Wash it daily 
You probably know this but it's worth repeating: even if you've just had on a cloth mask for a short while, you'll need to wash it before wearing it again. Fabric masks can become a haven for bacteria and wearing one without washing it can upset skin's natural microbiome. Launder your fabric masks with fragrance-free, gentle detergent. Fragrance can sometimes trigger skin irritation in sensitive, acne-prone skin. In a pinch, spritz the liner of your mask with an antibacterial spray to keep it clean between washings. 
6. Wear the right type 
After months and months of mask wearing, you've probably realized they're not all created equally. So, what's the best mask if you're struggling with maskne? Experts say you want one that's snug, but not super tight. Make sure it's designed with at least two layers of a soft, comfortable fabric. Cotton is especially breathable and skin-friendly. Synthetic fabrics such as nylon or polyester can feel too heavy and lead to more moisture, irritation and potential breakouts on your skin. 
Bottom line:
Masks may be part of our reality for the foreseeable future, but maskne doesn't have to be. With the right acne treatment, makeup changes and easy hygiene tweaks, you can keep skin calm and comfortable while you protect yourself and everyone else around you.