Exfoliation is undeniably a crucial step in any skincare routine. When it comes to summer skincare, specifically, it's especially important for sloughing away oils from those long days of sweat and sunscreen along with those extra built-up dead cells left behind from parched, sun-dried skin. 
The dos and don'ts of exfoliating summer skin are clear but when trying to narrow down your exfoliator of choice, remember these two rules specifically. 1. Always choose an exfoliator that is suitable for your skin type and 2. never be too rough on your skin.  
A foolproof choice to quickly check off both those boxes is an enzymatic exfoliator, which spoiler alert — is ideal for all skin types and is ultra-gentle. If you're not familiar with this type of exfoliation, read on to learn it all.  
What Is Enzymatic Exfoliation & What Are Its Benefits?
As any skincare lover knows, the benefits of exfoliation — or the process of removing dead cells from the skin's surface — are extensive. From unclogging pores and reducing oil to help prevent breakouts to evening skin tone and texture, there's a reason it's an essential part of your routine. 
Now, we know that physical and chemical exfoliation are the main types of exfoliation, right? Well, while technically speaking, enzymatic exfoliation is grouped under the "chemical" exfoliation umbrella, acids (chemicals) and enzymes are very different types of exfoliants. While acids are more aggressive, enzymes — often found naturally in fruit for skincare — provide a much gentler form of exfoliation that's suitable for all skin types yet doesn't compromise results. 
As an exfoliant, fruit enzymes work wonders to help minimize the appearance of dullness, discoloration and texture both instantly and over time. This simultaneously allows for the effective absorption of your other products since there isn't a barrier of dead cells blocking the way. 
How Perricone MD Uses Enzymes for Exfoliation
When it comes to enzymatic exfoliants, Perricone MD does it brilliantly with an enzymatic fruit complex. This botanical exfoliant is formulated with a luxurious blend of antioxidant-rich papaya and mango fruit extracts. It's an innovative complex that can be found in our Vitamin C Ester Brightening & Exfoliating Polish to help accelerate skin renewal, thereby visibly reducing discoloration and dark spots over time.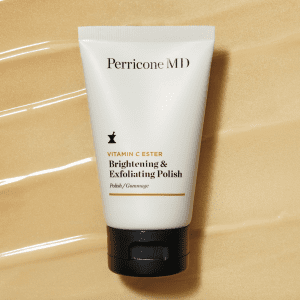 This polish doesn't just use enzymes for exfoliation, though, it also uses ultra-fine, granular silica for simultaneous physical exfoliation for the best of both exfoliation worlds. Together, these two modes gently yet effectively exfoliate while working with highly stable Vitamin C Ester and plant-based ferulic acid to maximize the polish's brightening and smoothing impact.  
Whether in combination with other exfoliation types or not, enzymatic exfoliation is as brilliant as it sounds. Your summer complexion will soon be smoother and more refined with fewer imperfections and an undeniable glow.