As you scrolled through social media in the last year, you likely landed on several posts about skin barrier protection. If that's not ringing any bells, don't worry! There's still time to hop on this hot skincare trend. 
In fact, there's no time like the present. While most of us are mentally prepared for the increasingly warm days ahead, chances are your skin can use some preparation. After all, the hottest months often mean more time outdoors for increased exposure to the sun, pollution and all those other environmental aggressors. 
Good news! You've come to the right place to give your skin barrier a jumpstart to a healthy, balanced and smooth summer. 
What Is a Skin Barrier?
Your skin is your largest organ, so protecting it as you do the rest of your body, is equally as vital. The epidermis, or outermost layer of your skin, is also known as your skin barrier, which is essential for protecting the body in several ways. 
A healthy skin barrier defends against environmental aggressors and allergens while playing a critical role in locking in water. Alternatively, a damaged skin barrier or damaged moisture barrier can lead to premature aging, in addition to the risk of pollutants and irritants entering the body through the skin. 
Your skin barrier can become compromised in many ways, including natural aging, overexposure to the sun's UV rays, not wearing sunscreen, pollution, radiation, extreme temperatures, over-exfoliation or the use of harsh skincare products. 
Studies have found that such environmental aggressors can affect the skin by causing wrinkles, hyperpigmentation and more. This is known as extrinsic skin aging, or the process of aging induced by external factors, which also includes your lifestyle choices (smoking, for instance). 
How to Tell if Your Skin Barrier Is Damaged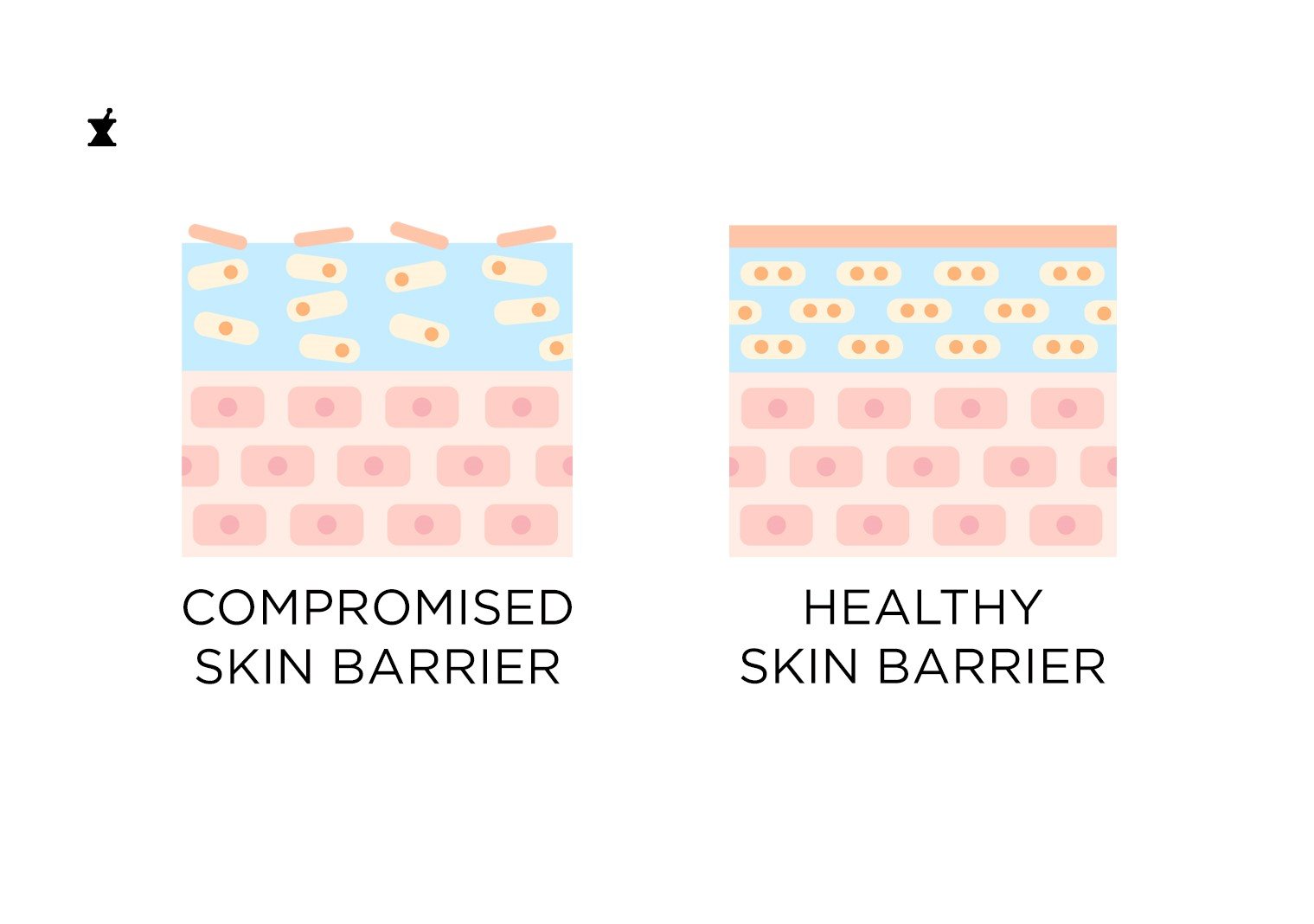 If you're wondering how to know if your skin barrier is damaged, some key indicators to look out for include: 
Redness & Inflammation.

When your skin barrier is damaged, irritants, allergens and more can enter your skin, causing inflammation and redness. 

 

Dryness.

Because an unhealthy skin barrier prevents your skin from retaining moisture, you'll often notice dry, tight or even flaky skin. Pollutants may also cause more bumpy, rough patches.

 

Rosacea & Eczema.

Flare-ups can signal additional damage to the pre-existing condition.

 

Acne.

Blemish-causing bacteria can more easily enter a damaged skin barrier, which can lead to breakouts.

 

Skin Sensitivity & Irritation.

An imbalanced skin barrier can cause increased sensitivity and irritation.

 
Overall, balanced, hydrated and smooth skin is proof of a healthy skin barrier that's successfully retaining moisture and blocking out aggressors. A good rule of thumb? Should you notice any changes in skin texture, tone or general appearance, show your skin some extra love and attention. 
Is Hyaluronic Acid Good for Skin Barrier?
Since nearly 50% of our bodies' hyaluronic acid is found in our skin and it naturally (and unfortunately) depletes over time, topical application of this ingredient is beneficial to the skin barrier because it helps to support our ability to retain moisture as we age. 
Our deeply nourishing High Potency Hyaluronic Intensive Hydrating Serum [link product] is designed with 4 forms and 2 natural building blocks of hyaluronic acid, an exclusive Perricone MD technology known as the Hyaluronic 4 + 2 Complex. 
This unique complex allows for instant and long-lasting hydration as it works in tandem with niacinamide and DMAE to further strengthen your skin's moisture barrier. So much so that, in a clinical study of 35 women, 80% saw a significant improvement in their skin barrier after using this High Potency Hyaluronic Intensive Hydrating Serum for 8 weeks.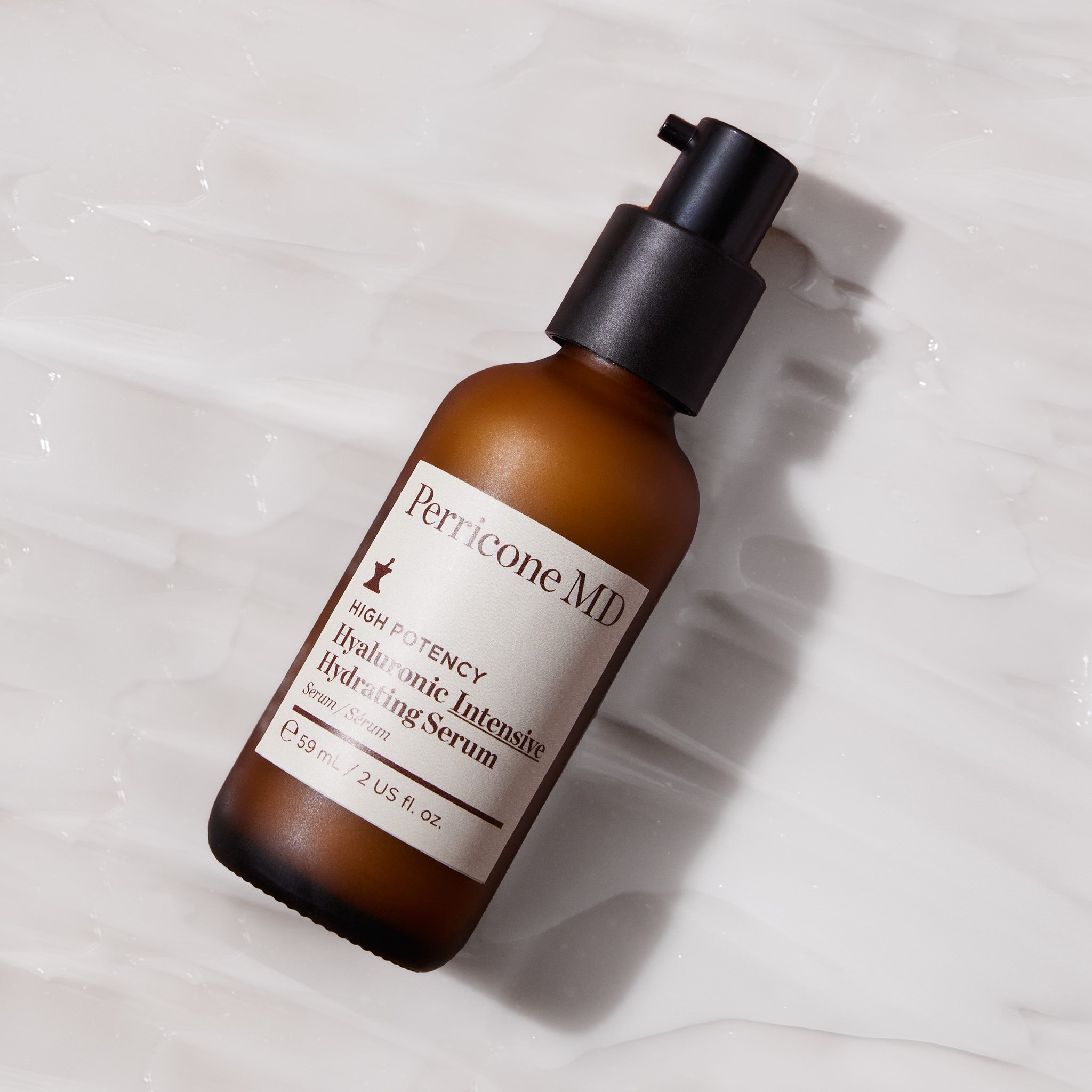 How to Repair Skin Barrier
Noticing a few of these signs and think your skin barrier may be damaged? Don't worry, just get ready to adjust your routine with the steps below. 
Simplify your skincare routine.

Select fewer, gentler skincare products until your skin is balanced and your barrier is healed. Start by cutting out anything that's particularly aggravating, like harsh physical exfoliants.

 

Opt for calming ingredients and antioxidants.

While you're putting products with harsh ingredients on the sidelines, tap in calming ingredients (like glycerin, ceramides and niacinamide) and antioxidants to help soothe skin and visibly reduce redness.

 

Use a Broad Spectrum Sunscreen.

Rain or shine, use a gentle mineral-based broad spectrum SPF to protect your skin from damaging UVA and UVB rays.

 

Hydrate and repeat!

Choose hydrating skincare products, like High Potency Hyaluronic

Intensive

Hydrating Serum or other products formulated with hyaluronic acid—one of the key ingredients to strengthen the skin's natural moisture barrier.

And, of course, make sure you never skip your moisturizer!

 

Maintain a healthy diet and take

supplements

.

Supplements and a healthy diet rich in fatty

acids and omega-3s help to support healthier-looking skin.

 

Get plenty of beauty sleep.

Various

studies have shown

that a lack of sleep and other stressors can impair the skin's integrity, so getting enough sleep each night can help preserve your skin barrier.

 
While improving your skin barrier is possible, protecting it from damage is vital for maintaining a consistently healthy, youthful-looking complexion. The best way to do so is to commit to a balanced lifestyle, wear SPF daily, stick to a twice-daily hydrating skincare and never over exfoliate. 
Trust us, a happy skin barrier means healthy skin. We've got you covered, for better or worse.