Masks were once considered a 'special occasion' beauty treat, or something you might occasionally apply after a bath on a Sunday night as a way to pamper yourself. Now they are an essential part of any daily skincare routine. But, there are a dizzying amount of choices available — in addition to sheet masks, you'll find cream masks, clay masks, gel masks, exfoliating masks, charcoal masks and sleep masks — and they all work by pushing ingredients more effectively and evenly onto the skin. While all types of face masks can be beneficial, sheet masks provide some unique perks. 
What is a sheet mask?
A sheet mask is made from a thin fabric (like cotton, rayon, gel, or foil) that is soaked with active ingredients and stored in an individual package. It is applied by lining up the mask's holes with your eyes and mouth, and then smoothing it along the contours of your face. They are usually meant to be worn for 10 to 20 minutes — any longer than that can potentially parch the skin. (When the mask dries up, it will start trying to steal back the moisture it just donated to your skin.) The main ingredient in any sheet mask is water, but extra hydrating and/or active ingredients are added to infuse the skin with moisture and important nutrients. 
Perricone MD's new Cold Plasma Plus+ Concentrated Treatment Sheet Mask is an innovative, two-piece sheet mask made of 100% cotton so it conforms and holds to the contours of the face. The top half easily fits over your forehead, eyes and nose; while the bottom half fits around your mouth, chin and cheeks. Formulated with concentrated doses of the Cold Plasma Plus+ sciences, it targets skin dullness, uneven texture, uneven tone and discoloration for a healthy, youthful-looking complexion.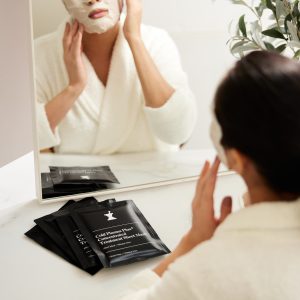 The five key benefits of sheet masks
Beyond the obvious zen moment it creates, sheet masks offer a host of skin-, mind- and time-loving benefits.  
1.They are intensely hydrating.
Sheet masks contain a higher concentration of hydrating ingredients than other products, and the fabric — which molds to your face — locks them there, preventing ingredients from evaporating. The main hydrating ingredients in the Cold Plasma Plus+ Concentrated Treatment Sheet Mask are phospholipids, which replenish the skin's moisture barrier and protect against environmental aggressors that dry out the skin. They also help the skin absorb the important active ingredients in the mask, like Vitamin C Ester and copper tripeptide.  
2.
Results are instant
and long
–
lasting.
Because sheet masks help your skin soak up so much product, skin looks brighter, dewier and feels renewed and rejuvenated as soon as you remove it. The Cold Plasma Plus+ Concentrated Treatment Sheet Mask contains a concentrated dose of Vitamin C Ester, which is a more potent, stable and easily absorbable form of the antioxidant powerhouse vitamin C. The Vitamin C Ester in this mask brightens the skin, while also smoothing the appearance of fine lines and fading discoloration. The mask also contains copper tripeptide, which is a naturally occurring compound of three amino acids that makes skin appear firmer and smoother.  
It's also formulated with a proprietary liquid crystal delivery system which allows these ingredients to effectively penetrate the skin's surface, "for optimal delivery resulting in maximum benefits, whereas most other sheet masks deliver very 'surface' benefits," says Rosalba Martone, Perricone MD's Director of Education. So, you get instant surface results — glowing, radiant, skin — while also getting long-term youthful, healthy skin benefits. 
3. They are convenient.
Toss one into your carry-on to apply on the plane to prevent skin from getting parched during a long flight. Or pamper yourself while you work from home — and your Zoom camera is turned off. The Cold Plasma Plus+ Concentrated Treatment Sheet Mask comes in two pieces, which makes it extra fast and easy to apply, and the mask hugs the face, preventing it from slipping around. This means you can cook, clean, work or do almost anything while wearing it, without worrying it will fall off.  
Before opening the sachet, gently massage the outside to distribute the formula evenly over the mask, and then carefully open the package. Remove the mask from the sachet, gently separate the top section from the bottom section, and then unfold each piece. Place each piece on your clean, makeup-free face, and leave them on for 20 minutes. Remove the mask, and then massage any remaining formula into your skin for an extra boost of radiance. No rinsing or clean up necessary. 
4. They're easy to apply – no touching your skin!
The less you touch your face, the lower the risk of spreading bacteria from other surfaces your fingers may have come in contact with. Sheet masks are individually packaged in neat little single-use packets, minimizing bacteria from coming into contact with your skin — and keeping your skincare routine as sanitary and hygienic as possible. 
5. They are relaxing.
Last, but certainly not least, sheet masks create a pampering self-care experience. The 100% cotton fabric feels luxurious, and you can sense the nourishing ingredients sinking into your pores and soothing your skin. Because sheet masks lock ingredients in, your skin gets to rest too; it just sits back and lets all the good stuff sink in. So use that self-care time to give your skin a mask treatment while you read a good book, meditate, prepare dinner or listen to your favorite podcast.  
How often should I use a sheet mask?
Given their convenient packaging and ease of use, sheet masks can be worn almost anywhere, at any time. The Cold Plasma Plus+ Concentrated Treatment Sheet Mask comes with six sachets, and they are intended to be used for six consecutive days as an intensive regimen to reduce dullness, uneven texture, uneven tone and improve hydration.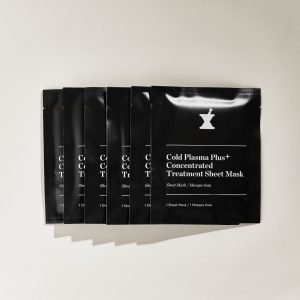 When should I add a sheet mask in a routine?
The Cold Plasma Plus+ Concentrated Treatment Sheet Mask should fall towards the beginning of your skincare regimen, after cleansing. Because the sheet mask is full of all the good-for-your-skin nutrients it needs, you can skip your serum, moisturizer and eye cream afterwards and just rub the remaining product in after removing the mask. But you can really use the mask whenever you would like — day or night — on clean skin. Just pop one on whenever your skin seems dull and dry, and behold the radiant results.