'Tis the season for sugar cookies and babkas galore, making it an even more challenging time of year to maintain a healthy, balanced diet. But your holiday feasts don't have to be squashed by completely cutting out carbohydrates or settling for bland food alternatives. Instead, planning ahead to prepare healthier options that still taste delicious is the key to a happy season. And we've got you covered! 
Below, you'll find the ultimate holiday menu full of healthy, yet tasty alternatives to fat- and carb-heavy fare. From appetizers, side dishes and Thanksgiving entrees to a slightly healthier twist on your homemade pumpkin pie recipe, you'll want these recipes to become annual traditions. 
Dr. Perricone's Menu for Thanksgiving Dinner
Appetizers:
HUMMUS
4 garlic cloves, crushed

 

1 teaspoon salt

 

2 19-ounce cans of chickpeas, drained and rinsed

 

2/3 cup well-stirred tahini

 

1/4 cup fresh lemon juice, or to taste

 

1/2 cup extra virgin olive oil, or to taste

 

1/4 cup fresh parsley leaves

 

2 tablespoons pine nuts, toasted lightly

 
Mix all of the ingredients in a food processor until creamy. 
BASIL KEFIR DIP
1/2 pound of fresh basil, blanched

 

1 pint of plain or low-fat kefir (or yogurt)

 

2 tablespoons fresh lemon juice

 

Sea salt and pepper to taste
Blend ingredients thoroughly and refrigerate. 
CRUDITÉS
Julienned cucumber

 

Zucchini

 

Broccoli florets

 

Red peppers

 

Cauliflower florets

 

Grape tomatoes

 

Sliced apples

 

Sliced pears

 

Fresh berries

 

Assorted olives

 

Flaxseed crackers

 

Bowl of almonds, hazelnuts and walnuts

 
 Serve all items arranged on a large platter with bowls of hummus and basil kefir dip. 
Main Course & Sides
THE TURKEY
15-pound whole turkey, preferably fresh (and organic free range)

 

3/4 cup extra virgin olive oil

 

1/5 cup freshly squeezed lemon juice

 

6 to 8 cloves of fresh garlic, peeled

 

1 tablespoon lemon zest

 

1 teaspoon salt

 

1 teaspoon freshly ground pepper

 

Parsley and other fresh herbs

 

Lemon wedges

 
Remove giblets and neck from turkey; reserve. Rinse turkey with cold running water and drain well.

 

In blender, combine olive oil and lemon juice. While blending, drop in garlic cloves on at a time. Gradually add lemon zest. Continue to blend until mixture is puréd.

 

Using an injector, inject marinade into all parts of the turkey. Strain marinade if it is too thick to pass through the injector.

 

Gently massage turkey to distribute marinade.

 

Place turkey in a large plastic bag (cooking bag or food service-grade plastic bag). Close bag and refrigerate overnight.

 

Preheat oven to 365 degrees Fahrenheit.

 

Remove turkey and drain and discard excess marinade. Do not reuse marinade to baste the turkey.

 

Fold the neck skin and fasten to the back with 1 or 2 skewers. Fold the wings under the back of the turkey. Return the legs to tucked position.

 

Place turkey, breast side up, on a rack in a large, shallow (about 2 ½ inches deep) roasting pan. Rub turkey with salt and pepper.

 

Insert oven-safe meat thermometer into the thickest part of the turkey's thigh, being careful that the pointed end of the thermometer does not touch the bone.

 

Roast the turkey in preheated oven for about 3 ¾ hours. During the last hour of roasting time, baste with pan drippings. If necessary, loosely cover with foil to prevent excessive browning.

 

Continue roasting until the thermometer registers 180 degrees Fahrenheit in the thigh or 170 degrees Fahrenheit in the breast. Remove turkey from the oven and allow it to rest for 15 to 20 minutes before carving.

 

Place turkey on a warm large platter and garnish with fresh herbs and lemon wedges.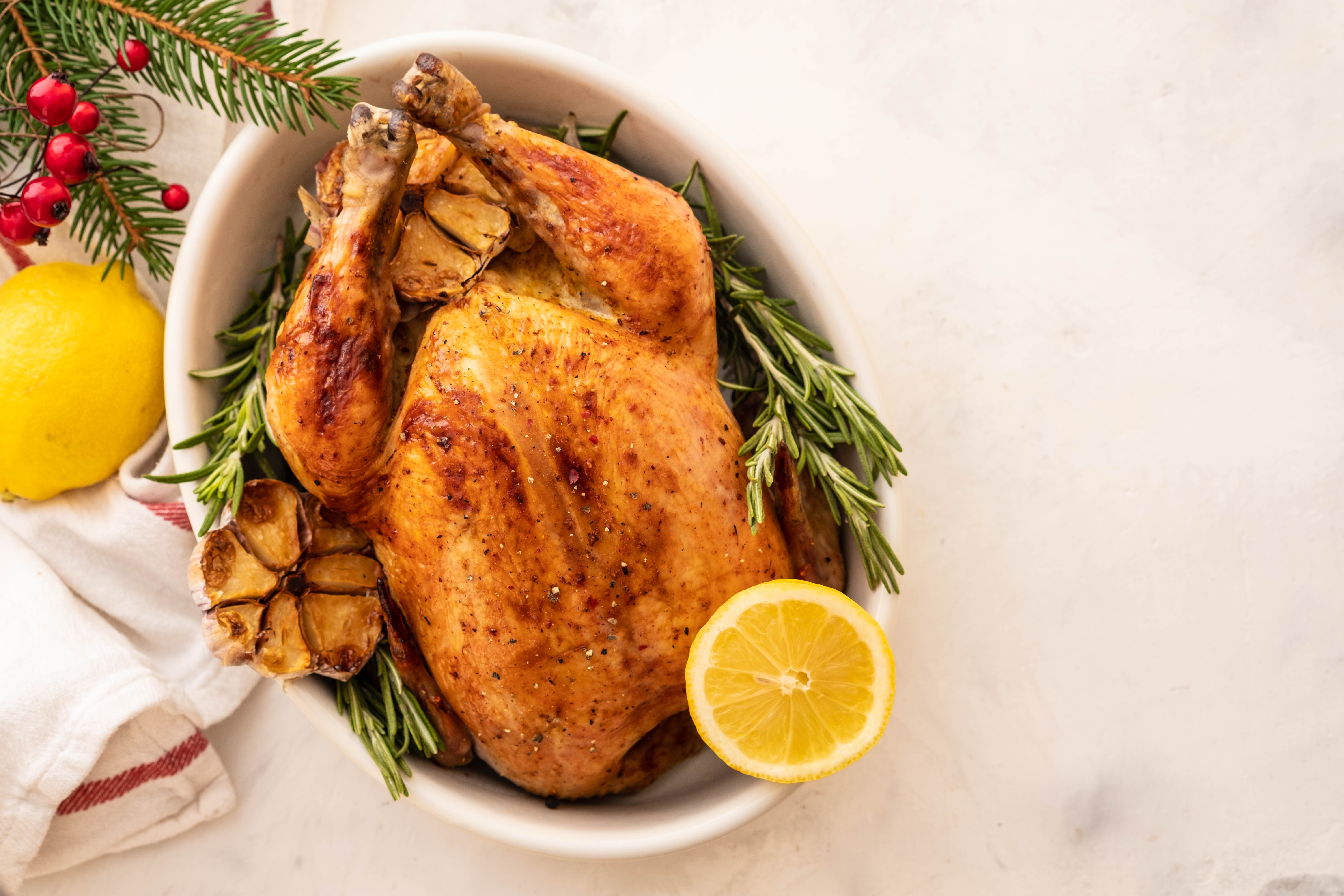 GRAVY (Yield: 1.5 cups)
1/4 cup finely chopped onion

 

2 tablespoons chopped fresh parsley

 

2 1/2 cups low-fat chicken broth

 

1 tablespoon cornstarch

 

Pepper to taste

 
Cook onions and parsley in ¼ cup of broth until onions are translucent.

 

In separate mixing bowl, combine cornstarch, pepper, and 1 cup broth and stir until smooth.

 

Add mixture to pan with the remaining broth, stirring continuously. Boil for 2 minutes.

 
BUCKWHEAT STUFFING
1 cup kasha (medium or coarse)

 

1 egg, slightly beaten

 

1/4 cup butter

 

1 cup each chopped onion and celery

 

2 cups chopped unpeeled apples

 

1/2 teaspoon ground sage

 

2 cups boiling chicken or turkey broth

 

Salt and pepper to taste

 
Combine kasha and egg.

 

Heat heavy skillet or pan lightly coated with oil (with tightly fitting lid); sear kasha until egg is cooked (2 to 3 minutes); remove from pan.

 

Add butter to same pan; sauté onion, celery and apples; season with sage.

 

Return kasha to pan and carefully add boiling broth; reduce heat and simmer, covered, until liquid is absorbed (8 to 11 minutes). Adjust seasonings to taste.

 

Bake separately in covered casserole at 350 degrees Fahrenheit for 45 minutes.

 
CRANBERRY SAUCE (Yield: 1 ¼ cups)
2 cups fresh cranberries, washed

 

1/2 cup water

 

1/4 cup agave nectar (or stevia, as desired)

 

1 orange, peeled and sectioned, discarding seeds and membranes, and puréed

 
Place berries and water in saucepan and cook over high heat until berries begin to pop. Stir continuously to prevent sticking.

 

Add desired amount of stevia or agave to sweeten as berries gel.

 

When everything is completely dissolved, add oranges and mix.

Refrigerate to chill.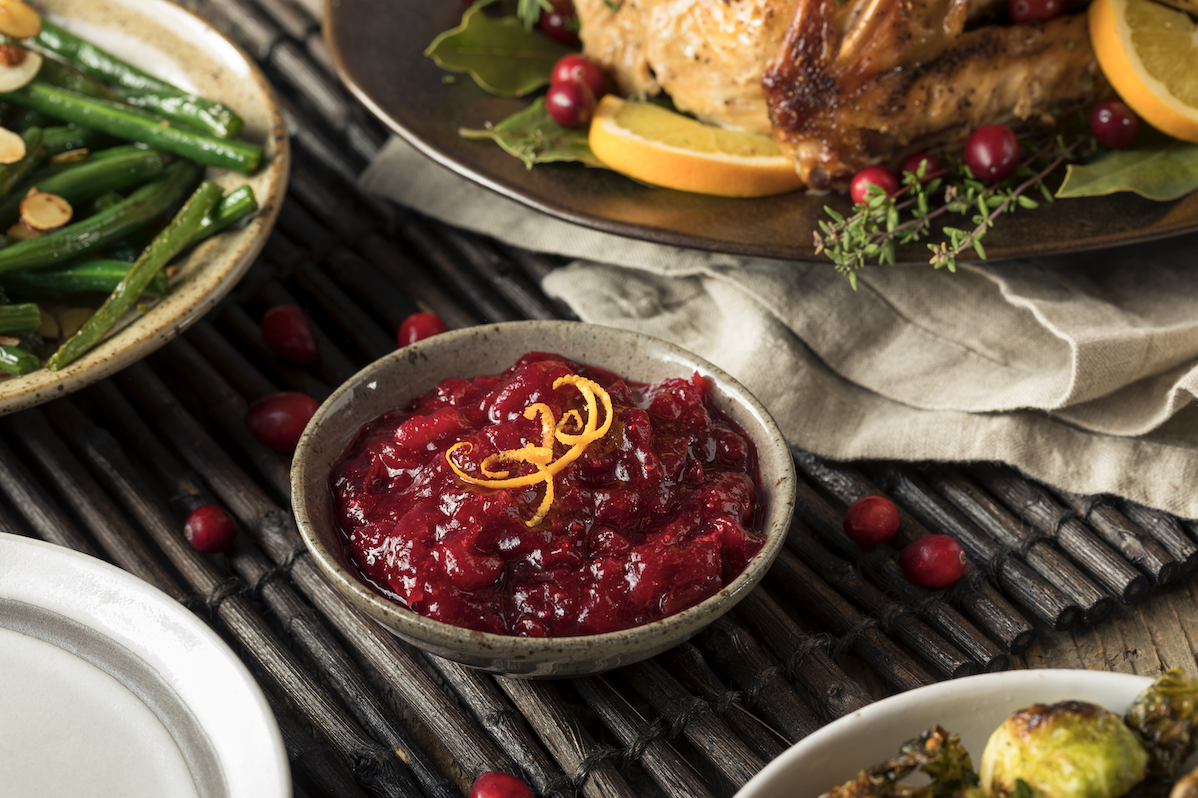 MASHED CAULIFLOWER
1 head cauliflower

 

1/8 cup skim milk

 

1/2 cup Gruyere cheese, grated

 

Salt and pepper

 

Paprika

 
Preheat oven to 350 degrees Fahrenheit.

 

Cook cauliflower until fork tender.

 

Place cauliflower (in pieces), skim milk, cheese, salt and pepper in blender. Whip until smooth.

 

Pour cauliflower mixture into small baking dish. Sprinkle with paprika and bake until bubbly.

 
OVEN-ROASTED BRUSSELS SPROUTS WITH APPLES (Serves 2)
1 pint Brussels sprouts, cleaned and left whole

 

1 apple peeled, cored and cut into eighths

 

1 teaspoon extra virgin olive oil

 
Preheat oven to 375 degrees Fahrenheit. In large bowl, toss Brussels sprouts, apple and oil together.

 

Cover a cookie sheet with aluminum foil; spread apple-Brussels sprout mixture evenly. Roast until lightly browned.

 
SPICED WINTER SQUASH WITH FENNEL (Serves 4)
1 1/2 pounds butternut squash, peeled, halved lengthwise, seeded, halved crosswise, then cut lengthwise into ¾-inch-wide wedges

 

1 fennel bulb, trimmed, cut lengthwise into 1-inch-wide wedges

 

1 large onion, root end left intact, then cut lengthwise into ½-inch-wide wedges

 

3 tablespoons extra virgin olive oil

 

1 teaspoon ground cumin

 

1 teaspoon ground cinnamon

 

1 teaspoon chili powder

 

1/2 teaspoon turmeric

 

Salt and pepper to taste

 
Position rack in bottom third of oven and preheat oven to 450 degrees Fahrenheit.

 

Combine squash, fennel and onion on heavy, large, rimmed baking sheet. Add oil and toss vegetable to coat.

 

Mix all spices in small bowl to blend. Sprinkle spice mixture over vegetables and toss them to coat. Sprinkle with salt and generous amount of pepper.

 

Roast vegetables, turning once, about 45 minutes, until they are tender and browned. Transfer them to shallow dish and serve.

 
Dessert:
PUMPKIN PIE
Pie Crust
1 cup rolled oats

 

10 almonds

 

1 cup brown rice flour

 

1/4 teaspoon salt

 

2 tablespoons sesame oil

 

2/3 cup ice water

 
Preheat oven to 350 degrees Fahrenheit.

 

Blend oats and almonds in dry blender to flour consistency.

 

Combine in a bowl with rice flour and salt; add oil and stir; add water and mix to soft dough consistency.

 

Press mixture into lightly oiled and sprayed pie pan, pressing from center outward; crimp edges with fork or dampened fingertips.

 

Prebake for 10-15 minutes and let cool before adding filling.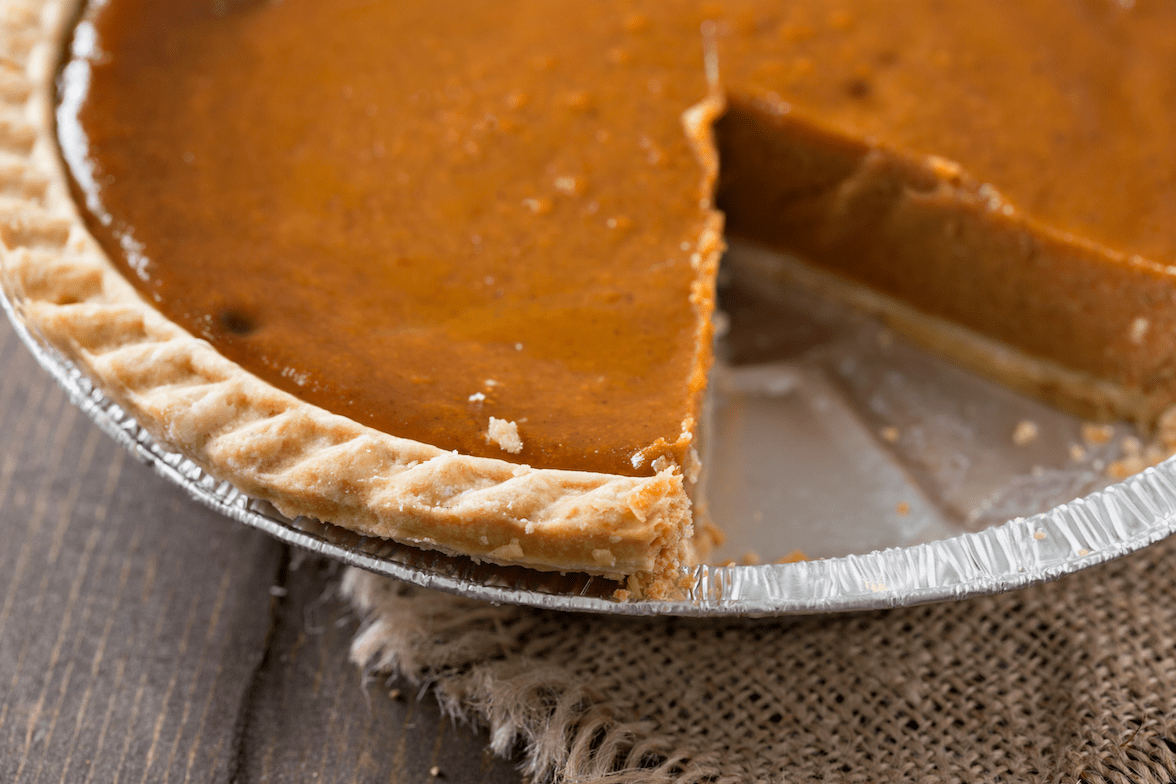 Pie Filling
1 15-ounce can pumpkin (about 1 ¾ cups)

 

8 ounces skim milk

 

3 eggs

 

1/2 cup agave nectar

 

Pumpkin pie spice to taste

 

Cinnamon to taste

 
Preheat oven to 425 degrees Fahrenheit.

 

Mix pumpkin, milk and eggs until smooth.

 

Gradually stir in agave nectar (1/4 cup at a time).

 

Add the pumpkin pie spice, taste; add more if needed.

 

Pour mixture into crust and spread evenly.

 

Bake in the oven for 15 minutes, then reduce the temperature to 350 degrees Fahrenheit and bake for another 45 minutes (time may vary depending on oven).

 

Lightly sprinkle cinnamon on top of pie and let cool.