As summer slips away and we fall into autumn, you may be beginning to see a few surprises that the sunny season left behind in the form of new brown spots, crinkly skin, uneven texture and dryness. Now is the ideal time to slough it all off and start fresh — and there's no quicker way to do that then with a chemical peel.
To the novice, a chemical peel can seem like a scary skincare treatment. It conjures up all sorts of images of using a chemical-based solution to take off a top layer of skin. And while that's essentially what you're doing, it doesn't have to hurt or leave you red and irritated — or worse. Peels come in different strengths, and while some heavy-duty ones administered by a physician or other licensed practitioner can lead to those types of side effects, many, especially at-home peels, leave you with nothing but more radiant, brighter and even-toned skin. Those are just some of the many chemical peel benefits. Here's what you should know about chemical peels before you try one.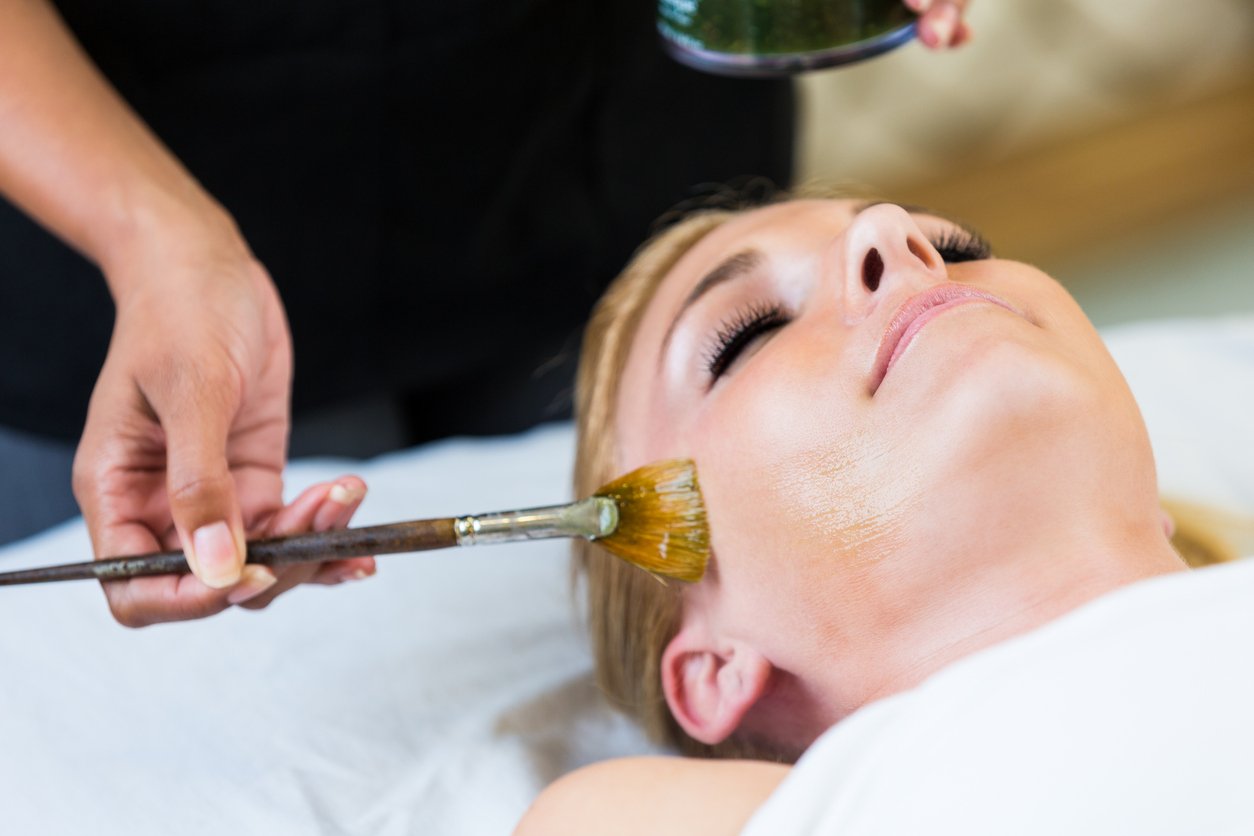 First, what is a chemical peel?
A chemical peel falls under the category of resurfacing treatments. Using a chemical solution (often a combo of acids), to loosen and slough off the dead, top layer of skin. So, what's in the solution? Typically, acids including alpha-hydroxy acids (AHAs) such as lactic, glycolic, tartaric, malic and citric, and beta-hydroxy acids (BHAs) such as salicylic acid. These acids help dissolve away the cellular glue between the thick, dead, dull cells on skin's surface, encouraging cell turnover (which, by the way, slows down with age). When that dead layer sheds, fresh skin is revealed. Your complexion looks and feels smoother, brighter and brown spots and other signs of sun damage appear lighter. More chemical peel benefits: reducing the appearance of acne by keeping your pores clear from a build-up of dead skin, and minimizing the appearance of acne scars. Over time, peels can even help smooth the look of fine lines and wrinkles.
What are the misconceptions of chemical peels?
There are quite a few. Let's clear them up and give you the facts about chemical peels.
Chemical peels are unsafe
We get it. The word chemical or acid can sound kind of scary. Or like it might leave your skin all shades of red. So, are chemical peels safe? In a word: yes. Of course, when purchasing a peel in-store or online, you want to go with a trusted, research-driven brand (such as Perricone MD). And for in-office peels, you want to use a reputable dermatologist or esthetician. The goal of a chemical peel is to speed up cellular turnover, which lags with age — not to leave your skin sore and red (which brings us to the next misconception).
 Chemical peels leave your skin red and irritated
High-strength peels will leave some redness and may lead to moderate to heavy peeling, but not all do this. Some peels are formulated to exfoliate on the cellular level. So even though you may not notice peeling skin or redness, the peel is still doing its job.
You must go into an office to get a chemical peel
It is an option to have a chemical peel administered by a licensed practitioner, but there are also many at-home peels that are highly effective and safe to DIY.  The solutions for in-office and at-home peels are often formulated with the same ingredients, but you'll get them in lower concentrations at home, so they're milder and gentler on the skin.
Chemical peels are for certain skin types
You can find a chemical peel that is suitable for your specific skin type and skin concern. There are even gentle peels made for those with sensitive, rosacea-prone skin and for those that are especially dry. By removing that dead top layer of skin, you can promote a healthier moisture barrier function. Plus, your skin will be more receptive to any hydrating skincare products you apply afterwards.
Chemical peels require a lot of downtime
Post-peel recovery really depends on the strength and type of peel you've had. Some deep peels will require some at-home time. But many, especially those sold at local stores or online, call for little to no time. You can apply your usual products and makeup, and go out with your brighter, fresher-looking skin right away.
The Perricone MD solution for at-home peels
If you're looking for a safe, but highly effective, chemical peel, Perricone MD has your ideal treatment. The Vitamin C Ester Daily Brightening & Exfoliating Peel is gentle enough to use every single day, yet it's potent enough to deliver visible results such as smoothing uneven texture, boosting glow and radiance, visibly brightening, tightening and reducing the appearance of dark spots over time. Let's look at the powerful ingredients in this must-try peel: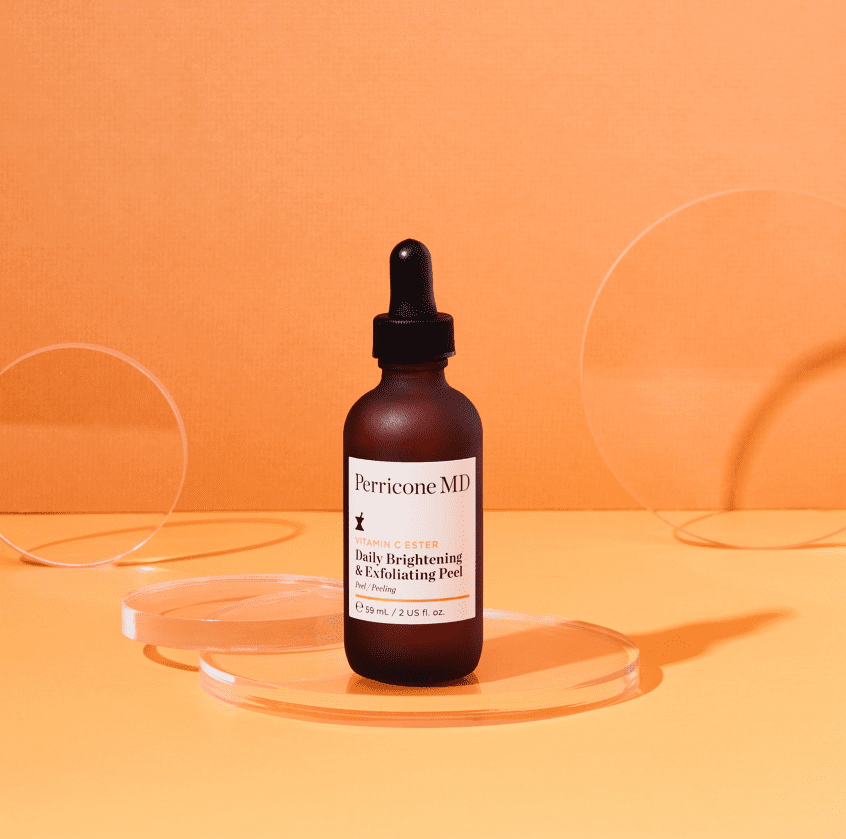 Does vitamin C exfoliate? Not exactly. This Perricone MD signature ingredient is known for its supercharged brightening and wrinkle-smoothing benefits. It's a highly potent and stable form of traditional vitamin C, which is notoriously known for being unstable, hence ineffective. This form does what it's supposed to do: make skin appear more youthful by smoothing, brightening and minimizing the appearance of discoloration over time. Plus, unlike other versions of vitamin C, Vitamin C Ester is fat-soluble, which means it absorbs into skin easily, providing skin with protective, antioxidant benefits.
Here are your acids. This combo of glycolic acid, gluconolactone and five fruit-derived extracts (bilberry, sugarcane, orange, lemon and sugar maple extracts) help banish dullness and uneven skin texture over time. Glycolic acid penetrates and exfoliates more deeply, while gluconolactone whisks away dead cells at the surface level. The complex visibly resurfaces skin and softens the appearance of fine lines.
Ferulic acid is a super antioxidant that protects skin against free radicals. In case you need a quick explanation, free radicals are unstable molecules unleashed by environmental aggressors such as UV rays. Antioxidants neutralize them before they can attach to healthy skin cells and cause damage. In doing so, ferulic acid helps reduce the appearance of fine lines, wrinkles and dark spots. It's also known to help stabilize other antioxidants such as vitamins C and E, making them more effective.
How to use it
It's pretty simple: Smooth the Vitamin C Ester Daily Brightening & Exfoliating Peel with a cotton pad on a clean face and neck (avoid your delicate eye area) or use your fingertips to apply it. Then follow with your usual Perricone MD treatment and moisturizer. Unlike other peels that need to be rinsed or neutralized after a certain amount of time, this one is an innovative, leave-on formula. That means you can't overdo it and irritate your skin. Use it in the morning or apply it as part of your PM routine and wake up with a radiant-looking glow.
Sounds a-peeling, right?