When we think of summer skin, we're likely conjuring up glowy, bare-skinned, sun-kissed complexions. But here's the often-experienced reality: Breakouts, an oily (not dewy) t-zone, blackheads, sun damage or possibly dehydrated skin with visible fine lines.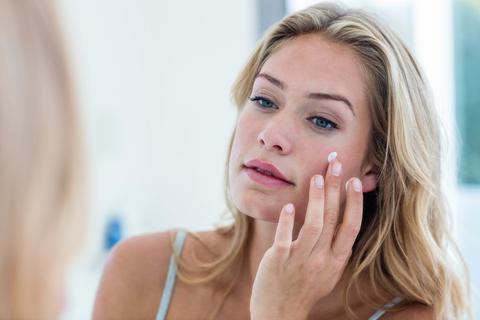 If your skin is in meltdown mode or feeling stripped at this point in the summer, it's time for some detoxing – no, not the type that involves living on fresh-pressed juices. Instead, we're talking about a skin detox: deep cleaning and feeding your skin nourishing ingredients that refresh and re-energize a lethargic complexion.
Excess oils, sunscreen and chlorine can all do a number on your skin, dehydrating it and clogging pores.
So, if your skin is feeling challenged with any of these symptoms, you may need to make a few tweaks to your routine with detoxifying ingredients to get your skin happy and balanced again.
SUMMER SKIN CHALLENGE #1: OIL OVERDRIVE
If you're not sweating, it can't really be summer yet, right? When your temperature goes up, your skin sweats. It's your body's genius way of cooling you down while trying to get rid of toxins and releasing body heat. Sweat on its own won't clog your pores. But if sweat sits on the skin's surface too long, it may mix with bacteria, makeup, moisturizer and sunscreen, then clog your pores and lead to blackheads and breakouts. Blocked sweat glands can even cause rashes and tiny, itchy bumps on your skin (what we commonly think of as heat rash). Skin's oil (a.k.a. sebum) gets thicker in summer, too. This heavy oil not only makes skin look slick, it mixes with sweat, sunscreen chemicals and makeup to clog pores and make them appear larger.
Your sweat detox move: Cut down on all that oil and effectively wash away sweat, so it doesn't lead to breakouts. If you're spending time outside (especially exercising), use an oil-free sunscreen and skip makeup and moisturizer. Post-workout, swipe your skin with a water-free cleanser such as No:Rinse Micellar Cleansing Treatment, which deeply cleanses pores by harnessing the power of micellar water to lift debris and clean without rinsing. Its key ingredient, vitamin B5, is naturally found in foods such as broccoli, and hydrates and softens skin.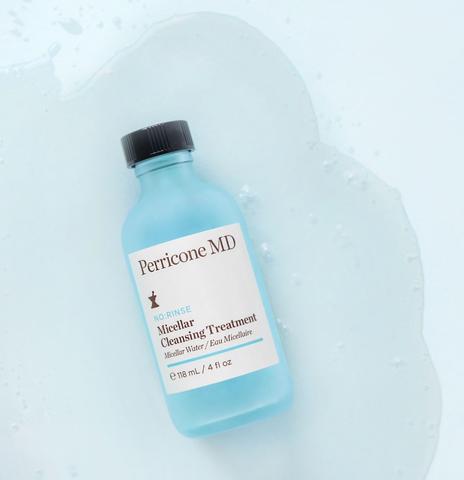 How to use it: Soak a cotton pad and smooth over your face, starting with eye makeup, working around your face.
SUMMER SKIN CHALLENGE #2: SUNSCREEN
There's no getting around the fact that UV protection is the most essential part of your summer skincare routine, but you have to choose wisely, especially if your skin is prone to breakouts. Chemical-based sunscreens-especially those that are water-resistant-tend to contain more ingredients that cause pimples and clogged pores. Adding to the problem is that these formulas are more difficult to wash off. So even if you're diligently cleansing your skin, they may leave a film that irritates and blocks pores.
Your sunscreen detox move: You shouldn't skip sunscreen, so give your skin a deep cleansing treatment one to three times a week with a detoxifying mask. Perricone MD Director of Education Rosalba Martone recommends the Chlorophyll Detox Mask for a powerful yet gentle summer detox. "The chlorophyll microcapsules help to detoxify and purify, while the papaya enzyme gently exfoliates, and clay draws out impurities," she says.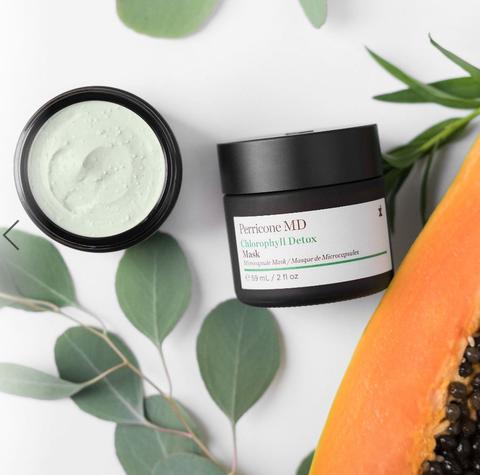 What is chlorophyll? Aside from purifying, chlorophyll is also a potent skin protector. "It's what helps plants turn sunlight into energy. In skincare, chlorophyll has a strong antioxidant effect," explains Perricone MD Chief Innovation Officer, Chris Caires. Studies have shown chlorophyll to neutralize the free radicals that can cause wrinkling, promote skin cancer and disrupt collagen production.
How to use it: Apply the mask all over the face, massaging it until all of the microcapsules burst. The mask will begin to harden and turn a deeper shade of green. Leave on for about 10 minutes, then rinse with warm water and pat skin dry. For normal to oily skin types, Martone recommends using the mask 2 to 3 times a week and once a week for drier skin.
SUMMER SKIN CHALLENGE #3: DEHYDRATION
Dry skin and dehydrated skin are two different things. While heat and humidity create more oil, there's a lot going on in the summer months that can cause our complexions to not get enough water-the definition of dehydration. Diminished water content in the skin looks like this: congestion (clogged pores), redness, fine lines, and inflammation. If that sounds familiar, chances are you need to up your water intake. Remember all that sweating your skin is doing? It's causing it to lose more fluids that in the winter. If you throw in a glass of wine or two, you're taking even more moisture from your skin, since alcohol is a dehydrator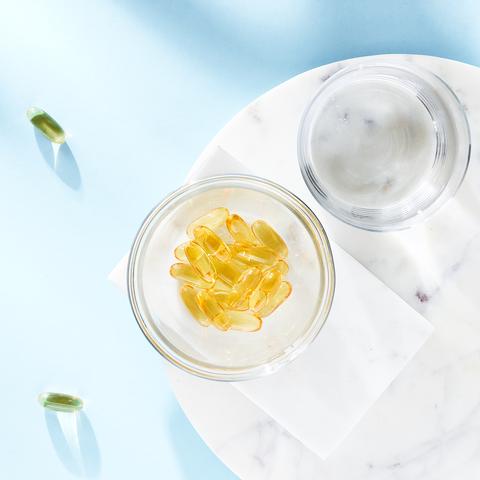 Your dehydration detox move: Take an inside-out approach to skin hydration. It's not enough to drink your water; snacking on water-rich fruits and vegetables such as watermelon, cucumber, and celery can help boost your skin's water content, too. But water is just one part of the moisture equation. High-quality, purified Omega 3 supplements deliver the fatty acids your skin needs to help it stay hydrated and supple*. For this, try Perricone MD Omega 3 Supplements.
How to use it: Take one to three capsules, three times a day, with meals.
*These statements have not been evaluated by the Food and Drug Administration. This product is not intended to diagnose, treat, cure, or prevent any disease. Product packaging may vary.
SUMMER SKIN CHALLENGE #4: CHLORINE
Spending a lot of time at the pool this summer? There's a downside for your skin: drying pool chemicals. Chlorine is essentially like exposing our skin to harsh bleach. Think of what that means if you're spending hours (and days) in the stuff and especially if you're not immediately washing it off.
"Your skin is a barrier whose primary function is to keep toxins and pollutants out and keep moisture in. Keeping that barrier hydrated and intact is very important to its health," explains Caires. The chemicals in pools can eat away at your skin. If you're breaking out, that may be the result of chlorine over-drying your skin. The drier the skin becomes, the harder it works to produce more oil, which then clogs pores.
Your chlorine detox move: After the pool, rinse off right away. Focus on gentle exfoliation to keep any dry, dead cells from building up (which diminishes the absorption of any moisturizers you're using, since they can't get past the dead skin to hydrate deep within your skin). Try our No:Rinse Exfoliating Peel, which is so gentle that it doesn't need to be removed. The hyaluronic acid provides deep hydration while the L-Carnitine and copper complex increase surface cell renewal by 100% after 3 weeks of use.
How to use it: Simply smooth over cleansed face once a day and wait until dry. No rinsing is needed after application.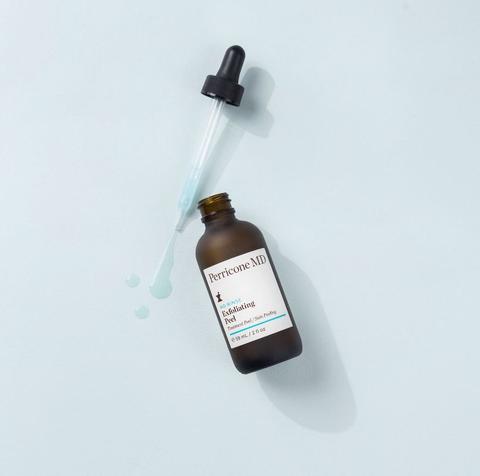 SUMMER SKIN CHALLENGE #5: SUN EXPOSURE
Even the most diligent sun protector can incur damage. First off, sunscreens don't shield you from 100 percent of the sun's rays, so even if you did an excellent job applying, some can still penetrate skin, causing sunburn and future sun damage. Plus, not everyone applies enough sunscreen (or reapplies frequently enough) to get full protection on the bottle. What's more: If you're prone to hyperpigmentation (brown spots, melasma, etc.), it's not just UV rays that can cause them. Studies have shown that heat alone can also trigger pigmentation.
Your sun exposure detox move: Wear sunscreen but consider employing a sun damage insurance policy: antioxidants. Applying a mix of potent antioxidants can neutralize free radicals before they can do damage. Perricone MD's new Vitamin C Ester CCC + Ferulic Brightening Complex 20% contains Vitamin C Ester, a highly stable and powerful version of vitamin C and two additional forms of vitamin C for the highest concentration of 20%. Super antioxidants, vitamin E and ferulic acid join this powerful trio to help counteract free radical damage, while making skin appear healthier and more toned. Bonus: It helps brighten skin and downplay the visible discoloration you already have. Perricone MD's clinical tests showed a 76% improvement in skin radiance over the course of 8 weeks. In consumer tests, 86% saw an improvement in their skin tone in just 28 days.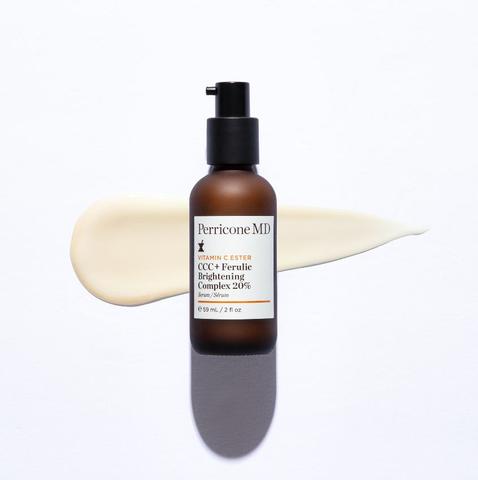 How to use it: Start with the Vitamin C Ester Citrus Brightening Cleanser, a vitamin C-infused cleanser that visibly energizes dull, discolored skin. Work into a lather and rinse clean. Apply the Vitamin C Ester CCC+ Ferulic Brightening Complex 20% day and night before your day cream and nighttime moisturizer. Massage all over your face and neck until fully absorbed.
Bottom line: Using products with the right skin-detoxing and protecting ingredients, like the high quality ones found in Perricone MD formulations, can save your skin from summer's complexion challenges – and instead leave you with its skin-glowing effects.