It's safe to say that by now, we all know the importance of protecting our skin from the damaging effects of the sun. Despite our best efforts, there are times when fully protecting our skin just doesn't get done on a daily basis. Life happens. We get it. But that also means unintended sun exposure happens, too. Once the damage is done what does that mean for your skin? Is it too late to correct it and reverse course? The answer might surprise you.
WHAT CAUSES SUN DAMAGE?
Let's have a quick refresher on what actually causes sun damage. Ultraviolet (UV) radiation is one of the main environmental elements that causes skin aging, adding an extra dimension to the process. The sun emits UVB rays, which are short, intense wavelengths that typically give you a sunburn or tan. The sun also produces UVA rays, longer wavelengths that penetrate deeper into your skin, causing the type of damage over time that we associate with aging. Intentionally exposing yourself to the sun, whether it's in the form of sunbathing outdoors or visiting a tanning salon, accelerates skin aging and increases the risk of skin cancer. However, what causes all this sun damage is just one piece of the puzzle.
WHAT ARE THE SIGNS OF SUN DAMAGE?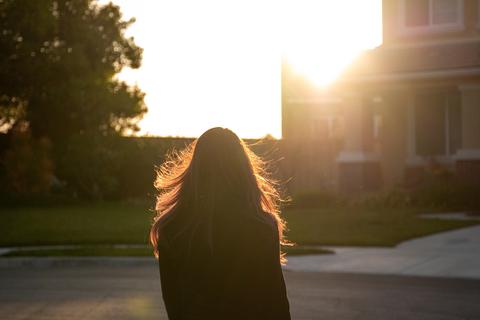 Sun-induced skin aging is a cumulative process, meaning that it increases over time with prolonged exposure. One sunburn won't do much damage, but going for a walk around your neighborhood every single day for years without adequate sun protection can yield big changes in your skin as you get older. The severity of these effects, however, can depend on a variety of factors, including peoples' degree of sun exposure and their skin pigment. People with lighter pigmentation who spend a good amount of time outside (especially those who live in warmer climates) will likely experience the highest degree of photoaging (that's the official term for premature skin aging caused by UV light). Continued exposure to the sun can result in:
A loss of skin elasticity
Thinner, more translucent-looking skin
Wrinkles
Dry, leathery skin
Broken capillaries
As their name suggests, age spots—the flat, brown splotches you might also call sunspots or liver spots—are another sign of aged, damaged skin and also a major symptom of sun damage.
While these spots aren't dangerous, they aren't exactly attractive. Worst of all, though, is what all that sun exposure is doing below the skin's surface: sun damage can alter your cell's DNA, leading to skin cancer. Ugh. The good news?
You can reverse visible signs of sun damage to some extent as you prevent new damage (and skin cancer), especially when it comes to brown spots and uneven skin tone.
WHAT CAN I DO TO ADDRESS THE VISIBLE SIGNS OF SUN DAMAGE?
First things first: If you're headed outside, slather on the sunscreen. Can't see the sun through the clouds? Apply it anyway. It's the middle of winter? Bundle up and put on the SPF. UV rays, especially those UVA rays, can cause skin damage during any season, temperature or weather, so protecting yourself from excessive sun exposure is crucial year-round.
But as you know, sun protection will only prevent new damage from forming and not necessarily get rid of the spots and fine lines you already have. So, what's your next step?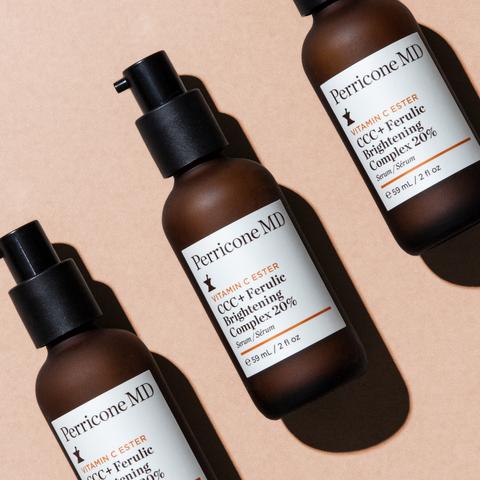 That's where Perricone MD's new Vitamin C Ester CCC + Ferulic Brightening Complex 20% comes into play. This highly potent serum is a skincare marketplace standout because it includes three different forms of vitamin C to give skin a super-high concentration of the potent vitamin and antioxidant (most vitamin C serums use just one form of the antioxidant).
The benefits of vitamin C in skincare are endless, but in terms of sun damage, it helps brighten existing discoloration for more even-looking skin over time.
A study in the Journal of Clinical and Aesthetic Dermatology found topical vitamin C could broadly help improve skin's appearance from anti-aging to skin brightening, if you can keep the ingredient stable in a product formulation (keep reading to see how Perricone MD rises to this challenge). The multitasking vitamin is also essential in skin's natural collagen-building process, so when applied topically, it can give skin a more supple, youthful appearance. Lastly, vitamin C is an antioxidant, which means it can help protect skin by neutralizing free radicals and unstable molecules that are generated by the sun and the environment, which can compromise healthy skin cells.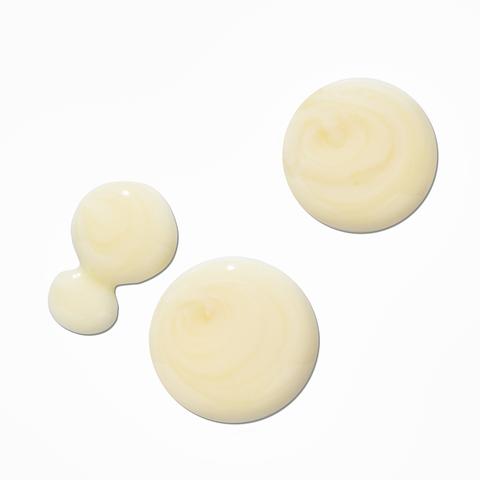 Studies have shown that the best vitamin C serums are even more effective when the citrus ingredient has a little help from friends. A study in the Journal of Investigative Dermatology showed that when vitamin C is combined with vitamin E and ferulic acid, it's more stable (which means it won't break down in the bottle) and effective. That's why Dr. Perricone chose this trifecta for the formulation of the Vitamin C Ester CCC + Ferulic Brightening Complex 20%.
So, what about those friends? Vitamin E, another powerful antioxidant is known for its hydrating properties. It's fat-soluble, and you can find it in foods containing healthy fats, like almonds and avocados. It has a keen ability to help skin retain its essential moisture, so skin looks plump and healthy. Then there's ferulic acid. This powerhouse is another antioxidant that helps visibly improve the appearance of dark spots caused by the sun and improve the look of more smooth, youthful skin. When formulated with vitamin C, this trio is a standout for skin, delivering dramatically visible results.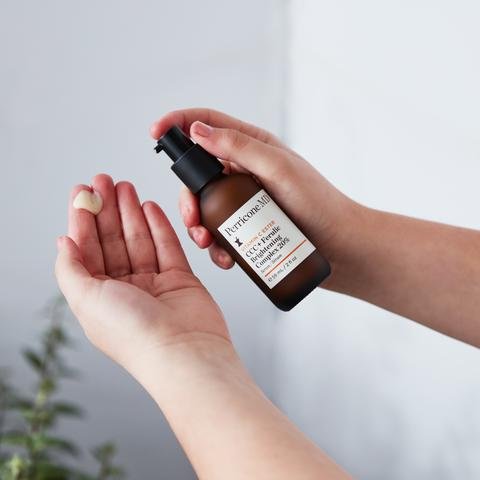 LET'S TALK ABOUT THOSE RESULTS
You already know the antioxidant blend has a good rep on paper, but what can it really do on your skin? Does it live up to the hype? Let's look at the clinical results. In Perricone MD's own clinical testing, 92% had an improvement in skin texture, while 76% had increased skin radiance. In consumer testing, the reports were, well, glowing. After just 28 days of use, 88% said their complexion was brighter, 86% saw an improvement in skin tone and 87% felt their skin appeared more radiant.
Unless you live your entire life indoors (and not just during a mandatory quarantine), you're likely to incur at least some sun damage on your skin. But you can visibly turn things around with a potent antioxidant serum such as Vitamin C Ester CCC + Ferulic Brightening Complex 20%.