When COVID-19 arrived and the country had to shelter in place, makeup stopped ranking high on our priority lists. Many women saw the forced downtime as a good reason to give their skin a much-needed break from foundation, and the like. But now, all these months later, we're slowly returning to our pre-pandemic lives—going back to work, attending school, dining out—albeit with a few new protective measures, including the face mask.
The mask has become the unintended fashion accessory of the year. Aside from washing hands and social distancing whenever possible, experts say that whether you are gathering indoors or out in public, a protective face covering is key for controlling the spread of COVID-19. So, whether you're back in the office or just running errands, there are lots of ways to look polished and feel confident (not like you're hiding behind a mask).
So, how can you achieve just that? There is certainly no shortage of cute, stylish masks out there. You can find one in just about any color and pattern. But mask-wearing affects skincare and makeup application, too. Let's face it: masks can get hot and sweaty, creating a haven for pimple-causing bacteria to thrive (you've probably heard the newly minted term 'maskne'). Plus, if you put on too much makeup you're bound to wind up with makeup all over the inside of your mask. We have to be a lot more expressive with our eyes to get our point across (it's certainly the year to master the smize, a.k.a. smiling with your eyes). Want to look pulled together while wearing a mask? Want to keep your skin healthy and happy? Follow these pre-mask complexion and makeup tricks from Rosalba Martone, Director of Education at Perricone MD.
Prep with the right skincare
Your pre-mask makeup routine actually starts with great skincare. The overall goal is to keep your skin balanced—neither oily or dry. If your complexion tends to get slick, all that oil along with makeup and sweat will wind up trapped under your mask, which is a recipe for a breakout. The solution: Add some mattifying treatments to your regimen. Wash your face with a gentle cleanser. Harsh cleansers can strip skin of its essential moisture, causing it to pump out even more oil to compensate for all the dryness. Our Hypoallergenic CBD Sensitive Skin Therapy Gentle Cleanser, formulated with 99% pure Cannabidiol (CBD), is a gentle, low-foaming cleanser that's designed to effectively remove dirt and oil without stripping skin of essential moisture. It calms sensitive skin that's been cooped up behind a mask, leaving it looking and feeling thoroughly cleansed and moisturized without drying or irritating. Follow this important step with a toner such as the No:Rinse Intensive Pore Minimizing Toner, which clears pores and reduces oiliness with salicylic acid but doesn't dry out the skin (again, preventing that rebound oiliness). Finally, layer on an oil-free moisturizer. Even better, choose a formula that contains hyaluronic acid, a humectant that draws moisture into your skin without making the surface greasy. Try the High Potency Classics Hyaluronic Intensive Moisturizer.
Perfect your complexion when wearing a mask with these tips & tricks
Achieving your desired look while wearing a protective mask, only takes a few makeup products.
Play up your eyes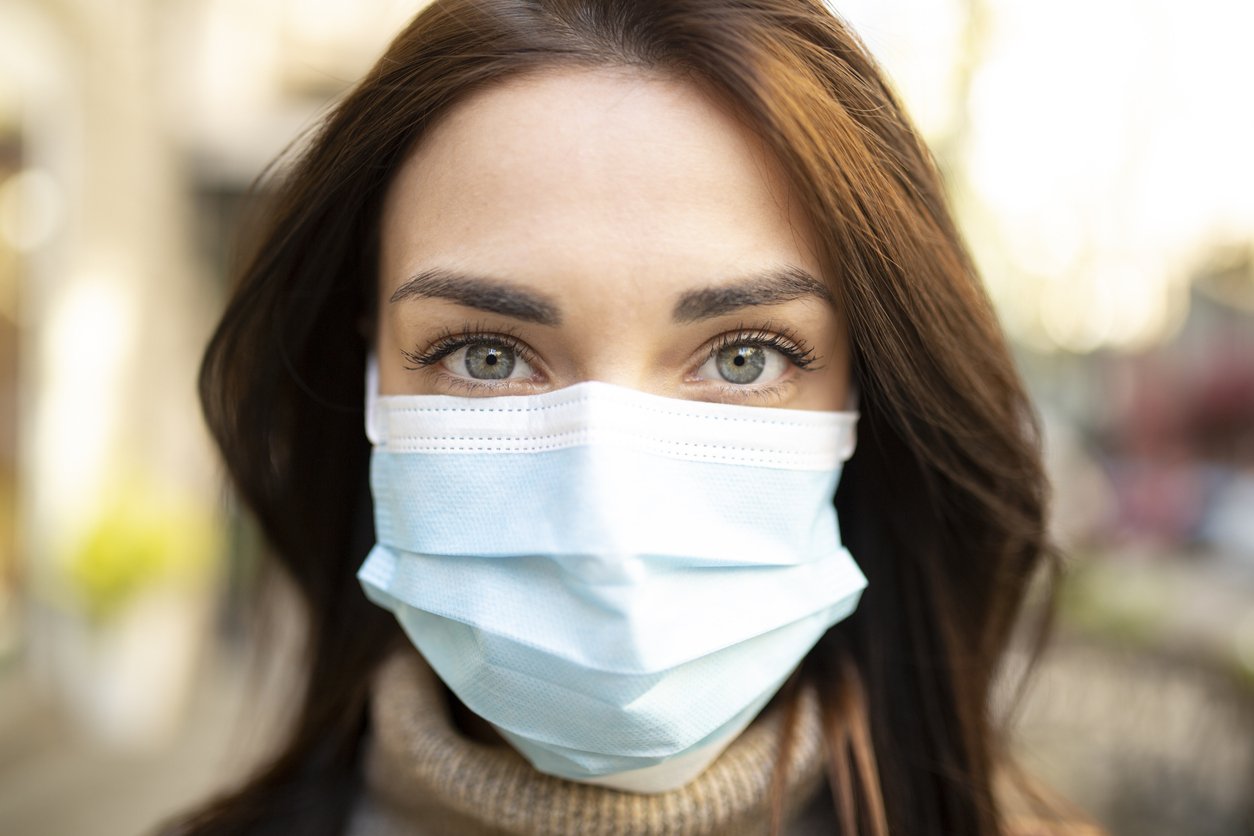 When you're wearing a mask, your eyes are the first thing (really, the only thing) people see. To make them stand out, opt for mascara and a touch of eye shadow. All you need to do is curl your lashes and swipe on two coats of No Makeup Mascara to your top lashes, skipping your lower ones. This easy trick visually lifts your eyes, making you look more youthful and awake.
Forego the foundation and simply use a concealer such as our No Makeup Concealer Broad Spectrum SPF 20. This lightweight concealer is perfect for touching up the dark areas around your eyes. It does this by correcting discoloration while visibly smoothing and brightening over time. An added plus is that it contains Broad Spectrum SPF 20 to protect skin from harmful UVA/UVB rays when venturing outside.
Brighten up
A hint of liquid highlighter can call even more attention to your eye area, making you look refreshed and youthful. Swipe it across your brow bones to make them look more pronounced. Dab it on the inner corners of your eyes for a wide-eyed look. You can even apply highlighter to the tops of your cheekbones to brighten the upper part of your face, above the mask. Try No Makeup Highlighter, a liquid formula packed with light-reflecting pigmented pearls, so skin glows, but isn't glittery.
Don't mask your glow
With a mask, you don't see a whole lot on your cheeks but that doesn't mean you can't add some warmth to your skin. Blend just a touch of liquid bronzer using No Makeup Bronzer SPF 15 along your hairline. You can even apply on the very top of your cheekbones using your fingertips (no brush necessary) and blend out toward the temple to achieve a natural-looking contour even with the protective mask on.
Wait for it
While lips may be hidden while wearing a mask, that doesn't mean you can't show them some love when the mask comes off. Showcase the natural hue of your lips with our No Makeup Lipstick Broad Spectrum SPF 15, that's specially formulated to align with natural skin tones. This cushiony, skincare-infused lipstick provides a sheer wash of natural-looking color that not only enhances the natural hue of your lips but also visibly improves firmness, smoothness and definition over time. Put one (or more!) into your purse for whenever the moment is right.
These times are tough but even though we're all hiding behind masks for the time being, you can still look and feel beautiful. All it takes is a few simple steps to be mad for (not mad at) these new accessories.