Facials give you healthy, glowing skin and a luxurious, soothing experience. But going to an aesthetician to get one on a regular basis can be a bit of a hassle, and pretty expensive, too. At-home facials are a more convenient option, and can be just as effective and relaxing. Here's how to recreate the spa experience and give yourself a facial at home, in just a few simple steps. 
But first,
what is a typical facial?
Facials are designed to be a supercharged version of your daily skincare routine. Your average spa facial includes deep cleaning, pimple extraction, a massage and steam treatment, a mask or peel and then the application of a moisturizing treatment. Some facials also include anti-aging treatments like microdermabrasion or micro-needling. While there are a few aspects of a professional facial that are hard to mimic at home (the heated bed, the oddly satisfying extractions, the heavenly face, décolletage and arm massage), DIY facials will cleanse, brighten, hydrate and exfoliate your skin. Doing them in the comfort and privacy of your own home allows you to customize and tweak your routine based on the current state of your skin, too.  
How to do a professional facial at home 
Here is a step-by-step guide for a glowing, healthy complexion – and a spa-like experience.  
1. Create a spa-like atmosphere
A spa ambiance helps achieve ultimate relaxation. So, set the tone at home with these spa day ideas like taking a bath (extra points for adding epsom salts or essential oils to the bath water), lighting your favorite scented candle and playing soothing music. If you're short on time, at the very least just turn off all electronics, and luxuriate in the peace and quiet. 
2. Cleanse 
Cleansing is an essential part of any facial experience. It removes dirt and excess oil from your face, giving you a fresh, clean canvas to work with. The Vitamin C Ester Citrus Brightening Cleanser removes excess oil, but prevents your skin from feeling dry. While the product cleanses, it also gives you a dose of Vitamin C Ester, a more stable and potent form of vitamin C, which smooths and brightens the skin. It also contains DMAE and a copper complex to hydrate and firm. Lather a small amount of the cleanser into your palms and gently massage it onto damp skin. Rinse the cleanser off with warm water. 
3. Steam 
Warm, damp steam melts away sebum, which helps to prevent acne. It hydrates the skin and opens up your pores, making them more receptive to receiving the ingredients you will be applying later. You can invest in an at-home, tabletop steamer machine that will waft steam towards your face, or you create your own steamer by boiling four cups of water and pouring it into a heat-safe bowl. Drape a towel over your head to cover your face and shoulders, as well as the bowl; this will keep the steam from escaping. Position your face 18 to 20 inches from the steaming bowl of water for 5 to 10 minutes. 
4. Exfoliate 
Exfoliating sloughs off the top layer of dead skin cells that makes skin look dry and dull. You can use a physical exfoliant, like a granular scrub, or a chemical one, like the NEW Vitamin C Ester Daily Brightening & Exfoliating Peel. In addition to Vitamin C Ester, this lightweight, no-rinse peel packs an AHA / PHA Super Blend (a combination of glycolic acid, gluconolactone and five-fruit derived acids) to resurface the skin. It also contains ferulic acid, a plant-based antioxidant to reduce the appearance of fine lines, wrinkles and dark spots. To apply, simply saturate a cotton pad or use your fingertips to smooth over your face and neck, avoiding the eye area. No rinsing needed! 
5. Apply a Mask 
Now that your skin has been thoroughly cleansed and prepped, it's time to further infuse it with hydrating and nourishing ingredients. The NEW Cold Plasma Plus+ Concentrated Treatment Sheet Mask contains phospholipids, which replenish the skin's moisture barrier, and copper tripeptide, which is a trio of amino acids that visibly smooth, firm and refresh the skin. Vitamin C Ester is included to smooth and brighten as well.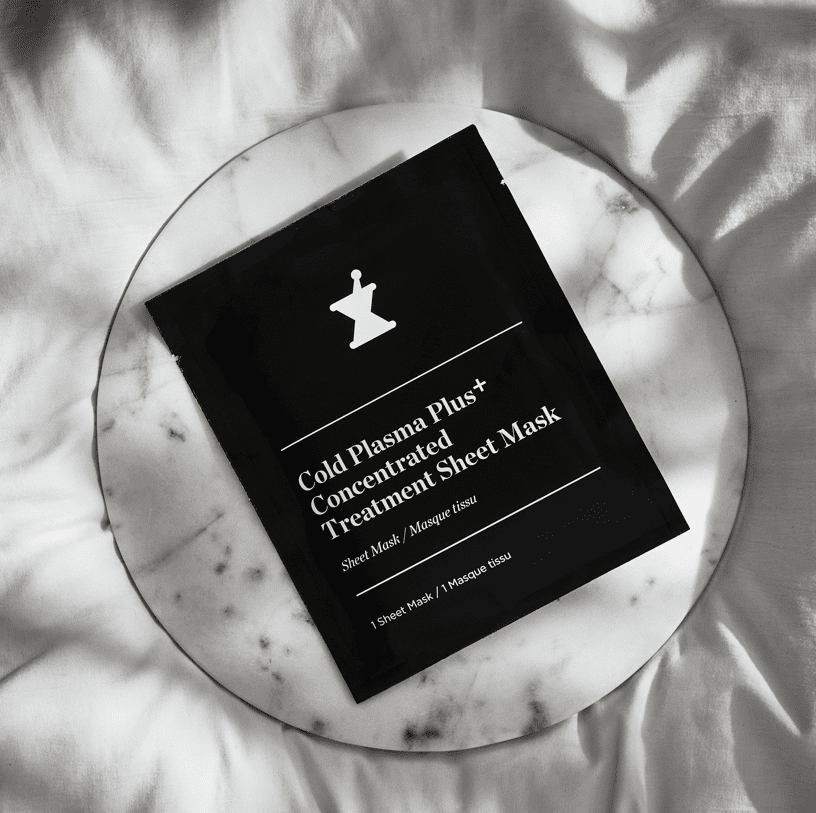 To use it, first gently massage the outside of the sachet to distribute the formula over the mask. Then, gently open the sachet, remove the mask from the package and carefully separate the top section from the bottom section. Apply each piece, one at a time, and leave the mask on for 20 minutes. The two-piece mask hugs the contours of your face, ensuring the product is evenly distributed over your complexion. Remove the mask and massage any remaining formula into your skin to give it extra radiance.  
 6. Massage on a moisturizer 
The mask gives your skin a hit of hydration, but to boost it even more and get maximum moisturization, use the Cold Plasma Plus+ The Intensive Hydrating Complex as the next step in your at-home facial routine. This ultra-rich powerhouse cream does it all. The potent combination of peptides, Vitamin C Ester and a vegetable triglyceride complex provides intense hydration while also smoothing the appearance of fine lines and wrinkles, evening out skin tone and visibly firming skin. Warm the cream between your fingertips, and then massage it onto your face and neck in a gentle upward motion until the product is fully absorbed into your skin.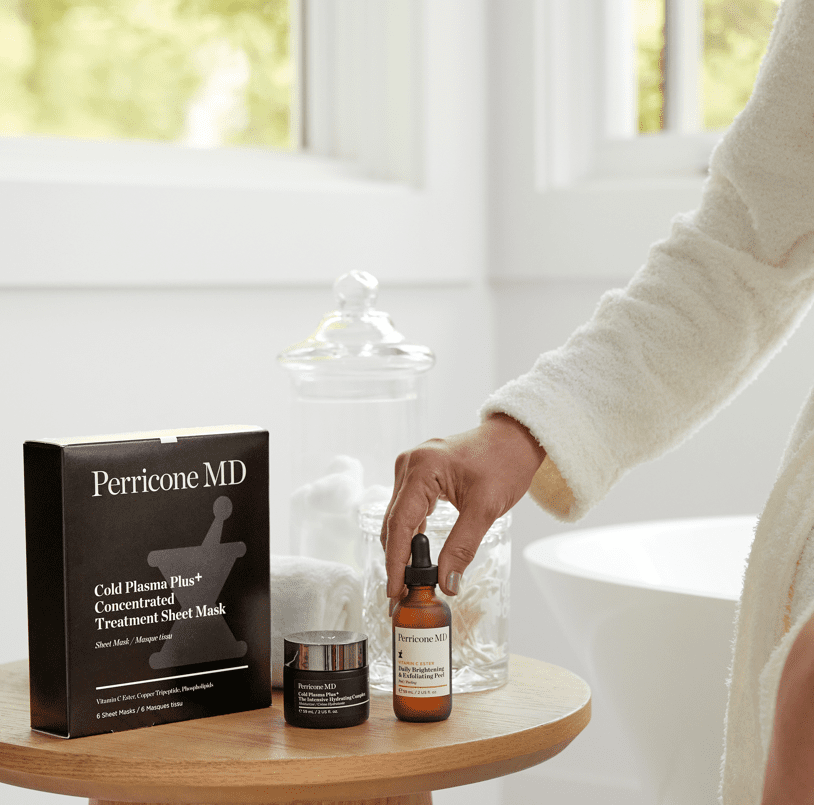 7. Extra credit: Dab on eye cream 
You technically don't have to finish your facial with this step, but applying an eye treatment will improve the look of dark circles and puffiness while smoothing the look of crow's feet. Try the Cold Plasma Plus+ Advanced Eye Cream. This lightweight, fast-absorbing eye cream includes Vitamin C Ester and omega-3, -6 and -9 to target the five major signs of youthful-looking eyes: dark circles, puffiness, crow's feet, fine lines and loss of firmness. Gently pat the treatment around your eye area with your ring finger starting at the inward corner of the eye working outward to the hairline. 
While you might be tempted to do a facial this relaxing (and easy!) every day, stick to just once a week, and think of it as a complimentary part of your skincare routine. You might not get the heated bed and the professional massage you'd get at a spa, but the same youthful, radiant-looking skin results can be yours — without having to leave the comfort of your own home.