When we hear the word "skincare," why is it that our minds jump right to face products? Cleansers, serums, face creams, masks and the like make up your morning and evening regimens, but what about bodycare? The reality is your face consists of just a small portion of the skin on your body. As your largest organ, it's essential to treat the skin below your chin with the same care you show your face. 
Since the skin allover your body will vary in thickness, color and texture, the concerns you have for each part will likely differ as well. Your neck, for example, may show sagging, lines and wrinkles sooner than your legs. You may struggle with bacne (back acne) despite having a clear face. Or your body could run exceptionally dry even though your face is oily.  
Because your body concerns are different, you need products specifically formulated to treat them. The best place to start? Ensuring you have a strong moisture barrier for defense against environmental aggressors and external factors that can result in body acne, premature aging, lines, wrinkles, sun damage and more. Keeping your skin barrier healthy with constant nourishment and hydration from head to toe is a must for this reason. 
That's where nutrient-packed bodycare comes in — and we can't get enough of our body oils and moisturizers, specifically. Whether you have normal, oily or combination body skin, incorporating a body oil and/or moisturizer into your daily regimen is not a want but a need. And, believe it or not, they're not the same, so you may even need both! Let's break down why.  
The Benefits of Body Oil & Body Moisturizer
Whether you use it or not, you've heard of body lotions and moisturizers. Perhaps lesser known, though, are body oils, another nourishing option that delivers similar benefits for softer, smoother and stronger-looking skin allover. 
While the benefits of each are similar, moisturizers are typically thinner, lighter and water-based. They're essential for providing the skin with hydration as they're more easily absorbed than an oil. On the other hand, oils tend to be thicker and heavier, so they're more likely to rest atop the skin. This makes them perfect for protecting the skin barrier and sealing in essential moisture. Depending on your skin type, you can use them individually or together in your routine. 
Which Is Right for You? Body Oil vs. Moisturizer
Before buying a bunch of body products, it's important to break it down to the basics so you know what's right for your skin type and for that, we have you covered. 
Who should use body moisturizer? The short of it: everyone. Even if your skin feels flake-free and hydrated naturally, your body is constantly being stripped of its natural oils, especially after you shower or bathe. To properly maintain a healthy skin balance and protect your body against external threats (i.e. infections, toxins and allergens), a strong skin barrier is non-negotiable and body moisturizers can help with this. Body moisturizers effectively absorb into the skin to deliver both instant and long-lasting nourishment, making it worthy of main character status in anyone and everyone's routine. 
Since that's you, try: High Potency Hyaluronic Intensive Body Therapy, a lightweight yet nourishing body therapy designed with four forms and two natural building blocks of hyaluronic acid (HA) to intensely hydrate and replenish the body's natural HA production for smoother, firmer-looking skin. The multi-dimensional hydration helps protect the skin's moisture barrier by comforting, conditioning and revitalizing. It works in conjunction with DMAE to tighten sagging skin and protect against drying environmental aggressors and brown algae extract to promote the look of collagen-rich skin and protect against free radical damage.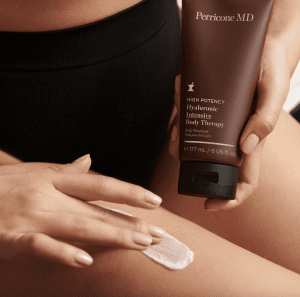 Who should use body oil? Anyone with either naturally moisturized or ultra-dry skin. Seems odd, but there's a reason for these two extremes. Since those who have more natural oils and hydration often skip the moisturizer altogether, using a body oil is a healthy alternative to protecting your skin barrier by locking in the moisture you already have. Alternatively, body oils work wonders in combination with a body moisturizer for those who have extra dry skin as well, sealing in not just your natural oils but the hydrating benefits of the moisturizer as well. Bonus: it's also great for spot treating those extra dry areas of the body, too, including elbows, knees and ankles. 
If that's you, try: Essential Fx Acyl-Glutathione Chia Body Oil, a dry body oil that immediately conditions dry skin, particularly elbows, knees and ankles, with essential moisture and intense nourishment. Skin-smoothing lipids reduce the look of wrinkles and creases for a more youthful-looking appearance while a vitamin F blend of chia, flax and macadamia seed oils promote increased suppleness and deliver a healthy-looking glow.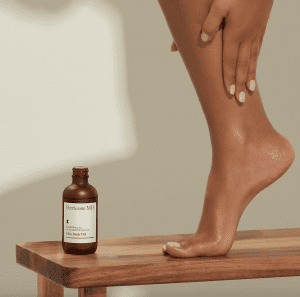 Now, if you're thinking "decisions, decisions," don't overthink! At the end of the day, a body moisturizer is a foolproof place to start. For those looking for the extra hydration boost, though, a body oil is a luxury add-on that will transform your skin one application at a time. Our vote? Double up!