By the time the calendar flips to February, many of us living in cold weather climates are suffering from complexions that can be best described as "winter-weary": dull, rough, sensitive and extremely dry. Why does this happen? The blustery weather outside, combined with the constant blast of indoor heating, creates a supremely dehydrating environment that can leave your complexion chronically parched, sensitized, drab and inflamed. 
Moving to a warmer climate is (obviously) not an option for most of us, but we can employ simple, hydrating, anti-inflammatory strategies to help brighten up our skin, stat. The gold standard in combating inflammation is Perricone MD's Three-Tier Philosophy. Tier 1: Adopt an anti-inflammatory diet. Tier 2: Boost your diet's nutrient content with daily supplements. Tier 3: Apply targeted topical skincare to hydrate and promote more radiant skin.  
We've used the above guidelines to create this brightening regimen—and get you glowing again. 
Tier 1:  Adopt an anti-inflammatory diet
The foods you consume can dramatically impact the health and look of your skin.  
To fight inflammation, choose foods rich in antioxidants, such as vitamins A and C, which help counter free radicals in your body and decrease the deterioration of collagen and elastin (the spongy substances in your skin that make it plump and firm). Vitamin A is abundant in carrots, squash, sweet potatoes and spinach. Vitamin C can be found in citrus fruits, kiwi, broccoli, brussel sprouts and most berries.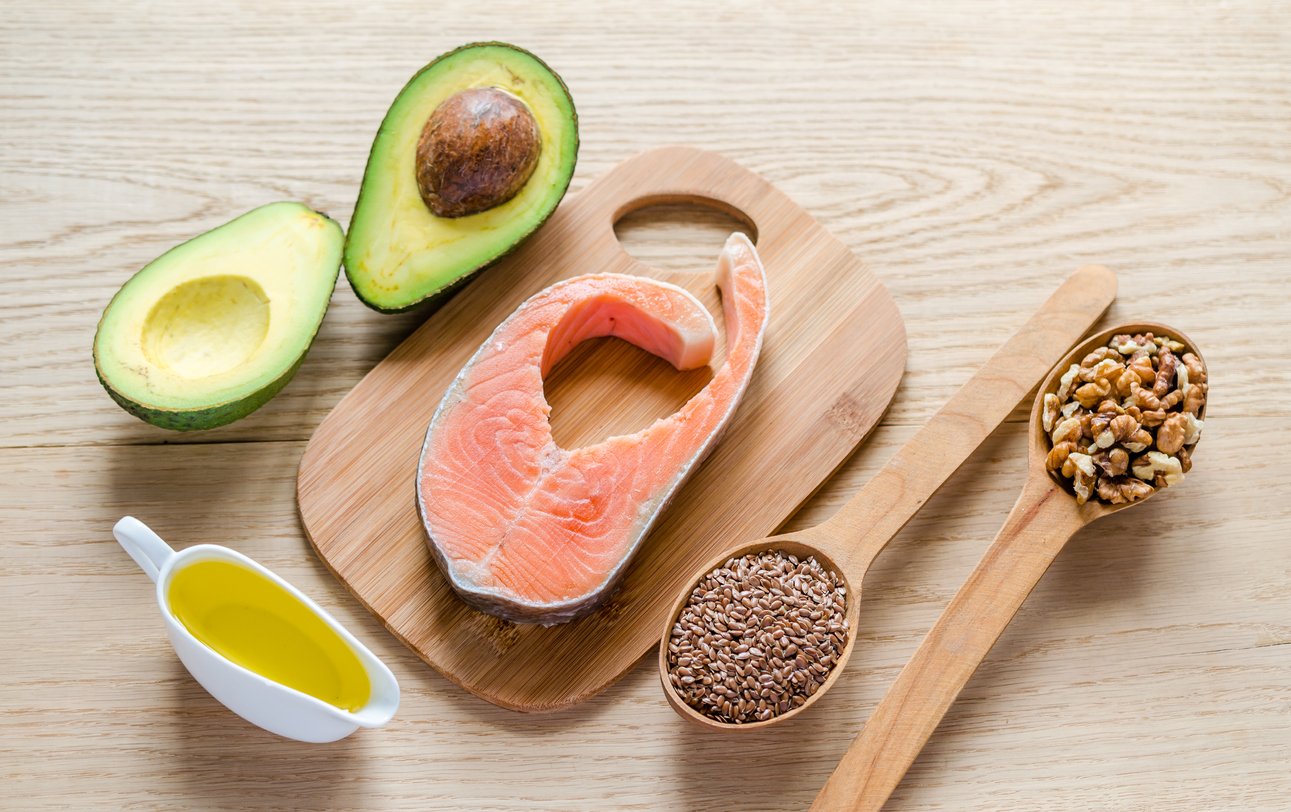 To boost hydration, load up on healthy fats (a.k.a. omega-3 fatty acids). Good sources: wild Alaskan salmon, flaxseeds, chia seeds, avocados, almonds, walnuts and extra virgin olive oil. In addition to boosting hydration in the skin, omega-3 fatty acids also have anti-inflammatory properties, so they will complement free-radical-fighting antioxidants (see above) in your diet. And while it may sound obvious, it's also important to drink plenty of water to maintain your skin's suppleness. Most experts recommend 64 ounces a day (seltzer and green tea count, too!). 
Finally, what you don't eat can also positively impact your complexion. Your skin will be visibly healthier and more radiant if you boost the amount of antioxidants, healthy fats and fluids you consume, while limiting intake of pro-inflammatory foods such as processed meats, refined carbohydrates (such as white bread, pastries and pasta) and fried foods.  
Tier 2:  Boost your diet's nutrient intake with daily supplements
Being thoughtful about what you eat goes a long way toward fighting inflammation and dehydration. But taking supplements can help speed up your radiant-skin results. Targeted nutrients taken daily in capsule or powder form help ensure you're always getting ample antioxidants and healthy fats—even on days when your diet may be lacking. 
For an antioxidant, anti-inflammatory boost, consider adding Super Greens Dietary Supplement Powder to a morning glass of water or smoothie. One serving of Super Greens includes as much vitamin C as 4.5 tangerines and as much vitamin A as two cups of lettuce.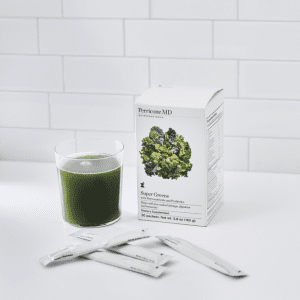 To ensure you get plenty of omega-3 fatty acids as well as plenty of hydration for your skin, pop one Omega-3 Supplement capsule with each meal. The healthy fats in this supplement are derived from wild Sockeye salmon. 
Tier 3: Target your skin topically 
To help boost radiance, your winter skincare regimen should include products formulated with free-radical-fighting vitamin C. Perricone MD's Vitamin C Ester collection is an ideal option because it contains proprietary Vitamin C Ester, a more potent and less abrasive form of vitamin C, making it suitable for all skin types. "Vitamin C Ester works at brightening dull skin because it's a water- and fat-soluble form of vitamin C, so you get maximum antioxidant benefits," explains Rosalba Martone, Director of Education at Perricone MD. 
Consider adding these best-selling skincare treatments that include Vitamin C Ester to your skincare regimen: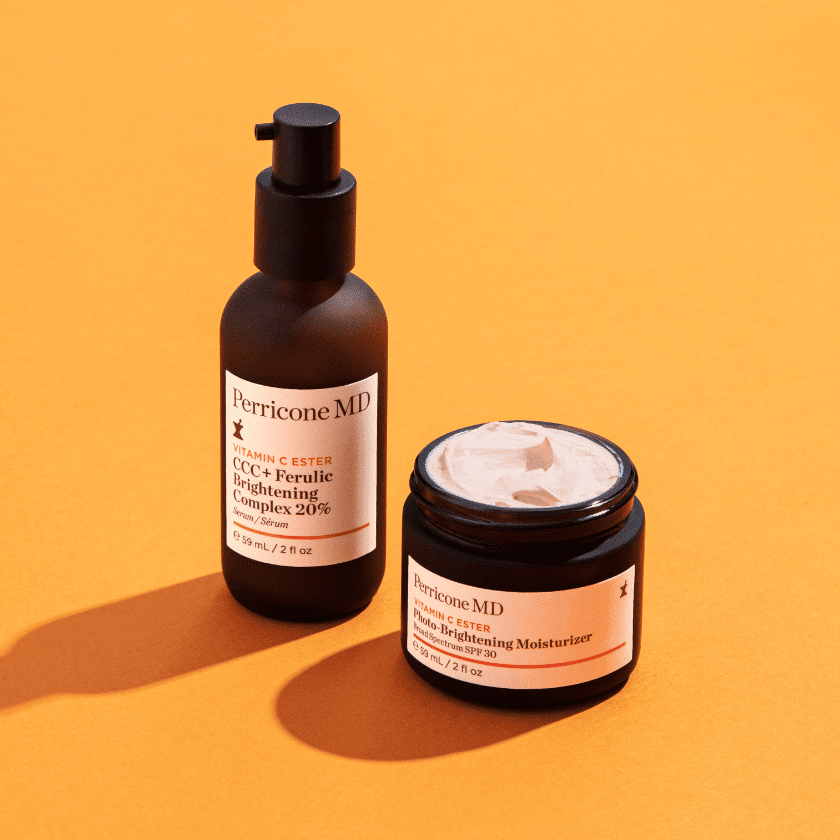 Vitamin C Ester CCC + Ferulic Brightening Complex 20%  
This supercharged brightening serum is Perricone MD's most potent vitamin C treatment. In addition to containing Perricone MD's proprietary Vitamin C Ester, this supercharged formula also boasts an additional two forms of vitamin C, bringing the serum's vitamin C content to 20%. But that's not all: The serum also contains vitamin E and ferulic acid for maximum brightening and smoothing benefits.  
Vitamin C Ester Photo-Brightening Moisturizer Broad Spectrum SPF 30  
Perfect for everyday use and all skin types, this oil- and fragrance-free moisturizer brightens and skin tone.  It also shields the skin from harmful UV rays with mineral-based, broad spectrum SPF 30.  Bonus: the formula also boasts Alpha Lipoic Acid to help minimize the appearance of fine lines and wrinkles over time. Layer this moisturizer over the Vitamin C Ester CCC + Ferulic Brightening Complex 20% to maximize results. 
Cold Plasma Plus+ Advanced Serum Concentrate 
You won't find a harder-working serum in the Perricone MD lineup. This multi-tasking powerhouse uses a proprietary liquid crystal delivery system to improve ingredient penetration and accelerate results. Active ingredients include Vitamin C Ester to brighten and even tone; omega-3, -6  and -9 fatty acids to boost radiance, smooth and plump, and copper tripeptide to help firm for a more supple-looking complexion.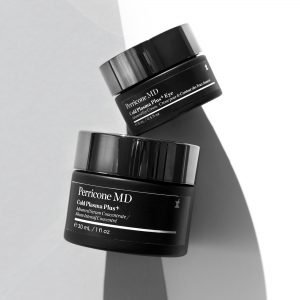 Cold Plasma Plus+ Advanced Eye Cream 
The perfect companion to the Cold Plasma Plus+ Advanced Serum Concentrate, this eye cream tackles the five most visible signs of aging around the eyes: dark circles, puffiness, crow's feet, fine lines and loss of firmness.  In a formula specifically designed for fragile skin around the eye, this treatment has the same liquid crystal delivery system as the face serum—and the same three powerful ingredients: Vitamin C Ester, omega-3, -6 and -9 fatty acids, and copper tripeptide. 
Cold Plasma Plus+ Neck & Chest Broad Spectrum SPF 25 
During the winter, it's not just our faces that start to lack radiance. The skin on our neck and chest can also become ashy, dull and slack. Perricone MD's multi-tasking, Cold Plasma Plus+ Neck & Chest is formulated with key ingredients specifically to target the thinner, more sensitive skin in this delicate area. In addition to Vitamin C Ester, this neck cream is loaded with vitamin b3, peptides and mineral-based sunscreen to smooth, firm and correct the appearance of uneven skin tone while providing SPF protection.