Growth factors were first discovered by two scientists back in the 1950's, but it wasn't until recent years that these collagen-building proteins were used in skincare products. Dr. Perricone was one of the first dermatologists to harness the superpowers of growth factors, and his groundbreaking polyamine growth factor technology has changed the face of skincare ingredients. Despite the buzz surrounding polyamine growth factor, many people still remain confused about what it is, and how it works. Here's everything you need to know about this important age-fighting ingredient.
What is Polyamine Growth Factor?
Growth factors are naturally occurring large proteins that float around between cells, ordering them to repair damaged cells and create new ones. They are generated by all different types of cells of the body. The kind that Dr. Perricone uses in his products come from polyamines. Polyamines are molecules found in all living things and play a significant role in cell growth, survival and proliferation, according to research that appeared in the journal Aging.
As we get older, our bodies start to churn out less of this molecule, which stunts cellular growth. And when cellular growth is stalled in the skin, less collagen and elastin—the substances that keep skin smooth and firm—is produced. Dr. Perricone created a synthetic version of polyamine growth factor that tricks the body into switching back on the internal signaling mechanism that gets rusty with age, improving cellular growth and renewal. (While some people may be skittish about the word "synthetic," in this case, all it means is that the ingredient was clinically developed in a lab to exactly mimic something we already have in our bodies.)
How it works to reduce the appearance of aging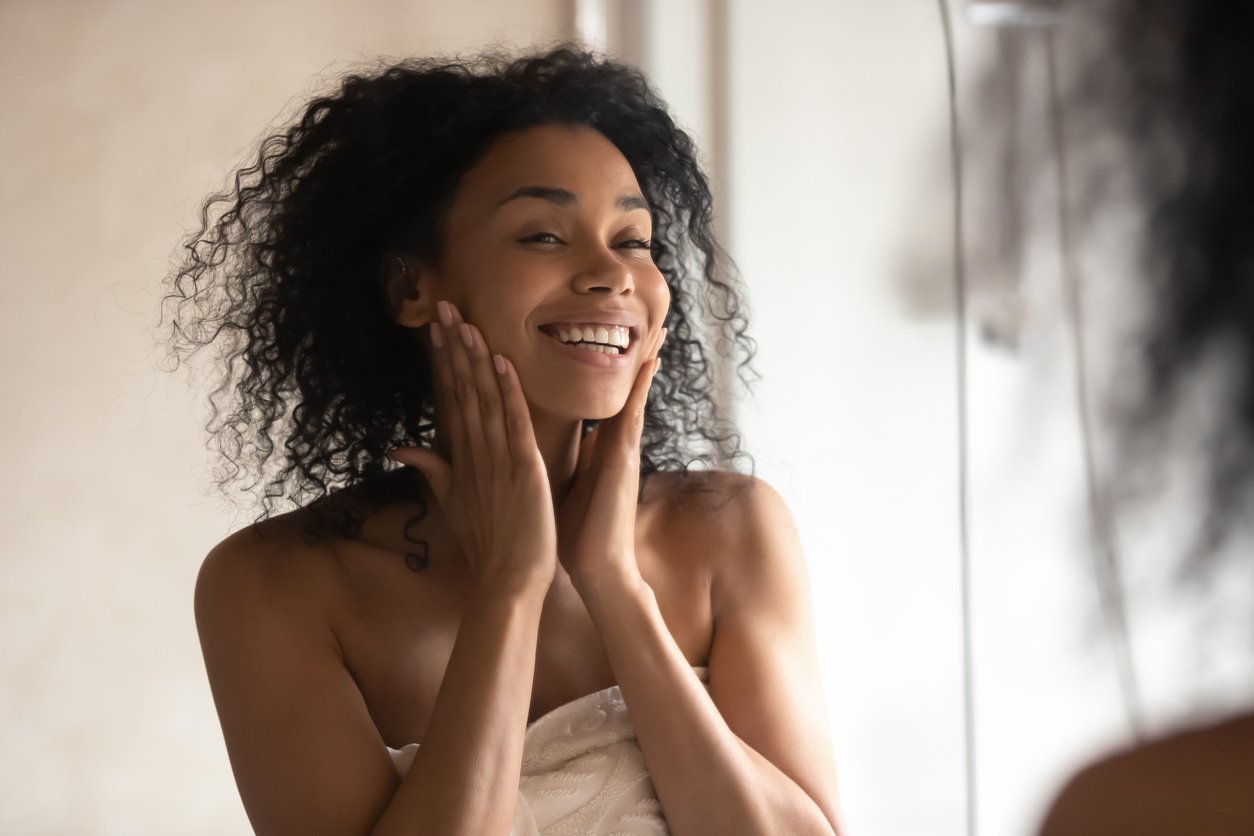 Young faces tend to be convex, meaning features curve outward, and look plump and full. (Think cherubic cheeks and pillow-y lips.) However, as we become older, our features start to shrink inward a bit, becoming more concave, according to a study published in the journal Acta Clinica Croatica. This process can give the face a flat, hollow appearance. These facial changes generally begin to occur in the early to mid-40s, and are the result of gravity, progressive bone resorption (which alters bone structure), reduced tissue elasticity and redistribution of subcutaneous fat in the face, according to a study that appeared in the Aesthetic Surgery Journal. Years of sitting in the sun and/or smoking can also contribute to a concave facial appearance. Applying polyamine growth factor topically has been shown to help features become more convex again, filling out hollows, and restoring skin's youthful bounce and fullness by facilitating cell regeneration, renewal and collagen for the face.
Perricone MD's Polyamine Growth Factor innovation
Dr. Perricone's version of the polyamine growth factor molecule is very potent. Its small size allows it to burrow deep within the skin to work on a cellular level. The skincare ingredient can be found in two groundbreaking Perricone MD products. The first product to incorporate polyamine growth factor was the High Potency Growth Factor Firming & Lifting Serum, which combines polyamine growth factor with eggshell membrane. You know how the thin film that lines an eggshell protects the delicate egg and yoke? The eggshell membrane takes on a protective role when applied topically to your skin, too. It reinforces the skin's moisture barrier, locking in hydration, and improving skin elasticity—giving the skin a young, radiant appearance. 
To smooth deep wrinkles and fine lines, the face serum also contains encapsulated retinol. A derivative of vitamin A, retinol speeds up skin cell exfoliation and renewal, revealing younger, healthier looking skin. Dr. Perricone was able to control the release of the ingredient into the skin—making it more effective—by housing the retinol in microcapsules that break open when the product is applied to the skin. To use this skincare for wrinkles, after cleansing and applying toner, massage the serum into your face and neck using a gentle, upward motion. Use the product both in the morning and before bed, before applying your favorite Perricone MD moisturizer.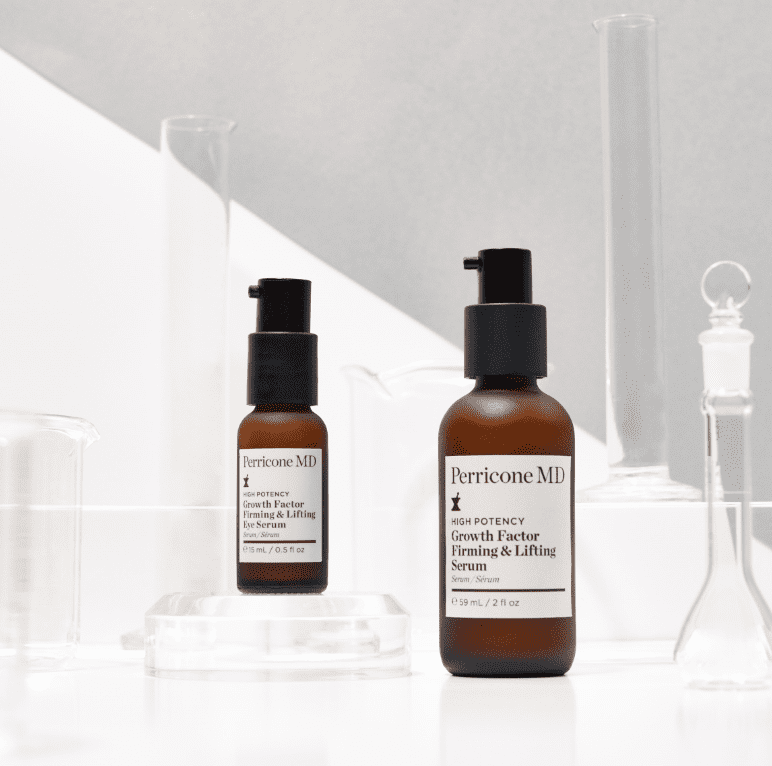 Perricone MD's newest polyamine growth factor-rich product is the High Potency Growth Factor Firming & Lifting Eye Serum. It uses this youth-promoting molecule and other key ingredients to give the eye area a visibly lifted effect while improving the feel of firm and smooth skin. This gentle yet powerful eye lifting serum also helps diminish the appearance of fine lines, wrinkles and dark circles.
In addition to polyamine growth factor, the eye serum contains DMAE, a substance naturally produced by the human brain that lifts sagging skin, supporting the skin's structure, and protecting against environmental dryness (a dry climate, dry indoor heat or drying air-conditioning). The eye lifting serum also packs the skincare ingredient niacinamide, which is a form of vitamin B3 that helps the skin retain moisture and fight dullness, making skin look brighter and more even toned.
Studies show that this trifecta of skincare ingredients can produce impressive results: after just four weeks of using the High Potency Growth Factor Firming & Lifting Eye Serum, 100% of study subjects showed improvement of skin hydration and a reduction of deep wrinkles and crow's feet. To apply, use your ring finger to gently pat the product onto your eye area in the morning and at night. For best results, use with other High Potency products in this order: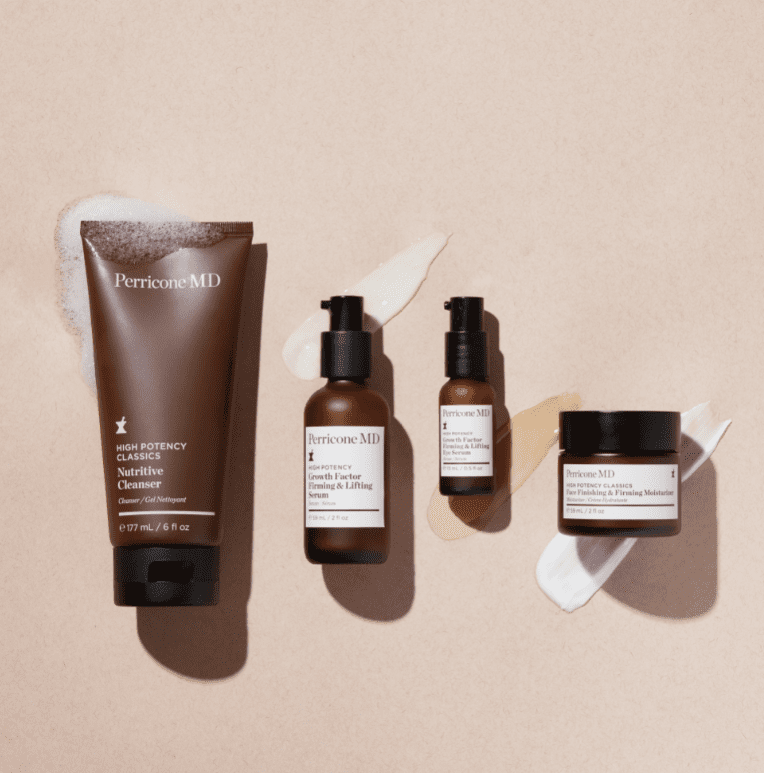 Once you try the High Potency Growth Factor Firming & Lifting Serums all the confusion about growth factors will be erased—along with your fine lines and wrinkles.