After being cooped up—and covered with a mask—all last summer during Covid-19, this summer is poised to be a big improvement on the road back to normal. There's tennis to play. Parties to attend. Beach vacations to go on. Now that you're busy again, it might be tempting to dash out the door without properly treating your skin. But a summer skincare routine is more important than ever. The best summer skincare tips during the active, outdoor months are to choose multi-tasking skincare and soft summer makeup products that simplify your routine and save you time. Specifically, products that feel lightweight and contain SPF to shield your skin from harmful UVA/UVB rays that cause damage.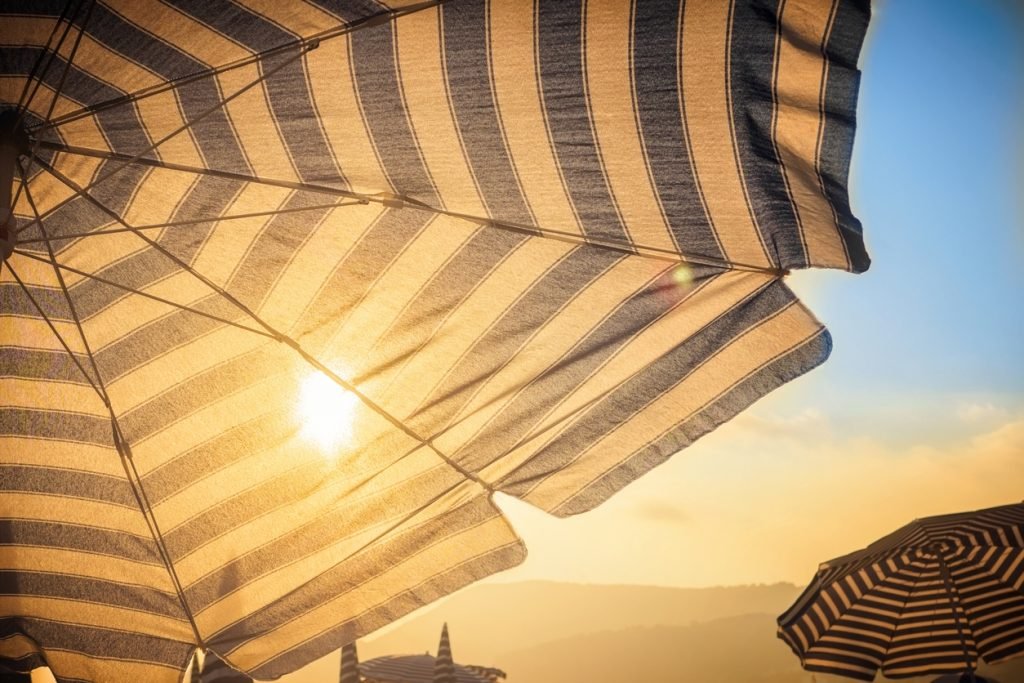 Below are our top Perricone MD picks to keep your skin radiant and protected all summer long. Each product contains mineral-based sunscreen, "which provides the utmost protection against both UVA and UVB rays because it sits on the surface of the skin like a barrier, causing rays of sunlight to bounce off," says Rosalba Martone, Perricone MD's Director of Education. "Traditional chemical sunscreens, on the other hand, destroy UV rays beneath the skin's surface, which means your skin is getting sun damage before the sunscreen is able to protect against the sun's rays." What's more, mineral sunscreen tends to be a lot less irritating than chemical sunscreen—a plus for those with sensitive skin.
The built-in sunscreen in these products is so effective that you don't need to apply additional sunblock over your Perricone MD SPF-infused moisturizers and select No Makeup Skincare products. However, when it comes to sunscreen, applying more is always better—so layer it on if you'd like to. Just remember that sunscreen should always be the last step in your summer skincare routine (it should be applied after skincare products but before applying any kind of summer makeup), and apply products containing sunscreen only in the morning. 
High Potency Classics Face Finishing & Firming Tinted Moisturizer Broad Spectrum SPF 30
This lightweight tinted moisturizer has pigment-filled capsules that give your skin a hint of color that warms up your complexion and blurs imperfections. Plus, a hearty dose of antioxidants protects your skin from harmful free radicals, and the SPF 30 shields your face from the sun's damaging rays. It's also oil-free, yet still intensely hydrating, which is important because sweat can cause skin to become dehydrated during the hot summer months.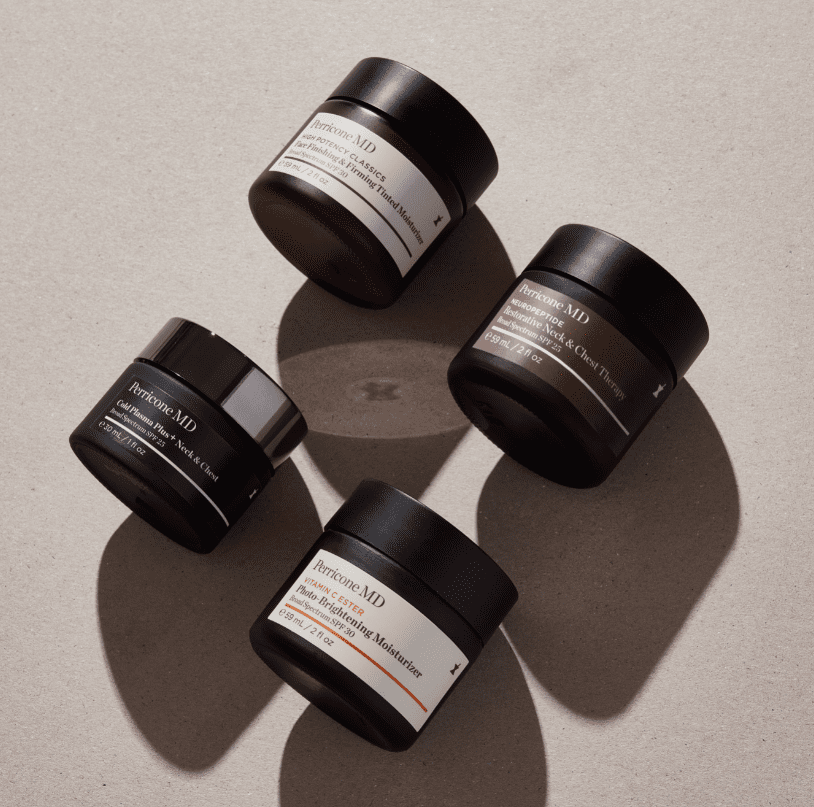 Vitamin C Ester Photo-Brightening Moisturizer Broad Spectrum SPF 30 
This moisturizer is packed with sunscreen and good-for-skin ingredients, and has a lightweight whipped texture. It's formulated with Vitamin C Ester (a gentle, yet highly effective form of vitamin C) to smooth, brighten and fade dark spots. It also contains Alpha-Lipoic Acid to help reduce the appearance of fine lines and wrinkles.
Cold Plasma Plus+ Neck & Chest Broad Spectrum SPF 25  
The neck and chest has thin, delicate skin that's prone to wrinkling and crepiness. During the summer, they are often exposed to the sun (no turtlenecks and scarves to hide them!), and we frequently forget to apply moisturizing cream and sunscreen to these fragile areas. This product allows you to simultaneously treat and protect the often-neglected neck and chest – making it an important addition to your summer skincare routine. It contains peptides to build collagen, and Vitamin C Ester to smooth skin and even out tone. In addition, this product contains vitamin B3 which helps in lightening dark spots and brightening the skin.
No Makeup Foundation Serum Broad Spectrum SPF 20
Hot summer skincare tip: with foundation, you don't want anything thick on your face when the temperatures are rising. No Makeup Foundation Serum Broad Spectrum SPF 20 has a semi-matte finish and is hydrating, while evening out your skin tone with the help of neuropeptides. Neuropeptides are short chains of amino acids that function as chemical messengers. They support the skin's barrier and reduce the appearance of wrinkles, sagging and discoloration.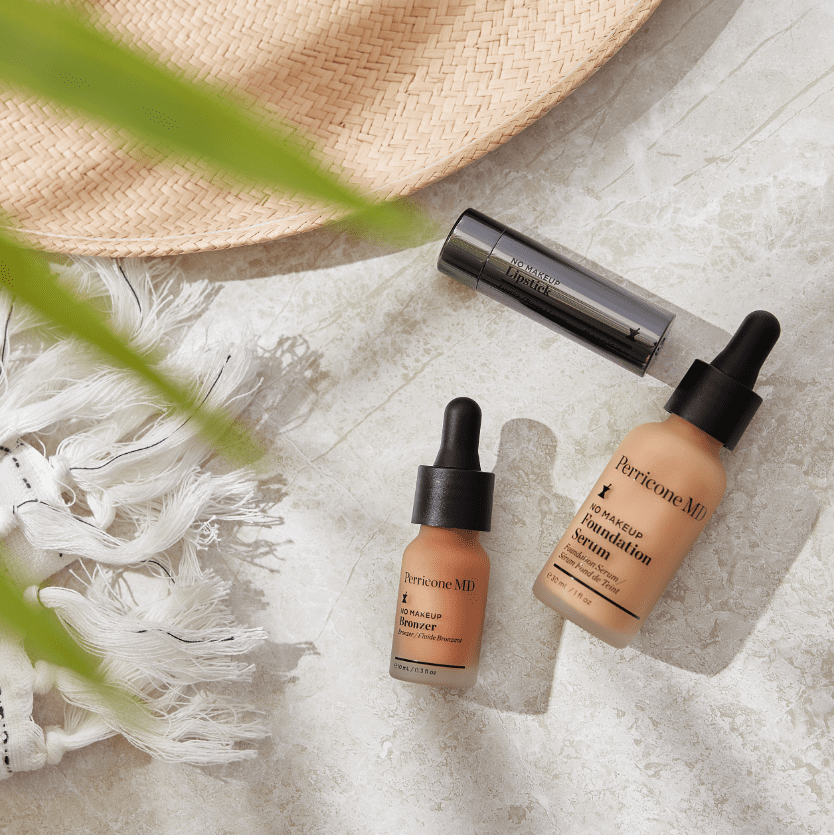 No Makeup Bronzer Broad Spectrum SPF 15
No Makeup Bronzer Broad Spectrum SPF 15's secret weapon is its potent combination of Vitamin C Ester and sunscreen. When you have dark spots on your skin, applying bronzer or self-tanner to your skin can actually make those spots appear darker. "This bronzer helps blur those dark spots while still giving the complexion an overall warmth," explains Martone. "And the SPF 15 ensures those dark spots don't become darker over time and helps to keep future dark spots at bay."
No Makeup Lipstick Broad Spectrum SPF 15
Now that masks are (mostly) off and our lips are finally visible again, it's crucial to keep them moisturized and protected from the sun's rays. This solid-to-serum lipstick imparts a natural-looking, sheer wash of color while protecting your pucker with broad-spectrum SPF. Plus, the lipsticks are infused with skincare ingredients—most notably, neuropeptides and hyaluronic acid—to keep your lips hydrated, smooth and plump. Choose from our collection of soft summer makeup shades, including Original Pink, Rose, Berry, Red, Wine and Cognac.
To help simplify your skincare and makeup routine this summer—and protect your skin—this summer, shop our multi-tasking skincare and No Makeup products today.